LONDON — Zimbabwe born Dereck Chisora has regained his British Boxing Board of Control licence a year after it was withdrawn following his behaviour in Germany last February. 
The Finchley heavyweight found himself in hot water over a number of misdemeanours in Munich, not least a press conference brawl with his London rival David Haye.
The board withdrew his licence to box after a hearing on 14 March last year and Chisora had to fight using a Luxembourg licence when he and Haye settled their feud in the ring last summer.
However, Chisora has been reissued with a licence ahead of his 20 April comeback fight, according to the promoter Frank Warren. Chisora, 29, was roundly condemned for his behaviour when he unsuccessfully challenged Vitali Klitschko for the WBC heavyweight title in early 2012.
Having slapped Klitschko at their weigh-in and spat water in the face of his opponent's brother, Wladimir, Chisora became embroiled in a distasteful brawl with Haye in the post-fight press conference.
The two men met in the ring at Upton Park in July last year to settle their argument but controversially had to use Luxembourg licenses, due to Chisora's being withdrawn and Haye not holding one having technically retired.The former WBA champion Haye stopped Chisora in five rounds on a rain-soaked night in east London.
Now, however, Chisora can continue his career under the umbrella of the British Board and will fight on Warren's 20 April Wembley Arena show in a 10-round bout as planned.
"I'm glad that this whole episode is finally behind me and I can carry on with my boxing career in my own country and with a British Boxing Board of Control license," Chisora said.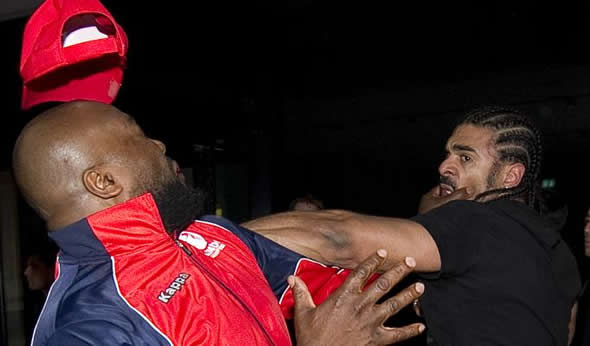 I would like to thank everyone who has kept faith in me over the troubled months and I look forward to repaying their loyalty with my performances in the ring as opposed to my action outside of it.
"I'd like to particularly thank the Luxembourg Boxing Federation for their support." Warren said: "I'm delighted that the British Boxing Board Control has made the right decision and reinstated Dereck's licence and the slate is now clean. He is an exciting fighter who always gives 100%. Guardian