POLICE have released the names of the four family members who died when a pick-up truck was involved in a head-on collision with a bus near Connemara on Monday morning. One of the victims in the accident involving a Zupco bus and a Toyota Hilux was a school child.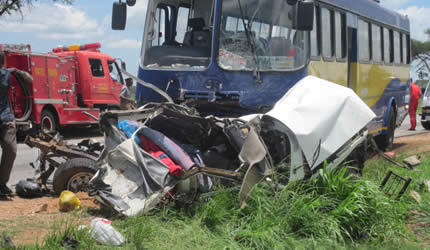 The accident occurred around 11.30am. The truck, which had four occupants, was heading towards Gweru while the bus was heading in the opposite direction. The bus had 51 passengers. Police identified the deceased as Laymond Martin (42), Line Mary Mutisi (24), Kudzai Ovidy Mutisi (19) and Kelvin Mutisi (14).
National traffic acting police spokesperson Assistant Inspector Luckmore Chakanza yesterday said the family from Sanyati was going to Gweru. The Toyota 2.4D truck encroached onto the opposite lane, resulting in the head-on collision and all the occupants died on the spot. No one in the bus was injured.
Another vehicle, an Isuzu KB truck, which was following behind the Toyota, crashed into the truck. The four bodies were taken to Gweru Hospital mortuary for a post mortem.