HARARE – There was commotion at the Harare International Airport as travellers and airport officials jostled to catch a glimpse of prophets Emmanuel Makandiwa and Uebert Angel who were at the terminal to receive their spiritual father Prophet Victor Kusi Baoateng.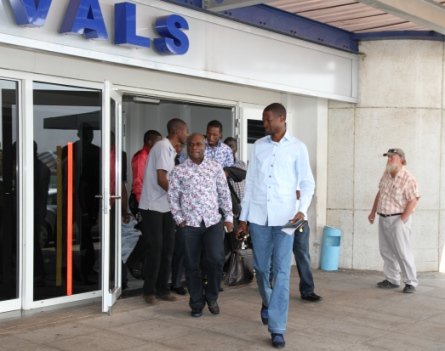 Prophet Boateng jetted into Zimbabwe on Thursday to attend the Man World Convention co-hosted by Makandiwa's United Family International Church (UFIC) and Angel's Spirit Embassy.
Clad in a floral shirt and blue jeans, Boateng waved to the bystanders as he made his way to a blue Rolls Royce waiting for him outside the Arrivals terminal. James Chimwale, a Malawian national who was on the same flight with Boateng said he did not realise the kind of person he had travelled with.
"I was with him on the same plane. I should have known the kind of person I was with and at least spoken to him," he said. "At least I was on the same plane with him. May be I will find another opportunity to be close to him if we happen to be on the same flight back or else I have to come to the conference I heard he is coming to attend."
While Chimwale was not sure he would get another chance to be close to Prophet Boateng, Kudakwashe Dzinorwei, said he was going to the conference.
"From here I am going to City Sports Centre for the evening service. I can feel it that the Man of God has my word and by just being there, I will be able to hear what God says about me," he said.
The Man World Convention began on Wednesday and is ending today. The convention centre has been creatively decorated with a tractor on one side and a Range Rover and a sports car parked right next to the stage. Prophet Makandiwa set the tone for the conference when he taunted men in a no-holds-barred sermon titled "The Creative Man".
In the sermon, Prophet Makandiwa told men they are to blame for every unpalatable situation they found themselves in, adding that every person had a solution to his problems right inside them.
"God has given you the ability to continue with the creation. Create the world that you desire, create the environment that you want to enjoy," he told thousands of men who gathered at the City Sports Centre. He also took a dig at men who hopped from one woman to the other likening them to demons.
"There are moments when you can work as a demon in the life of your wife. The woman is good as long as she is not yours and once she becomes yours, she will begin to deteriorate. That is how demons work. They choose the fittest person as good shelter but once they enter him, the person begins to shrink and the demon begins to look for a better person.
"They seem not to realise that once they get into anyone, that person begins to deteriorate. That is how some men are," Makandiwa said. Daily News