From Robson Sharuko in BULAWAYO
There were no tears, but a packed Mpilo stand gave Takesure Chinyama a standing ovation at Barbourfields on Sunday as the Zimbabwe international said goodbye to the Dynamos fans in an impromptu and emotional farewell party fit for a king.
A Classic Battle of Zimbabwe, arguably the best contest between the country's two biggest football clubs in a long time, had ended in a 1-1 stalemate, when Chinyama's farewell show exploded.
The big forward, who leaves Harare today for a new home at South African champions Orlando Pirates on a three-year deal, marched alone to face the Glamour Boys' fans for one final dance as his short, but successful stint at DeMbare came to an end.
Having closed his Dynamos chapter the way he had started it in Maputo, with a stunning goal, Chinyama bowed four times, in an emotional salute to the fans, did the Zora Butter dance and waved goodbye.
The fans, an island of delirium still celebrating their team's smash-and-grab point sweetened by 'keeper George Chigova's penalty save, responded warmly to a gunslinger who made a huge impact at the Glamour Boys.
He will leave behind beautiful memories, crafted over a six-month period, which some forwards struggle to produce in three years, and one of those lasting images will be his final goal here on Sunday. Having missed training all week, as his coaches chose caution as the best way to deal with a muscle strain, Chinyama only made the starting XI on the day of the match.
Two minutes into the biggest football match on the domestic scene this season, Chinyama broke the deadlock with a top-drawer finish that set the tone for a fiery showdown so rich in quality both teams deserve a bonus point for giving the sellout crowd value for their money.
Running to an exquisite pass from the rapidly improving Tichaona Mabvura, Chinyama had very little room to negotiate an opening as a blind alley lay in ambush and, one more touch, the angle would have closed that little opening.
Chinyama chose to open fire, with his weaker left foot and the venom in the shot eliminated Ariel Sibanda, as a defensive barrier before he could even react, and the ball nestled into the roof of the net.
Advantage Dynamos!
But, to their credit, Bosso didn't drop their heads and took control of the game, with the talented Peter "Rio" Moyo a fountain of hope with his creativity in midfield while Mthulisi Maphosa gave him a helping hand by imposing his style in that key area of the battle.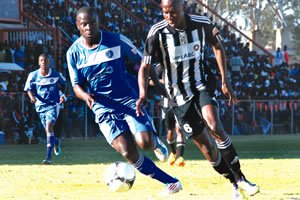 Passing the ball around with authority and admirable calm, despite the tension in the stands, Bosso were a joy to watch as they used the full length and width of the pitch to stretch their opponents.
Rio was untouchable in that first half, providing a rhythm to the midfield and playing his game with a swagger that brought memories of a young Mtshumayeli Moyo when he emerged at Zimbabwe Saints.
DeMbare simply had no answer to the dynamic midfield duo of Rio and Maphosa and that Milton Makopa was cautioned so early into the contest showed the amount of pressure that was exerted by the Highlanders' midfield duo.
DeMbare were relying on counter attacks, but the quality of their breaks was high although newboy Cliff Sekete struggled to provide the link that was needed down the flank.
But Bosso maintained their grip on the game, remaining committed to their passing game and forcing the DeMbare defence into a string of blunders, one of which bought the home side an equaliser they thoroughly deserved. David Kutyauripo and the outstanding Partson Jaure were forced into a moment of madness to concede a throw in.
The cross that eventually flew into the box had a lot of spin and Chigova, who could have done better given his height, was beaten by its flight and Milton Ncube's header was firm and not even a desperate Jaure could scramble it out to safety.
Barbourfields erupted, as the biggest crowd to watch Bosso at home for years, toasted their moment in the bright sunshine on a warm winter afternoon in the City of Kings.
It was no more than Highlanders deserved for their strong performance and if Chigova was at fault in the goal, he redeemed himself shortly afterwards with a fine diving save from a fierce free-kick.
Bosso were on top, the crowd was sensing the kill, but DeMbare refused to be pummelled into submission with Guthrie Zhokinyi a colossus in defence and Ocean Mushure playing his best game for the Glamour Boys. By the time the referee blew to end the first half, there was no questioning that we were watching a classic.
The crowd loved it.
The second half didn't scale the heights of the first and Rio gradually faded, Chinyama was replaced and although Sekete started to light up the afternoon, overally the fireworks of the first segment had gone.
There was a chance for Mabvura to win it, but a heroic defensive block denied him his second straight league goal while the Bosso 'keeper produced a stunning flying save to deny Mushure who had opened fire from a dead ball.
The best chance, though, was presented to Maphosa when substitute Beaven Chikaka won a penalty. Chigova turned the hero when he dived to his left and saved the spot kick. Any hopes DeMbare had of stealing a winner ended when Sekete was pulled out, in a rather surprise decision, and there was nothing from his replacement, Derrick Kabwe, to justify the move.
In the end, Bosso's solid show, one of their best against their biggest rivals in years, couldn't give them the victory their performance deserved but, if they can keep playing at this level, they have a right to dream of being crowned champions.
Question marks remain about the quality of their strike force, which looks lightweight, but they have a strong defence and a mobile and productive midfield. Dynamos will take heart from picking this priceless point, but they need a replacement for Chinyama while someone should ask Kabwe to go back home in Zambia because he looks completely out of depth.
Sunday was a great day for Zimbabwe football and the crowd played their part by coming in their thousands and behaving well. What is very clear is that football is hugely popular in this country and, looking at the beautiful sights and listening to the beautiful sounds from Barbourfields, the only question is why are the Warriors not drawing such crowds to their home games? The Herald