By Chris Goko and Lloyd Mbiba
HARARE – As a predominantly Christian population and community, Zimbabweans have welcomed Nigerian-based prophet Temitope Balogun Joshua (TB Joshua)'s planned visit to the country, despite attempts by a rabid Zanu PF clique to thwart the move.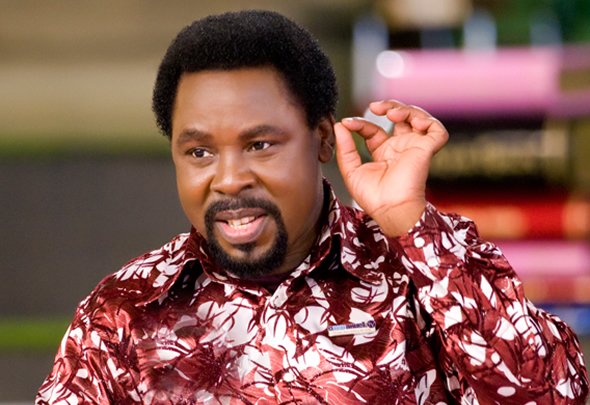 The plans to frustrate the trip come after the gifted tele-evangelist has made another chilling prediction that another old African leader would be "condemned to the deathbed", but only saved from the brink by a hospital.
TB Joshua's latest "vision" follows the near-precise — or coincidental — death of Malawi's Bingu wa Mutharika after his February prediction that a continental leader would die within 60 days and a situation, which has rattled or unnerved some schizophrenic Zanu PF elements.
Nhlanhla Dube, spokesperson of Welshman Ncube's MDC, on Friday said he saw nothing sinister with the Lagos-based prophet's intended visit and the ex-majority party's paranoia was unwarranted as TB Joshua's visit should be treated as a normal and ordinary vacation.
"As for us, we believe everybody is in the same standing in the eyes of God. We think TB Joshua's coming is of spiritual interest to the people, given his works. There is nothing wrong (with him) coming to the country… (and) the prophet must be allowed to come because he is just another person coming to visit," he said.
On Zanu PF's panic over the purported visit, Dube said: "I don't know why Zanu PF is panicking because elections are determined by the electorate and not bone-throwing. As such, it is amazing why the party is in a panic mode unless they are afraid of losing elections."
Farai Maguwu, a social activist and head of the Centre for Research and Development, also noted that there was nothing amiss about TB Joshua's visit because the country "recognised the freedom of worship" and President Robert Mugabe's party could be in a panic mode due to prophesies which could be against them.
"People are uncomfortable with his prophesies… because he has made predictions about high profile people, which have come to pass (if not true). To that end, some (people) might be afraid that he may cast a bad spell or omen to one or two characters," the diamond researcher, who has also had many run-ins with the government, said.
Political scientist Ibbo Mandaza said he also saw nothing wrong with the Nigerian-based churchman's anticipated visit because he is a renowned figure and an African. The world-famous prophet is due in Harare in May for prayer meetings at the invitation of Prime Minister Morgan Tsvangirai.
Before the Wa Mutharika saga and death, Zimbabweans — like their regional counterparts — were spellbound by TB Joshua's prophecy, as they also hankered and worried about Mugabe's health condition, given his prolonged stay in Singapore.
With interest and speculation about the Nigerian-based pastor's religious powers hitting "the high heavens" in the region, and abroad following the Malawian development, some Zanu PF officials led by serial political flip-flopper Jonathan Moyo have strongly laid into TB Joshua — calling him a false prophet.
"TB Joshua's involvement in this tragedy smacks more of a plot than a prophecy. One thing for sure is that there is no prophecy here, but just a prediction if one is to give him a benefit of doubt. This leaves open the questions as to what happened because to neutral people there appears to be more to the saga than meets the eye," the former Information minister said.
"In some circles, there is even spirited speculation… that TB Joshua had privileged intelligence information about a death plot against… Mutharika and the plotters used him as their microphone to divert attention… and let the death appear like it was an act of God when it was an intelligence operation," Moyo added.
An unofficial Zanu PF spokesperson, but key strategist, Moyo went on to quote the Bible — 2 Timothy 3 verses 1-5 — about false prophets and in his bid to further discredit the "man of God", and said the precision in timing could have been a coincidence based on "someone with medical information and not from God".
Mugabe's aides and top henchmen have not only launched a verbal assault, and virtually called the popular prophet a "murderer", but also launched a tacit campaign to bar TB Joshua from entering the country should he come.
With a shadowy and virulent clique in the once popular party launching this wicked plot through the state-run media last week, Zanu PF secretary for administration Didymus Mutasa, however, poured cold water on the plan, saying it was not his party's intention to block the social event.
As the war of attrition about the use of religion as a campaign tool in Zimbabwe hots up, rival political groups have been using this powerful social phenomenon or platform to outwit each other, with Zanu PF functionaries using such cheap propaganda outlets as The Patriot to say TB Joshua has told Tsvangirai he will never rule this country.
And in a survey by the Daily News on Sunday, many ordinary folks okayed the visit, saying they were also hoping for "some salvation or redemption" from TB Joshua. Tafadzwa Chieza, a restaurant worker in Harare, yesterday said the prophet's visit would be good for the country, as people were desperate for spiritual guidance.
Airtime vendor Taurai Sweswe also echoed the same sentiments, adding Zanu PF could be fretting over the view that another geriatric leader on the continent is set to "escape death by the whisker". However, petrol attendant Washington Tagwirei said the visit could be a disaster, as he also did not believe in oracles. Daily News