LONDON- This festive season, MADBOIZ Entertainment have really pulled all the strings to make sure UK based Zimbabweans get a treat. They are once again bringing the best talent from Zimbabwe, Desmond " Stunner" Chideme, Enock "Nox" Guni and King Shaddy.
MADBOIZ Entertainment comprises of Malcolm Tafadzwa Kafesu, Alex Mutoro and Dexter Lasswell, supported by Kithlitany Mawaire.
The Concert is called the Three Kingz Concert Tour, and in my opinion all the artists lined up are Kings in their own right. Nox Guni who is known for his love songs and incomparable sound is one of the most hardworking Zimbabwean artists. He has managed in 2011 to keep us entertained by constantly releasing a new single each month. He is also the man behind the chorus of the famous chart topping song Wenera.
Some of his other hits include his recent releases Ndinonyara, Fona featuring Decibel and Trinta, Ini ndada, Longing for you featuring Roby Gee and many many more. King Shaddy is one of the most creative artists, he has managed to keep us entertained with his letters to Mai Huni and other songs like Sista Gire and Sista Gire part2, however the most anticipated song that he will certainly be performing during the tour is his new release Danmore.
Stunner, a well-known Zimbabwean hip-hop artist has been a very consistent artist. His song Godo topped the charts for many weeks and it is one of the most played Zimbabwean songs on YouTube. Stunner is well-known for his impeccable dancing abilities, his humorous and entertaining songs. As he is coming to the UK we are looking forward to his new song Mdara Banda.
This December tour is looking to be one of the biggest tours ever organised by a Zimbabwean promotion company, with Zimbabwean artists for the Zimbabwean people. Dj King Alfred and P-Roc will be on the decks supporting the artists and making sure the audience is kept entertained. In our own mothers language we can clearly say "hakudanwi anonzwa".
MADBOIZ Entertainment, during this particular Tour have also made sure that all their venues are family friendly and on top of that they can accommodate large numbers of people as they are expecting all the Zimbabweans to unite and come out and support their own in true Zimbabwean spirit.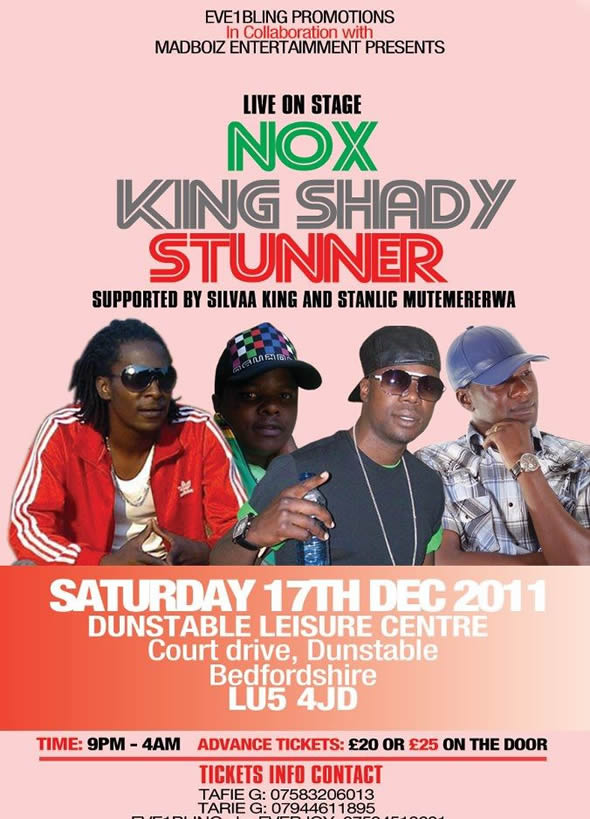 On Friday 16th December, MADBOIZ Entertainment have partnered with Torro Entertainment to host the Three Kingz Welcome Party and Stephanie Chiyangwa's Birthday Party, at Club Laface formally known as Volts. Award winning artists Roby Gee, Boyz Retonaz and Money B will be assisting the artists by performing some of their greatest hits. DJs on the night will include, award winning DJ King Alfred, P-Roc, Andy Blixx and Sir Charlie.
This party is one of the most anticipated parties for 2011 as it has the best line up and this is the first of its kind. Miss Chiyangwa has confirmed that Muzvare Betty Makoni, Conrad Mwanzwa, Obert Mazivisa and Leah African designs will be attending as well as her close friends and family, also friends and fans of the artists.
On the 17th of Dec MADBOIZ Entertainment have teamed up with a lady called Everjoy Kurangwah to host a charity event at Dunstable Leisure Centre. On the 23rd of December the tour will be taken to Leicester at Starlite Da Venue. On the 30th of December the tour will be in London at the Oasis Banqueting Suite. Finally, on the 31st of December the Three Kings will be in Birmingham at The Drum for new year's eve.
For all the ticketing information please contact BB PIN 27029130, Malcolm 07795151074, Alex 07776399958, Kith 07427159589 and Dexter 07903832900.