From security guard to founding multi-million-dollar company in the UK
This is a true story of determination and focus, showing that with the right mindset, success is achievable. Jeff Madzingo, the CEO of Diaspora Insurance was born and bred in rural Zimbabwe. He worked as a banker in Zimbabwe before moving to the UK to study. He got a post-graduate programme on a British Council scholarship.
In a keynote speech at the just recently held Zimbabwe Achievers awards, Jeff Madzingo the CEO of Diaspora Insurance thinks the UK is a good country for those seeking better opportunities. He founded Diaspora Insurance within a few years of being in the UK.
Diaspora Insurance is a company that has helped thousands of Africans living in the diaspora to bury their loved ones and for themselves to be buried with dignity. However, all was not rosy from the start.
Relating his experience at the recently held Zim Achievers awards, where his company Diaspora Insurance was the headline sponsor, Mr Madzingo said, after completing the post-graduate programme, he was not able to get a banking job in the UK and found himself working as a security guard.
He went on stage holding a blue jacket emblazoned 'The Watch Security'. He said the jacket he brought on stage was his uniform then, more than a decade ago.
However, he did not despair and used his time working as security guard to study and secure professional qualifications in mortgages and insurance.
He then started a business which helped thousands of diasporans buy their first homes while others were able to establish property portfolios of their own.
After the mortgage business, Madzingo founded an innovative insurance product, the Diaspora Funeral Cash Plan, which is and has remained the flagship product of Diaspora Insurance.
It covers Africans originating from 13 African nationalities and residing across the globe. Countries covered are Botswana, Ethiopia, Eswatini, Ghana, Kenya, , Malawi, Namibia, Mozambique, South Africa, Tanzania, Uganda, Zambia, Zimbabwe,
13 years later, the business has grown into a multi-million dollar business and has other insurance and related products including life cover and will writing.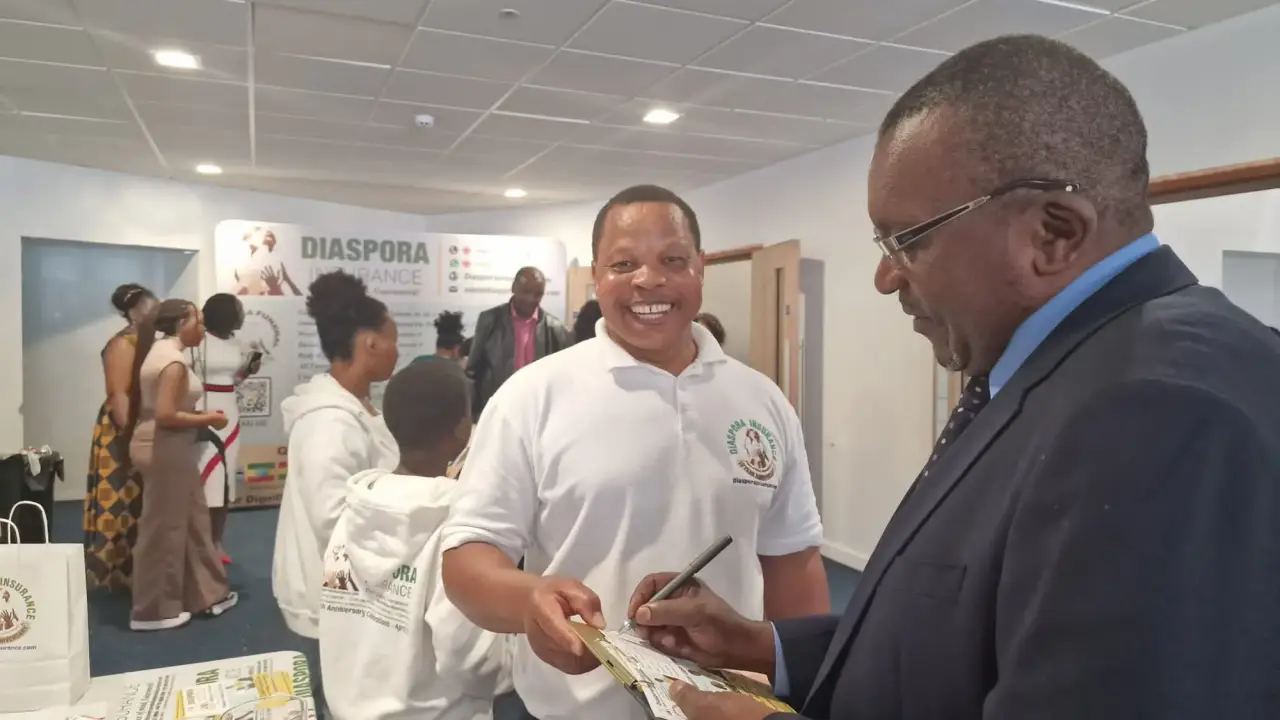 It has offices in the UK and South Africa, with a huge call centre in South Africa. Diaspora Insurance finds it easy and in their nature to offer help where it is needed.
Diaspora Insurance is a business that was built out of a need in the Africa diaspora community and it is not surprising that their charity work spans across Africa with donations to orphanages, old people's homes, widows and other marginalised communities.
Diaspora Insurance also runs a public service initiative to help spread the word about Go Fund Me appeals for repatriation, burial or any end-of-life expenses.