"Winky D's 'Eureka' album: is it Too Bold?"
Winky D released his collaborations album "Eureka' at Harare International Conference Centre on 31 December 2022.
The headline track seemed to be "Dzimba Dzemabwe" featuring Shingai "Too bold" Shoniwa. It was the last on the high octane set and immediately broke the internet, by Zimbabwean social media standards, as it provoked the most conversation. It was also released with the album's first music video.
It was a notable moment that reminded those with long memories of Oliver Mtukudzi's release of "Bvuma/Tolerance" a song that immediately assumed a life if its own despite Tuku's protestations to the contrary.
Artists and their representatives claimed Winky D works with such high confidentiality that each artist and their team was bound by signed Non-Disclosure Agreements (NDA).
But, so far, we have gathered that collaborators included Herman ("High Grades"), Holy Ten ("Botso"), Saint Florex (Dreams), Afro Jazz musician Mwenje Matole ("Nherera"), Enzo Ishall ('Mbinga yakasheka"), Nutty O ("Peter Friend") Killer T, Shingai Shoniwa ("Dzimba dzemabwe") and Tocky Vibes ("Mhururu').
The live event was well subscribed. It was followed up by much awaited YouTube releases on Winky D's Official Youtube channel as well as by unofficial channels. It was a bold move to present music live first and then on Youtube in a country so riddled by piracy. He accomplished it flawlessly.
The NDA agreements meant that the music was marketed and released only by the copyright owner to a curious audience. The artists involved cooperated with fierce loyalty avoiding any breaches of confidentiality. Such if the esteem the Gaffer is held in.
No Artist of such a huge profile is doing social commentary as candidly. You won't find a more willing audience in the world than Zimbabweans home and abroad; equally scared and equally fascinated by free speech. "Will he be free after the speech though?" they wondered.
Few would have imagined just how far Winky D would go this time. Very far, it turned out. "Is this the land that we died for? That we cried for? Usadaro!" (Don't do that!). Read what you will into that.
Nadia Nakai has just confessed she turned down a collaboration with Winky D. She turned him down because she was in a bad space. Was this the one? No answers are readily available. But Winky D moved. In Shingai Shoniwa he found corresponding stage energy and closed the show on a high.
Nehanda radio interviewed Shingai twice in 2022. Read the first story here: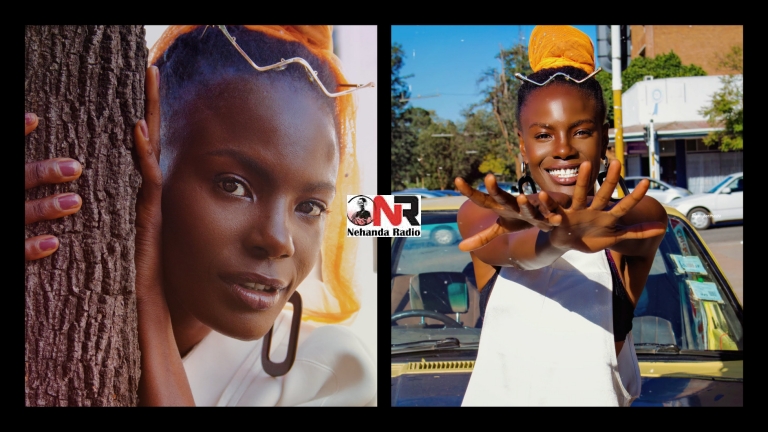 The follow up story landed on December 1. It was about her collaboration in the World Cup song. Read it here:
The first story was after a sponsor event. The second was more extensive and personal touching on her future plans. Some of the questions people have about Shingai include: "Who is Shingai?" and even "What does she want from Zimbabwe?"
She discussed her profile in the second story including an anecdote about growing up with Adele. She doesn't enjoy answering such questions because she herself is a Platinum selling artist and is a headline act on her own, although she has worked with names like Paul McCartney of the best-selling group, The Beatles. Above all she is a Zimbabwean born in Britain, but a Zimbabwean all the same.
Summing up Shingai in one story is an impossible job. For every anecdote with Adele or whoever the truth is there are a thousand others. We might miss the latest Shingai news for wanting to catch up with moot points. She is Zimbabwean.
I realized that the second question could cause some offence: "What does she want from Zimbabwe?" Of course, people wanted to know. Shingai's mother Leoba Kureya and her late dad left Zimbabwe in the 1970s on the pain of either death or prison for sorely troubling the Rhodesian government. But home never left Kureya's heart. She hosted visiting Zimbabwean musicians in her own home to share a plate of sadza. We are talking the likes of Bhundu Boys, Four Brothers and John Chibadura to mention a few. They influenced Shingai, (a twin with Shorai). With this background to ask her: "What do you want from Zimbabwe?" is almost as offensive as asking a guest in your home: "When you are you going back to your own house?" Zimbabwe is home for Shingai. It's home for diasporans and their families. Her mother sacrificed as much as anyone to see off the pre-independence oppression.
Many, on hearing or watching "Dzimba dzemabwe" were reminded of Mapfumo's candid social commentary. They weren't far by much. Among her Uncles are Thomas Mapfumo and Marshall Munhumumwe.
Relations between home and the diaspora are complex. 5% of GDP in Zimbabwe comes from diaspora remittances. The Minister of Finance celebrated record receipts in forex from the diaspora in 2022. Asking for a voice on local issues should therefore be a bare minimum. Sometimes it's a trade that benefits locals more As the two groups share knowledge gained overseas, for example, at the level Shingai has operated. We said this already in December.
Shingai was signed up to a big recording company. They had a say on everything; especially her image and performance appearances. Sometimes it got too restrictive, she felt. They determined her audience for her: strictly white. In fact, she was not supposed to make reference to her Zimbabwean let alone African origins. She featured on one song where she was not credited for her notable part. It even affected her remuneration. The situation was untenable. Shingai is now celebrating her freedom. And home is a huge part of the celebration. She is very conscious of why her mum left fearing for her life. She said: "As a diasporan I feel as if I am fighting for Black Lives Matter. I'm fighting for freedoms we already have in our motherland."
Shingai has spoken freely on behalf of Black Lives Matter, at the highest level. The initiative successfully saw English Premier League soccer teams kneel before games aggressively pushing for an end to racism. She was at the center of it. But she wants more! She is pushing for diasporans to invest in the home her mum and others fought for in a brutal war. The challenges Zimbabweans face are on two fronts, home and abroad.
There needs to be more open relations between locals and diasporans. Locals need to utilize the links. Most diaspora artists want to work with Zimbabwean Artists but there is a lot of gatekeeping involved on the Zim side. Managers either don't respond to calls or ask for too much money missing out on the opportunity to perform for new audiences abroad. Sometimes it's almost as if managers and artists are at cross purposes.
While local artists can be in-accessible to other partners, including fellow artists or set prohibitive conditions to collaborations Winky D should really be commended. He sponsored and produced the "Eureka" album.
He had the musical intelligence to conceptualise it and complete the vision by collaborating with such a wide spectrum of artists. Mwenje Matole has an Afro Jazz sound, which is in danger of being neglected, with the death of Oliver Mtukudzi. Some might wonder: if Tuku was starting out in 2022 would he get the same exposure? Maybe not. The Instrumental was done by Oskid. Guitars were performed by Mwenje Matole and Trust Semende (of Mokoomba) and was engineered by Oskid. The theme of the song is "Nherera" meaning 'Orphan.' (Production credits were obtained from Winky D's official YouTube channel.)
"Ibotso" by Winky D and Holy Ten has an Instrumental by Jusa Dementor which was Engineered by Oskid.
Winky D featured Saint Floew on Dreams with an Instrumental by Oskid and Engineered by Oskid.
Winky D featured Herman on "High Grades" which invokes the erstwhile academic in the musician (Winky D's school days) who is said to have worked hard in school to obtain "high grades.' The Instrumental was made by Layan Soljah and Engineered by Oskid.
The song "Dzimba dzemabwe" or 'Houses of stones' (from which came the name Zimbabwe) begged for Shingai's voice. The Instrumental was produced by Jusa Dementor with Guitar add-ons by Kudakwashe Mucheche and Engineered by Oskid. The Official video was Shot by Chris Shoca, with B-rolls by Kudakwashe Mucheche and Directed by Chris Shoca. Mucheche shot videos and played guitar indicating he is multi-talented.
Winky D is not new to social commentary. Winky D will always be Winky D, whether you agree with him or not.
Shingai's older sister Chipo who works for BBC is said to have accompanied her from UK (with her husband and other relatives) for the about 5 minutes on stage that have since been the talk of the country. She is not shying from the real issues although her own views are more nuanced and she is fighting her own battles to assert her identity and authentisism, a brutal battle in its own way as diasporans often find out.
Nehanda radio's last interview with Shingai was in late November. Despite network issues
she persisted with the interview over two days. So we have a rough idea of her most recent ideals. This helps, as all the artists involved pleaded silence based on the NDA. Even some good old friends would neither confirm or deny their contribution to protect their relationship with The Gaffer.
There were explosive musical moments during the show with such a varied line up.
The audience was already eating from his lap when Winky D closed the show by introducing Shingai, a symbolic but long overdue "Eureka" moment. He embraced a fellow Zimbabwean, though born in the diaspora, despite the inevitable "Who is Shingai?" questions thereafter. Winky D saw beyond that and pushed a Worldwide powerhouse to an audience that most matters to her, a truly touching moment. She was born for this high-octane moment.
Musically, Winky D has renewed his rich legacy with "Eureka." Musically there will surely be the period before Eureka and the period after; for this generation.
This is a developing story.