Remembering Rodrick Muganhiri…. genius on and off the pitch!
By Lot Chitakasha
Once you embed the title Doctor into the Zimbabwe football narrative many young fans will remember Tauya Murehwa. Interestingly , he was still a medical student in his first or second year when he took the Zimbabwe football fraternity by storm.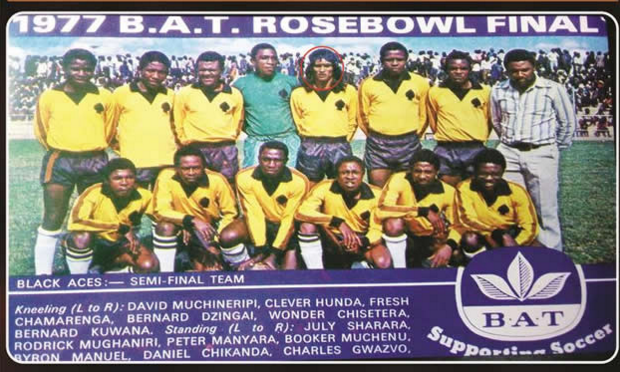 For the fans , it did not matter so in their euphoria they baptised him as the "Flying Doctor" . But long before the immensely talented Tauya, another good doctor graced our stadia. His went by the name Dr. Roderick Muganhiri.
The story of Dr. Roderick Muganhiri has always fascinated me. It is an inspirational story. Some historical context is important here. During the colonial era the Rhodesia government practised a bottleneck approach to education.
The system was meant to discourage as many blacks as possible from advancing to University. The mass of students were meant to drop out of school as early as possible so that they could work as cheap labour on farms and industries. The lucky few trained as teachers and nurses but university was dream.
Despite the stringent measures in place, a few black students managed to break through. They enrolled at the one and only prestigious University of Rhodesia which was a bastion of white privilege.
Notable students of the 1970's include flawed genius writer Dambudzo Marachera who was expelled, the self proclaimed Rambo of the struggle cde Chris Mutsvangwa, Sobuza Gula Ndebele, Zororo Duri and George Mayowe who all left to join the liberation struggle. Simba Makoni and Witness Mangwende who became prominent politicians were also able to break through and study. Women too were able to break the restrictive measures in place.
Roderick Muganhiri not only enrolled at the University but he went on to study in the prestigious Medical School. It will be interesting to find out how many were in this class but what cannot be disputed is that this was a remarkable feat.
Despite the white government 's undiluted belief that blacks were inferior and second class citizens, there are certain realities that could not be ignored. Students like Roderick Muganhiri among others reminded the authorities that their political philosophy was fallacious .They showed that ability is not about skin colour.
Rodrick Muganhiri was born in Highfield and went to Mhizha Primary School in the same suburb. Some of his classmates were Julius Chifokoyo and Richard Chihoro , prominent names in the football fraternity to this day. For his secondary school, he went to the prestigious St. Ignatius College, Chishawasha. While at school, he was already playing for Chibuku Shumba.
Football historian Stanley Zirata who was at the same school had this to say, "Bla Roddie would play school football on Saturday, the Chibuku Shumba officials would pick him up for the league match on Sunday before driving him back on Monday for lessons. Despite his early star status he remained humble, he was like a big brother to all of us…"
For a better understanding of the man, I had a discussion with legend Laban Kandi, the former Dynamos, Rio Tinto and Zimbabwe Saints goal keeper. He was full of praise for the good doctor.
"Rodrick was so intelligent during our junior football years at Highfield Youth Centre. He was our captain in the U 14 when he was only 12 in 1966. No wonder he went on to be a doctor, he was always destined for great things.." said Laban.
About his development as a footballer, he added, "We broke into senior football almost at the same time in the 70's. I joined Dynamos but he went to Tornadoes which later became Chibuku Shumba. One thing which made Roddie special was his humility. This he never lost even after graduation he remained humble. "
Rodrick Muganhiri was a founding member of Chibuku Shumba and when the club dissolved to form Black Aces, the original Shaisa Rufaro, he was part of the pioneering group of players. This is simply fantastic because these clubs were really good and they left their mark on our football story.
It is important to note that the legend had to juggle between medical school and playing football at the highest level. After independence and due to work commitments, he transferred to Kwekwe where he inevitably played for Ziscosteel.
What about his playing style, I asked Mukoma Laban Kandi. The legend was effusive in his praise . "He was versatile, he could play as centre back or defensive linkman. Roddie was so composed, he never panicked, I do not remember ever seeing him make a back pass to the keeper, he always looked for the forward pass. He could have played in any league in the world because his composure was simply unbelievable…" said the legend.
His relationship with teammates, how did he carry himself around since he was a qualified doctor? Did he expect any special favours? I asked. " Roddie was never for special favours, he expected to be treated the same, he was very close to Archford Chimutanda and Sunday Masauso, he donated his winnings to them, that was a special gesture indeed…he trained as hard as everyone and respected the coaches. He was a the true definition of a professional at a time when football was often viewed as a pastime " Mukoma Laban stressed.
What a great impact the good doctor had on the history of Zimbabwe football. Death truly robbed us like it did with many legends of the 80's. Sometimes I just sit and wonder how these legends would have contributed as coaches or administrators. I am sure Dr. Rodrick Muganhiri would have done well in an administrative capacity. What a loss-pasi panodya!