By Ishemunyoro Chingwere and Enacy Mapakame
The Zimbabwe Stock Exchange (ZSE) has suspended coal miner, Hwange Colliery Company Limited from the local bourse following its placement under administration.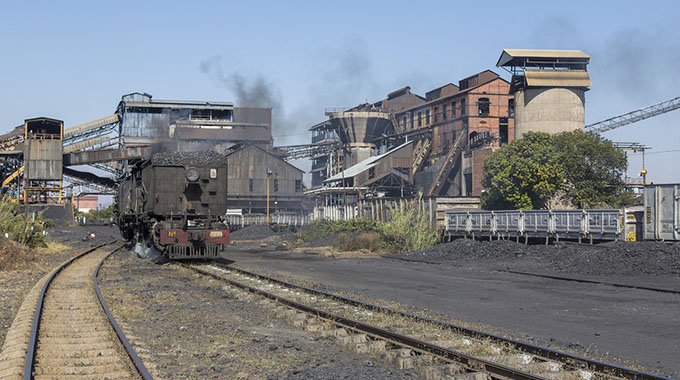 The suspension is with effect from November 2, 2018. ZSE acting chief executive officer Martin Matanda, in a statement said the suspension of Hwange would be for the duration of the administration.
"The Zimbabwe Stock Exchange hereby notifies the investing public of the suspension from trading in shares of Hwange Colliery Company Limited with effect from 2 November 2018, following its placement under administration in terms of the Reconstruction of State-indebted Insolvent Companies Act," said Mr Matanda.
According to the Reconstruction Act, every disposition of the property, including rights of action, of the company and every transfer of shares or alteration in the status of its members, made after the commencement of the reconstruction, shall, unless the administrator otherwise orders, be void.
Meanwhile, Government yesterday justified its decision to place the ailing coal producer under reconstruction saying as a majority shareholder, it had noted that there was no sense in continuing with the business.
Presenting evidence before the parliamentary portfolio committee on Mines and Energy, which is chaired by Norton legislator, Themba Mliswa, Mines and Mining Development Minister Winston Chitando tabulated a coterie of reasons that he said led to opt for the reconstruction route.
One of the major reasons was that the company was operating on a gross loss with cost of production alone, before factoring other overheads, outweighing sales revenue.
This was further compounded by a $150 million debt to Government. Despite promising its shareholders a net profit of $5,2 million in its own turnaround strategy document, the company, according to its 2018 half year financials posted a net loss of $23 million thus casting doubt on ability to meet set profit target.
Added to that, the company also owed its mining contractor Motor Engine $42 million and the contractor had to go to Government to get a guarantee to continue mining. On top of the Motor Engine debt, Hwange also went to Zesa, its main coal customer, and negotiated for an advance payment of $15 million thus the company already owed Zesa three months' supply of coal when on another hand it is struggling to pay the entity that mines the product.
"(In its turnaround plan presented to Government) Hwange was supposed to achieve operating profit of $5,2 million for the 12 months to December 2018 . . . when the results of Hwange Colliery Company were announced in June, it posted a net loss of $23 million," Minister Chitando told the portfolio committee on Mines and Energy.
"It's also important to understand, if you look at the results of Hwange over the years, that the biggest problem which Hwange has had is it has made a gross loss over the years. . . that means by sending coal to the industrial customers, they are making a loss.
"That is why, fundamentally, there is no business anywhere in this world which can ever succeed if the money you are getting for this bottle of water (for example) is less than what it is costing you, you are not supposed to be in business.
"Who is paying for that cost?" queried the Minister.
Minister Chitando said Government then reached a position where it raised questions over how best could the situation be saved thus the decision to put the company under reconstruction. The Herald