DEFENDING Castle Lager Premier Soccer League champions FC Platinum opened up a five-point gap over closest rivals Ngezi Platinum Stars after dismissing Herentals at Mandava yesterday.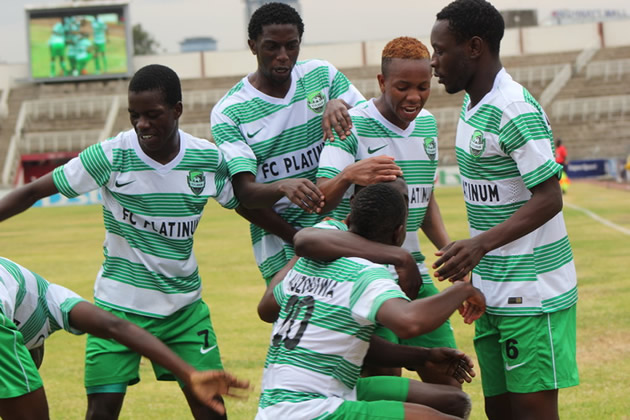 While reigning Soccer Star of the year Rodwell Chinyengetere was running riot at Mandava, scoring the brace that put him atop the goal scorers chart, Ngezi were losing ground at Rufaro where they slumped to a 0-1 defeat to Yadah Stars.
FC Platinum moved to 62 points while Ngezi remained on 57 going into the last seven matches of the 2018 league campaign.
Yesterday's brace takes Chinyengetere's tally to 13, and the former Hwange star is a clear favourite to make the 2018 Soccer Stars calendar yet again.
Second-placed Ngezi might have wished they had a Chinyengetere of their own as the Mhondoro side fired blanks before succumbing to a last gasp goal by Zvikomborero Bizeki.
Ngezi coach Tonderai Ndiraya was stumped by his players' display.
"I am hugely disappointed … that has been us the whole season. We lose to the so-called small teams by almost identical scorelines.
"When we reduced the gap to two points, players got into a comfort zone, thinking things were now okay. But football is not like that; you have got fight in every match," complained Ndiraya.
"I didn't see hard work today (yesterday). We have good players but it is the fight that is lacking but we are very much still in the title race, very much in it.
"We have seven games to go. FC (Platinum) can drop points but we can't wait for them to drop points, we just have to do the job ourselves … if we are not going to get three points in the next match then it becomes difficult for us."
Yadah Stars coach Thomas Ruzive rubbed salt into Ngezi's by tipping FC Platinum for the title.
"I think I will tip FC Platinum because it's an experienced side, more than Ngezi, they (FC Platinum) have been consistent," opined Ruzive.
While Ndiraya was at a loss for words, Chinyengetere was purring after another successful outing in FC Platinum colours.
"Hard work has kept me going and it is beginning to show. Credit goes to my coach Norman Mapeza who always gives me encouragement and tips me to do well on the football pitch.
"At this stage I am not worried about individual awards; what I want is the collective achievements with the team. We have a good lead but it is not yet over. We will continue to work hard to win at the end of the season," said Chinyengetere.
Chinyengetere opened the scoring at Mandava six minutes after the restart with a low drive after profiting from a nervy clearance by the visitors.
Moments later Herentals captain Blessing Majarira got a chance to level but failed to control the ball when it counted most.
Chinyengetere sealed his brace 15 minutes from time when he capitalised on a lapse in concentration in the Herentals backline.
Herentals FC coach Kumbirai Mutiwekuziva opted to look at the silver lining.
"We conceded two soft goals but overall, I am happy with the determination, resoluteness and courage of the boys. This is our first time here at Mandava and the hot temperatures affected our play here," said Mutiwekuziva.
Teams:
FC Platinum: W Magalane, R Mudhuviwa, G Bello, W Sitima, K Moyo, W Mhango, R Chinyengetere, F Madhanhanga (D Chafa, 65'), A Sadiki, M Dube (F Mupasiri, 88'), R Kutsanzira (N Tigere, 83')
Herentals FC: P Tafiremutsa, A Majarira, C Mavhurume, W Kupumha, W Chimbetu, G Chinobva, I Benza (T Benza, 52'), B Maunganidze, R Hachiro (T Chitukutuku, 80'), E Dzirondiro (B Majarira, 52'), B Majarira. Sunday Mail.