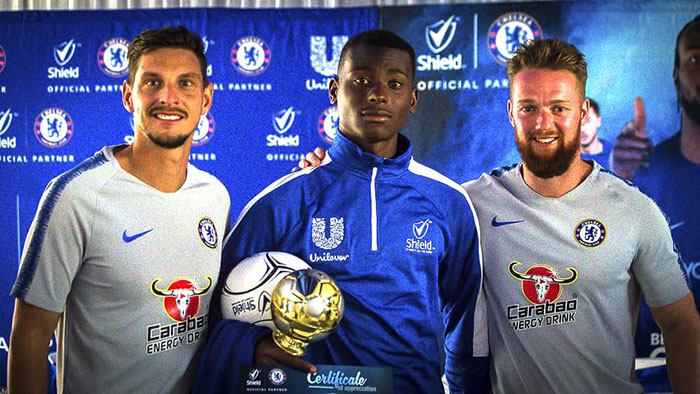 Mandevani and 11 other African budding players will take part in a five-day football training programme at Chelsea's Cobham training base after winning competitions in their various countries.
The Africa XI side will then end their trip with an exhibition match against the Chelsea legends.
They will also get an opportunity to watch Chelsea take on Cardiff at Stamford Bridge in a Premier League match this weekend.
"I am extremely excited about this trip. I worked hard to be here, now it's a dream come true," an ecstatic Mandevani said shortly before departure.
"I want to thank God, my family and my friends for their support during this whole project, from the time I entered the trials, until now, they have been very supportive.
"This is a moment that I have been waiting for. I thank Unilever for giving me this rare opportunity through their Shield brand.
"I will maximise on this trip to make friends, connections and linkages that I hope will transform my football career. I will do my best to raise the Zimbabwean flag high."
The opportunity to fly to London and meet Chelsea legends came from Unilever through their deodorant brand, Shield which has been in partnership with the Premier League side since 2017.
Under the partnership, Zimbabwean youths and other African amateur football players are presented with the opportunity to feel and see how it takes to train like champions among other opportunities that are expected to open doors for the youths.
"This is a historic moment for us. We are glad we have successfully managed to send the lucky Zimbabwean youngster to London and present him with this once-in-a lifetime opportunity," Shield brand manager Susan Luneta said.
"It's been a long journey since this Shield talent search was launched in April. This campaign has demonstrated to us that Zimbabwe has massive untapped football talent.
"We hope we can make it bigger and better next year. I want to take this opportunity to wish Joseph the best in his football career. As Unilever, we want him to leave London with the memorable experience of having gained valuable football skills that will transform his football career and take him a step further towards his dreams."
The talent search began in April with former Warriors coach Kalisto Pasuwa, ex-CAPS United forward Alois Bunjira, ex-Dynamos midfielder Naison Muchekela and former Amazulu and Highlanders goalkeepers' coach Cosmas "Tsano" Zulu conducting trials in Bulawayo and Harare.
After the trials were conducted, a final training camp was then held with 30 participants going through their paces under the guidance of the four local coaches and Chelsea development coaches Laurence Griffin, Steve O' Reilly and Freddie Myers in July.
Mandevani emerged as the best talent to represent Zimbabwe in the Africa select team of raw talent footballers following an assessment by the three visiting Chelsea coaches. Daily News.