By Maxwell Sibanda
Zimbabwe cannot afford another disputed election given its perilous state of the economy, analysts have said. The country's economy has been on a free-fall, with analysts saying its long history of disputed polls was a major contributing factor.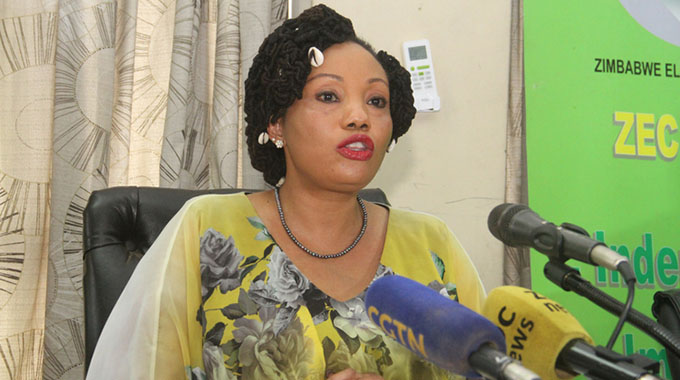 To break the vicious cycle of disputed polls, they said the Zimbabwe Electoral Commission (Zec) must ensure that the July 30 plebiscite produces an outcome acceptable to all contesting parties.
Already, Zec has stirred a hornet's nest by stonewalling electoral reforms proposed by the ruling Zanu PF's rivals to making the political playing field level.
Analysts said Zec chairperson Priscilla Chigumba has a constitutional duty to deliver a free, fair and credible election, saying it was improper that the opposition and civil society had to demonstrate or go to court to force her to uphold the law.
Political analyst Vivid Gwede said the reality was that most of the things being demanded by the MDC Alliance, led by Nelson Chamisa, were justified in terms of transparency and accountability and they just need political will to be implemented.
"Remember, we are coming from a long history of objective mistrust of the electoral processes and the inclination of the commission.
"Unfortunately, at the risk of her own reputation in this crucial election, the Zec chairperson appears to be opposing every logical suggestion coming her way, requiring to be coerced by court orders on the simplest of matters," said Gwede.
He added that there seems to be no other option for the opposition than to gather all their forces and confront Chigumba.
"But it is not encouraging that the opposition and civil society have had to literally demonstrate and petition in court to make do what is simply her duty to the nation.
"Zimbabwe cannot afford another sham election. She just has to be responsible enough with both her reputation and constitutional duty to deliver a free, fair and credible election," said Gwede.
Media analyst, Rashweat Mukundu, said Zec owes it to the people of Zimbabwe to meet with opposition political parties for a face-to-face interaction on issues of concern.
"The credibility of any election is anchored on participation by political actors and if the MDC Alliance which poses a threat to Zanu PF either pulls out or goes into the election with as many queries and questions then the election will face a credibility test. Zec's key stakeholders are voters and political contestants and its dealings must create trust," said Mukundu.
Crisis Coalition spokesperson, Tabani Moyo, said the MDC Alliance was the biggest opposition party in the country, hence its actions and decisions should be strategic and show that it is a government in waiting.
This includes articulating alternative policy propositions on one hand and utilising its political muscle through nonviolent means as a way or articulating its ideas.
"Zec has failed the credibility and capacity test in many fronts namely: administrative and defining competitive regulations which will lead to contested results. In this regard, the opposition is justified to use nonviolent means in articulating its issues. What will be grievous is going into the elections as if business is normal when it is not," said Moyo.
Political analyst MacDonald Lewanika believes Zec can certainly be fairer and more transparent in its approach.
"Some of the MDC Alliance's demands are administrative overtures well within the province of Zec to implement in good faith.
"Given where we are in the electoral cycle, pulling out of the election will be futile, Zec will continue with the elections with Chamisa on the ballot and candidates not sold on the boycott even within the alliance will take advantage of the confusion to participate.
"At the end of the day, Chamisa and the alliance can cause serious challenges to Zec's credibility and the efficacy of the election but that has never stopped Zec nor Zanu PF in the past," said Lewanika.
Political analyst Maxwell Saungweme said the MDC Alliance was right in calling for reforms.
"In fact they are late; they should have done that long back. We kept telling them that the election was already rigged. They missed the point way back when they backed Zanu PF in doing a constitutional drafting process that was not people centred, and when they supported the coup and when they called people to go and register to vote yet there were no reforms.
"Their arguments now sound spurious as they sanitised the rigged processes by participating on the pre-poll processes, namely campaigning for people to register to vote, and participating in a nomination processes done by the same Zec.
"So it becomes spurious and duplicity when they choose processes they want reforms while participating in others," said Saungweme. DailyNews