'Punish political violence perpetrators severely'
Politically-motivated violence must not be allowed to consume the moral fabric of Zimbabwean society to the extent of forgetting even the sanctity of human life.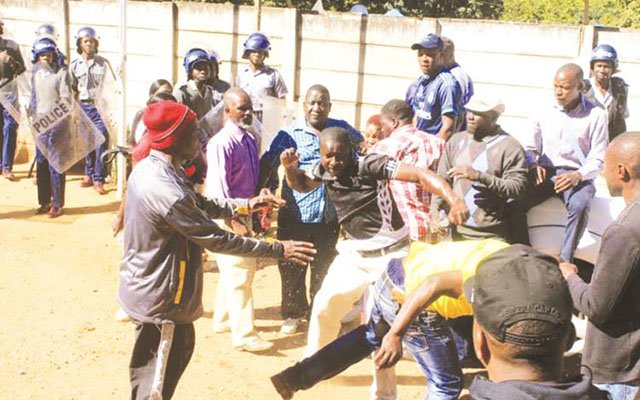 Last Saturday, a bomb blast rocked White City Stadium soon after a rally that was addressed by President Emmerson Mnangagwa, missing the Head of State by a whisker but in the process injuring over 45 people.
Two of the injured — who are members of the presidium's security — have since succumbed to injuries sustained in the attack.
The barbaric act does not need any condonation from right-thinking Zimbabweans.
People may have differences, but surely settling scores through adopting murderous tactics is not morally right. It exposes Zimbabweans as immature politically.
These acts could actually worsen as people approach the watershed polls expected on July 30. For now, there is need to get our act together as Zimbabweans and start shunning political violence in all its forms — whether it is inter-party or intra-party. This may have been said before but if the perpetrators are caught, they should be allowed the liberty of rotting in jail.
Perhaps Zimbabweans have a tendency of forgetting the past too quickly. In 2008, especially in the run-up to the June 27 presidential run-off, the late MDC leader Morgan Tsvangirai pulled out, citing the death of over 200 of his supporters in politically-motivated violence around the country.
Hundreds of others were either maimed or left homeless in well-choreographed campaigns by suspected State agents.
On the one hand, it is wrong to engage in mass killings for political expediency, let alone murdering even a single person for any reason.
When an individual or group of people then deliberately arrange to hurl an explosive in a crowded area, the act clearly smacks of cowardice.
As elections approach, Zimbabweans must have taken their lessons and understood that political violence is outright primitive and must have disappeared with the Stone Age.
Enough is enough. Mnangagwa has pronounced that this year's elections must be free, fair and credible — traits which can only be satisfied if there is no violence on the ground.
Zimbabwe is a country with a lot of potential and if there is a feeling anywhere that the current government has failed, this should be expressed through the ballot which is exactly a month away today.
Bludgeoning and maiming fellow Zimbabweans because they have views different from yours must be condemned in the strongest sense. Daily News