By Farirai Machivenyika
Government has relaxed regulations on the importation of basic commodities into Zimbabwe and has invited people and organisations with free funds to approach the Industry and Commerce Ministry to obtain licences to import the goods.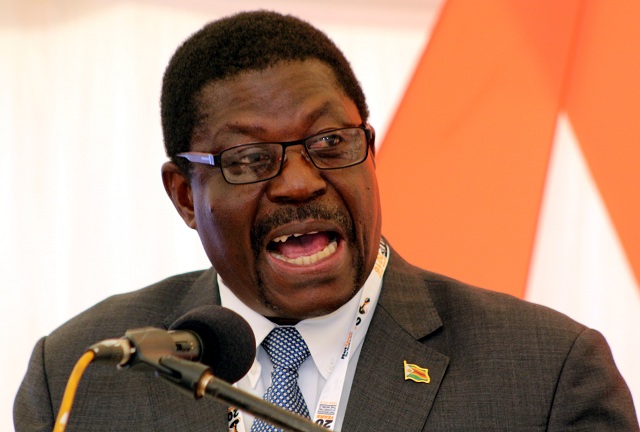 Speaking at a press conference to address measures that Government had taken to ensure availability of basic commodities and stabilise prices ahead of the festive season, Industry and Commerce Minister Dr Mike Bimha (pictured left)said his ministry was ready to process permits and licences for importers.
Prices of basic commodities have been rising in the past two months due to foreign currency shortages that have seen manufacturers struggling to get hard currency to procure basic commodities.
"What we would want to announce today is that, we want to call upon companies and individuals who have free funds to import basic commodities and my ministry is ready to process permits and licences to that effect.
"You will recall that some of the basic commodities were removed from the Open General Import Licence and were now covered under various Statutory Instruments including SI 64 of 2016.
"But as we had said time and time again these SIs such SI64 of 2016 were not intended to ban the importation of products but were intended to regulate their importation and where we believe that there is demand exceeding supply we will obviously want to facilitate the importation of such commodities which is the case in point because of the demand as a result of the coming festive season and again because of the limited foreign currency available to local producers we would want to make sure that those with free funds be they individuals or companies they should come forward to obtain the necessary permits and licences to bring products into the market," Minister Bimha said yesterday.
He added that the Cabinet task force monitoring prices would also meet this week to receive reports from inspectors monitoring prices of the basic commodities.
"We have increased the number of inspectors who have been going around monitoring prices and recording the same and we are of the view that sometime this week by Wednesday our taskforce will meet again to review progress now that a lot of information would have been made available.
"But the information we have received so far is that there are sectors and companies that have increased prices without any justification and some of these companies are in the brickmaking industry, some of them in the packaging, some of them the pharmaceuticals. What is disturbing, though, is that some of these companies are companies that are getting a lot of support from Government," he said.
Dr Bimha said Government would not hesitate to take action against companies that were raising prices without just cause.
"While Government is committed to supporting local producers Government cannot watch such companies profiteering for their own interest. We are not averse to price increases, but we believe price increases should happen where there is justification. There are number of measures that Government can take, but our approach is really not to come up with a blanket intervention.
"We would want to isolate the culprits and deal with them individually. If it is the entire sector we will then address them as a sector. Most of our companies have licences that govern their operations and if we believe that some of these companies do not want to operate like other responsible companies we will not hesitate to withdraw their licences and take other necessary measures.
"So when we meet this week as a taskforce we will be able to identify such culprits and decide on what action to take," he said. The Herald