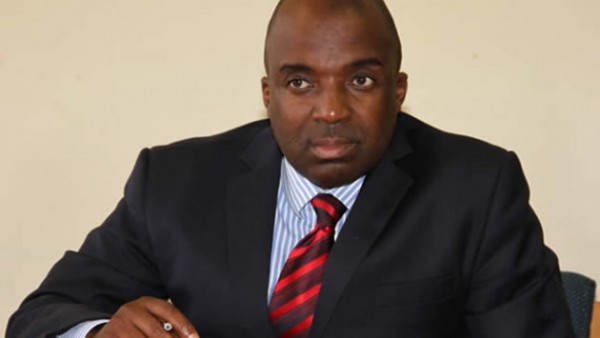 Chimedza was appointed the top civil servant in Masvingo on October 9 following a shock Cabinet reshuffle that diminished Vice President Emmerson Mnangagwa's influence in Mugabe's quarrelling administration.
He took over from Shuvai Mahofa, who died on August 14, nearly 30 months after her appointment in February 2015. Mahofa had replaced Kudakwashe Bhasikiti who was sacked from his position by Mugabe in December 2014 for being too close to former vice president Joice Mujuru, who fell out with the Zanu PF leader three years ago.
Since his appointment, Chimedza has battled to put his foot down in Masvingo.
He is being resisted by the Team Lacoste faction on suspicions that he is at the beck and call of functionaries in the rival Generation 40 (G40) camp.
Zanu PF is torn between two factions — G40 and Team Lacoste. The latter is on a crusade to catapult Mnangagwa into the highest office in the land, while the former does not believe the vice president has what it takes to succeed Mugabe.
Masvingo, along with the Midlands province, are the citadel of power for the Team Lacoste faction and often openly rebel against Mugabe.
Because the Team Lacoste faction is dominant in Masvingo, Chimedza is being frustrated by its apparatchiks from effectively discharging his duties as the intermediary between the province and various government ministries and their departments or agencies.
Before his appointment, Chimedza, a former deputy minister of Health and Child Care until December 2014, had been condemned into the political Siberia for hobnobbing with Mujuru.
He now stands accused of having switched camps to the G40 faction, which presently has Mugabe's ear.
At a recent provincial coordinating committee (PCC) meeting held in Masvingo last week, Zanu PF chief whip and politburo member Lovemore Matuke brushed off Chimedza as a greenhorn, who should be taking advice from him and other party bigwigs in the deeply-divided region.
Contacted for comment yesterday, Matuke stuck to his guns, saying the new minister was indeed a junior in the province but denied undermining his authority.
He said: "I cannot undermine my junior. He controls government departments and how can I interfere with him since we are in different offices? He was appointed by the president and, as our junior, we can give him some advice whenever he needs it".
Amasa Nenjana, the deputy chairperson for Masvingo province, confirmed however, that there was little respect for Chimedza.
"They are fighting the Provincial Affairs minister; they don't respect him. The party leadership knows that the Provincial Affairs minister is a hardworking man but we have some people who do not want to respect him for factional reasons. This is not good for our party; some of us are former soldiers; we learnt to respect our leaders. The Provincial Affairs minister was appointed by the president because he knows that he is up to the task," said Nenjana.
Chimedza, the legislator for Gutu South, preferred to be diplomatic after being contacted for comment by the Daily News.
"I have read in some newspapers something to that effect but you see, these are allegations that are coming through newspapers, allegations that I can't verify. Matuke is a brother, we come from Gutu together, a politburo member and member of our PCC here. He understands how government works, how the party works and attendant communication channels available for internal party communication. I don't reckon newspapers as one such communication channel," said Chimedza.
He said anyone who questions his suitability was questioning Mugabe's selection.
"Are people questioning the president choice? The president is the one who makes appointments and I don't know of any board, statutory or otherwise outside the presidency, that is seized with examining and giving scores on presidential appointments. In that light, I don't believe loyal party cadres question the considered decisions made by our president. But in a democratic country like ours, where freedom of expression is guaranteed, everyone has the freedom to express an opinion and since everyone has an opinion, it will be futile for me to try and comment on every opinion made by more than 13 million esteemed citizens of our beautiful country," said Chimedza.
"I am settling in well and the people of Masvingo have been very helpful and the level of enthusiasm around development issues in the province is phenomenal. As for rivals, I don't have any rivals in the party but colleagues . . . We are bound by our collective Zanu-PF identity, our common geography, family ties and shared experiences. It is these aspects that I am going to exploit to bring our Masvingo family together in our diversity and collective strength," he added.
It is understood that some Zanu PF cadres in the troubled province are currently seeking audience with Mugabe to try and resolve the obtaining crisis.
Mugabe has previously granted them rare audiences.
He met the Members of Parliament from Masvingo at his official residence in June last year and proceeded to Chiredzi after the legislators approached him pleading with him to fire Mahofa and Psychomotor minister Josaya Hungwe, both believed to be staunch Mnangagwa supporters.
Early last month, Mugabe told thousands of Zanu PF members who thronged Chipadze Stadium in Bindura for a presidential youth interface rally that Masvingo was a "problematic province, which needed a shake-up". Daily News