The Morgan Tsvangirai-led Movement for Democratic Change (MDC-T) has ruled out the prospect of reuniting with its former secretary general, Tendai Biti, in a planned coalition of opposition parties to face ZANU-PF in the 2018 general elections.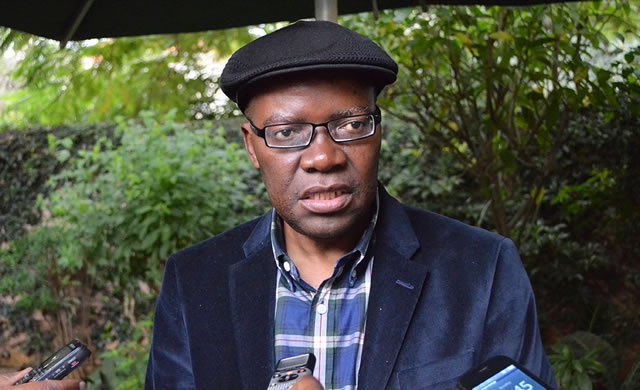 The party would rather forge an alliance with expelled former vice president, Joice Mujuru, now leader of the Zimbabwe People First (ZPF) party, and Welshman Ncube, who defected from Tsvangirai's party in 2005 to lead a breakaway Movement for Democratic Change (MDC).
The decision was made at a strategic retreat of the MDC-T's Standing Committee, which took place at an undisclosed location in Harare's Mt Pleasant suburb at the weekend.
The Standing Committee is the MDC-T's most influential organ outside congress.
Biti left the MDC-T following fallout with the former trade unionist in March 2014 and has since formed his own party, the People's Democratic Party (PDP).
The MDC-T's top brass also decided at the meeting to rescind its decision to boycott elections three years after it decided, in October 2014, not to participate in elections until government instituted electoral reforms.
The party also resolved to start preparations for the 2018 general elections, which many anticipate would define the future of Zimbabwe's politics.
The resolutions were endorsed by the party's National Council which met in Harare on Tuesday.
Sources said the Standing Committee, comprising of 17 people, made these decisions following a report presented by MDC-T secretary for elections, Murisi Zwizwai.
Zwizwai is said to have told the gathering that the Zimbabwe Electoral Commission was making satisfactory progress in levelling the electoral playing field, which the party has insisted is heavily tilted in favour of ZANU-PF.
"Zwizwai said he was surprised that ZEC was agreeing to some of the demands for electoral reforms and urged the party's leadership to start preparing for elections," said one party official who was at the retreat.
Debate ensued following Zwizwai's presentation on how the party would proceed to prepare for elections, with many of the members in favour of a broad alliance, but one which excluded PDP.
"There was a unanimous agreement that Biti and his PDP shall not be part of the coalition and this will be placed as a disclaimer to all coalition talks when they shall formally start," the official added.
"What should not be doubted is the party's commitment to a coalition, which will face ZANU-PF in 2018, but problems are likely to arise particularly from Welshman Ncube's party which many fear might not be very comfortable with the arrangement that singles out other players," said the source.
"It was, however, decided that we weigh the benefit of every potential coalition member in terms of support and popularity. We realised that Biti and other parties do not have much to offer and shall not be part to the coalition."
The committee reportedly gave Tsvangirai the powers to personally lead the negotiations for a coalition.
Another Standing Committee member said the MDC-T realised that it needed to join hands with Mujuru because of her strong support in Mashonaland provinces where it has struggled to penetrate since its inception in 1999.
"The guiding principle before we get into any coalition with anyone is what that person is bringing to the coalition. Here, we are talking about parties that command a decent following, which we can use to dislodge ZANU-PF. For example, Joice Mujuru commands considerable following in the Mashonaland provinces where we have not been too strong and there is need to join forces with her because combining that with our urban support may give us good numbers. Biti does not even have support in the urban areas," said the official.
Tsvangirai is himself reported to have told his senior lieutenants that Mujuru would make a perfect coalition partner given the humiliation she was subjected to by ZANU-PF after she was accused of plotting to topple President Robert Mugabe.
"He (Tsvangirai) described Mujuru as a good person with whom we can forge a formidable coalition. Remember she suffered great humiliation from ZANU-PF and she would definitely want to fight and dislodge it," said the source
The Standing Committee is reportedly said to have agreed that the only other viable partner could be Ncube's MDC, because of its election record in the Matabeleland region.
Although the party's official version is that they slammed the door on Biti because he did not have enough numbers to give value to the coalition, MDC-T insiders said it was a move aimed at punishing and condemning the former finance minister to the political wilderness for engineering the 2014 split, which subsequently led to the opposition party losing traction in Parliament after 21 of its Members of Parliament, who had defected, were recalled from the august House.
The split left the party structurally weak and financially strained.
On Tuesday, Tsvangirai appeared to be confirming the side-lining of Biti, saying at a press conference that his party would only enter into a coalition with "like-minded parties".
"What we are seeking is a pre-election pact with like-minded parties and this is in line with the resolution of our congress that we need to promote convergence of all like-minded people," he said.
PDP spokesman, Jacob Mafume, said the MDC-T was being selfish for taking such a position.
"It's all shadow boxing. It's not doing anyone a favour to be in a coalition, it's not for PDP or MDC-T; it's for the people. If they are for the people, they will do what the people want. Political scientists and ordinary people have said let there be a coalition," he said.
ZPF spokesman, Jealousy Mawarire, said his party's position was that it would work with "all democratic parties in the country" without prejudice.
"The same position has been emphasised by our president (Mujuru) many times and it has not changed," he said.
Ncube could not be reached for comment.
Biti's party has hit turbulence in recent months, with scores of key members defecting to either return to the MDC-T or join ZPF.
PDP has lost more than two dozens of key members since October, beginning with 20 members of the Matabeleland North provincial executive, who defected to ZPF, citing Biti's lack of political stamina.
Soon afterwards, senior official and former legislator, Paul Madzore and two other officials in
Harare crossed the floor to rejoin the MDC-T.
This coincided with the defection of deputy party secretary general, Tongai Matutu to the MDC-T.
Vice president, Samuel Sipepa Nkomo and deputy national chairperson, Watchy Sibanda have also jumped ship to join ZPF. Financial Gazette