By Nelson Chenga
HARARE – Months of political upheavals in the ruling ZANU-PF party have left Zimbabwe's liberation war veterans split and on edge as they await the fate of their leader, Christopher Mutsvangwa.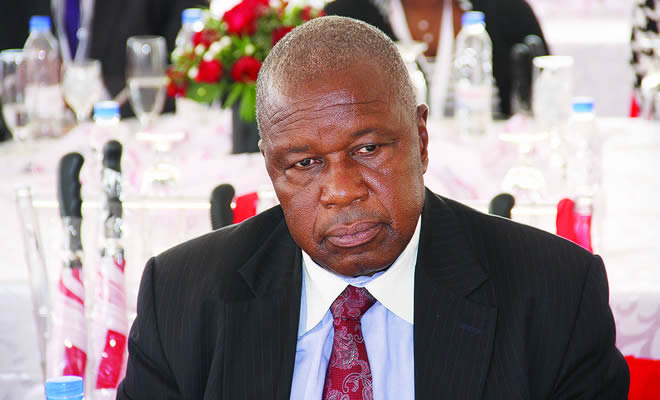 Ejected from party structures in his Mashonaland West province last month soon after the ruling ZANU-PF party concluded its 15th annual people's conference, Mutsvangwa will know his destiny once the national disciplinary committee (NDC) has met.
It is not yet clear when the NDC would meet.
Comprising Vice President Phelekezela Mphoko as chairman; women's affairs secretary and First Lady Grace Mugabe; party national political commissar, Saviour Kasukuwere; youth secretary, Pupurayi Togarepi; Kembo Mohadi; and Patrick Chinamasa, the committee is said to be waiting for the First Lady to return from President Robert Mugabe's annual sabbatical in the Far East to convene its first meeting for this year.
Mutsvangwa was elbowed out of his province days after war veterans patron President Mugabe dressed down the war veterans when he tore into their egos, inflated by their participation in the country's 1970s armed struggle for independence.
"Zvekuti ini ndiri ngana ndakaenda kuhondo iwe hauna kuenda kuhondo, nonsense! (The boast that I went to war and you didn't, nonsense!)… They (war veterans) sacrificed yes; but they are not the only ones. Even ordinary people back home sacrificed their lives. Some don't know where their relatives are until today. Some were arrested, sent to prison. All those were forms of the struggle. It was not just a gun that won the war, it was a combination of various fights, some political and some even economic and obviously the gun being the main norm," charged President Mugabe during the December Victoria Falls conference.
And bolstered by President Mugabe's rebuke, Mashonaland West immediately ejected Mutsvangwa from the party, alleging that he insulted the First Lady, among a raft of other accusations.
Mutsvangwa's woes emerged just a year after his predecessor, Jabulani Sibanda, was thrown out of the ruling party for reportedly mocking the elevation of President Mugabe's wife in ZANU-PF, alleging this was part of a "bedroom coup".
Sibanda was linked to a faction whose key members were stampeded out of ZANU-PF for plotting to unseat President Mugabe.
And as factionalism takes its toll on the party, Mutsvangwa's constituency of liberation war veterans has been plunged into turmoil, forcing them to seek safety in the faction-riddled party now split between a group of young Turks, known as Generation 40 (G40), and another faction linked to Mnangagwa.
The two factions emerged after the party's December 2014 congress, which expelled former vice president Joice Mujuru and over 100 others as it sought to exterminate factionalism.
Many fear that if Mutsvangwa happens to be dismissed from the party, this could plunge the ruling party into unprecedented chaos. Mutsvangwa'a predicament comes just a year after the 1970s former guerrilla fighters had hardly regained their footing following an almost similar dismissal of their previous militant leader, Sibanda.
Sibanda's dismissal was part of the ruling party's biggest purge since independence that has so far seen over 200 cadres either suspended or dismissed from the party since the elective December 2014 congress.
Among those dismissed are many war veterans whose treatment has triggered divisions with the Zimbabwe National Liberations War Veterans Association (ZNLWVA), the umbrella organisation that most of the country's former freedom fighters are affiliated to.
Sibanda refused to comment on the state of the war veterans' camp when contacted for comment, referring all questions to Mutsvangwa. Mutsvangwa, who also doubles up as the Minister of Welfare Services for War Veterans, War Collaborators, former Political Detainees and Restrictees, however, dismissed speculation that the war veterans are in disarray owing to the ructions in their ruling ZANU-PF party.
The beleaguered ZNLWVA chairman, in fact, expressed delight that the war veterans remain influential 35 years after independence as they occupy key positions in both Cabinet and the ruling party's powerful Politburo.
"I don't think they (war veterans) have never been as strong as they are now. Ane bhora ndiye anomakwa (You mark the person with the ball)," said Mutsvangwa, dismissing suggestions that purges in the party had split the war veterans, whom he said were still united despite the political turmoil.
"I am the Minister of all war veterans. It doesn't matter which party ones belongs to. There is no discrimination in the country's Constitution. I apply the Act without fear or favour as Minister of War Veterans," said Mutsvangwa.
Political commentator, Ibbo Mandaza, however, argued that it was impossible for the war veterans to remain united in the wake of the year-long purges.
"There is no way that ZANU-PF would remain the same when 25 percent of the party leadership was purged. The purges impacted negatively on the State, ZANU-PF and the war veterans. They are definitely split over the issues that have happened since December 2014," Mandaza argued, adding that if ZANU-PF decided to again dismiss Mutsvangwa, that would push the party to a point of no return.
"That would be the death knell for ZANU-PF. But I think they would be cautious now because that would mark a turning point, a point of no return for the party," said Mandaza.
Economist Vince Musewe, who is linked with former Prime Minister Morgan Tsvangirai's Movement for Democratic Party, believes that the influence of war veterans in the scheme of things has been whittled down.
"I think we are seeing the role of war veterans diminishing as ZANU-PF plans to put into leadership positions non war veterans. Their relevance to national politics will be less, especially after (President) Mugabe. Their power no longer exists. This, of course, is due to young Turks taking over ZANU-PF most of whom do not have struggle credentials," Musewe observed. Financial Gazette