By Nigel Pfunde
She is one of the most popular poster girls in the country presently but when she first returned to the country   in 2009, she wouldn't turn heads in the streets.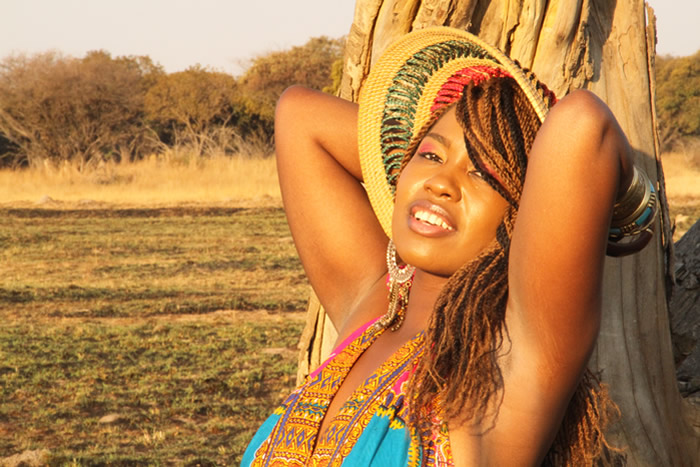 She never got enough local support and it was a typical story of a queen abroad and a commoner back home.
Her name is Cynthia Mare. She made her breakthrough in the music industry in the United Kingdom in 2007 with her song,Happy.
She had relocated to the United Kingdom with her family at the age of 16  but people back home did not 'feel' her music then.
She pursued her music, setting her eyes on the prize, and now she has become a darling of many as she continues to perform at sold-out shows in and out of Harare. She now boasts of seven awards in her cabinet and is not apologetic for winning despite a backlash from certain circles who believe she is undeserving.
The 31-year-old diva has bagged three gongs at the Zimbabwe Music Awards (Zima)  2014 and three Zim Achievers awards in the United Kingdom. It is the Zima that attracted controversy, with some critics submitting that she was undeserving.
Cynthia, however, told this reporter that she was unperturbed by people's divergent opinions since she is in no competition: "I am not competing with anyone; I am running my own race and walking on my music (sic) to push it where I want it.
"It's not like I awarded myself, I actually feel honoured by the awards, and they push me to work even harder.
"People are people and they always have different views and I respect that.
"I don't worry about competition because I know if I produce good music, people will still like it.," said Mare.
But who is Cynthia Mare?
"I am just that simple girl you know; born in Zimbabwe and proud of it.
"I left for the United Kingdom after school at the age of 16 with my family where I then enrolled for studies," said Mare.
A trained nurse by profession, she   turned into a professional musician while in the UK around 2007 after she released her debut album titled Happy. She was now nursing music lovers with sweet music to their ears!
Mare said  she has always loved music,  even during her  high school days and she would listen to music by Anita Franklin, Mariah Carey, the late Whitney Houston, and of course, including that of Brenda Fassie. Her school life was a bit nomadic.
"I went to St Dominics up to Form 2, then I transferred to Hermain Gmeiner in Bindura where I became a head girl in Form 4.
"I was a good girl, I guess my time at St Dominics — a Catholic school – instilled that discipline in me. I was also very good at Maths, I was an 'A student'."
After trading nursing for music, Mare worked with both local and international producers. She released a single;Catch Me When I Fall in 2009 and this endeared her to fans at home as it got generous airplay.
It was around that time that she made collaborations with the likes of EX-Q and Extra Large, both of who were at their peak then. It was then that she made a breakthrough in the local market.
In 2009, the late Prince Tendai invited her to be part of the Real Deal show that had Senegalese born American star Akon and Jamaican Sean Paul. In the same year, she enjoyed a purple patch as she was also invited to perform at the senior superstar Oliver Mtukudzi's show.
She 'killed' it as she could not afford to waste a golden opportunity.
"Tuku came over after my set and said he enjoyed my performance. I've had a lot of support and it's really great. I treasure the day," said the vivacious diva.
She prefers to keep her love life under the lid but says she is single.(not sure if she is off the market though!)
Why did she relocate back home?
The year 2012 will remain forever etched in Mare's mind. It marked her transformation from being an RnB and pop musician to Afro-fusion. The death of her mother seems  rather  paradoxical. Her   mother's death was obviously a bad and rough patch in her life; but it transformed her.
"In 2012, while shooting the video for Going In, in London, I got a call that my mother had succumbed to cancer.
"I rushed back home but found her in a comma, and she passed on. Losing her was devastating and it changed me. Music was my only therapy and after the funeral , I recorded a  tribute album in her memory," she said.
Mare released the scorcher Dai Zvaibvira which won an award at the Zima. This year, she released a single that is being rotated on national radio stations.
Titled Moto Ngaubvire, it was released to mark the 16 days of activism against gender-based violence at Alliance Francaise. She was supported by the British Council, UKAid and DFID as she stressed on the need to empower young girls so that they become confident and stand up in case their rights are violated. It seems Mare is now singing straight  from the heart since her songs mirror real life experiences.
"When I was growing up, a cousin of mine used to be under my mother's custody and she was a victim of rape. When I returned from the UK and met her after a decade, she had changed. She was frail-looking and had two children, with another one on the way," said Mare.
"She did not get the proper counselling and she lost hope with life (sic)."
British ambassador to Zimbabwe, Catriona Laing endorsed Mare's voice and described it as "powerful".
Mare also said she owes her recent success to teamwork that is being led by her manager Njabulo Nkomo, better known as Tytan.
She is backed by Soul Afrika – her live band. Mare, who is single,  said she will keep running her own race and keep the musical flame burning. The Zimbabwe Mail