LONDON – Zimbabweans in the UK have welcomed the prospect of a parliamentary debate on the deteriorating situation in Zimbabwe as a means of questioning the British policy of re-engaging with Mugabe.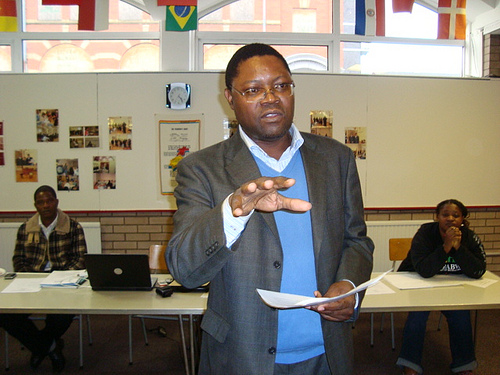 'We want the British government to tell us what they mean by progress in Zimbabwe' said Ephraim Tapa, President of Restoration of Human Rights in Zimbabwe (ROHR).
He was referring to a remark by former Africa Minister Mark Simmonds at a meeting in Parliament on Monday which was organised by the MP for Reading West, Alok Sharma, after being approached by ROHR's Reading branch.
Mr Sharma, hearing the anxieties expressed by the large number of Zimbabweans, raised the possibility of a parliamentary debate because it was some years since Zimbabwe had last been discussed in Parliament.
The idea was supported by Mr Simmonds, one of two other MPs who attended the meeting. He said the British government had a policy of 'incremental engagement with the Zimbabwean government' even though it was clear that the 2013 elections had not been legitimate.
He said there was concern in the region about the situation and there would be 'real problems' for Zimbabwe's international relations if Grace became president. Nevertheless, Mr Simmonds spoke of 'small steps of progress', echoing the official British and EU diplomatic line.
Ephraim Tapa and others argued that Zimbabwe remained in crisis with rampant corruption, a compromised judiciary, a culture of impunity, with the regime being backed by the military and violence remaining a tool of control.
After the meeting, Ephraim elaborated: 'Mr Simmonds spoke of progress but there has been no progress. The situation has clearly worsened since the 2013 elections. Yes, there is a new constitution but it has not been implemented and Zanu PF is tearing itself apart with no idea how to get out of the massive hole it has dug itself into'.
But Ephraim welcomed the idea of a parliamentary debate. 'It is necessary to interrogate the British government's policy as it is not at all clear what it hopes to achieve'. Millions of pounds of British taxpayers' money in aid was helping prop up the regime.
He urged Zimbabweans in the UK to enlist the support of their local MP to back the suggestion of a debate. A meeting of the Zimbabwe Action Forum is to be held after the Vigil on 7th February to discuss a template letter outlining reasons why Zimbabwe should be discussed in Parliament.
Despite the claimed 'progress' in Zimbabwe the Vigil notes the following comments in the Foreign Office's latest update on Zimbabwe (see: https://www.gov.uk/government/publications/zimbabwe-country-of-concern/zimbabwe-country-of-concern-latest-update-31-december-2014 – Zimbabwe – country of concern: latest update 31 December 2014):
· The UK government remains concerned about politically-inspired violence and harassment, repressive legislation and limited media freedom
· Progress to align legislation with the constitution remains disappointingly slow and limited to less sensitive areas
· We are concerned by the continued use of oppression by police to stop legitimate peaceful protests and to limit freedom of expression
· We are particularly concerned by incidents of reported hate speech used by the First Lady Grace Mugabe. On 6 October, Grace Mugabe was quoted as saying that she would "spill blood" if anyone attempted to remove her from her Mazoe farm, illegally appropriated from a white commercial farm owner
· We continue to remain concerned by the general lack of respect for the rule of law in Zimbabwe, particularly over property rights and security of land tenure
· Individuals, particularly those with a high profile, remain encouraged to take the law into their own hands.
This is progress?
In his remarks to the meeting Mr Simmonds noted 'some African countries are starting to get it right and serve the people'. He mentioned Mozambique among others in the region and the Vigil welcomes comments by Mozambique's new President Filipe Nyusi.
In his first speech as Head of State, President Nyusi said he was open to considering proposals from opposition political parties.
"Good ideas have no political party colours", he said.
He pledged "respect for plurality and diversity of opinions". Nobody would be left out just because they thought differently. We remember when Mozambique used to be the poor relation of Zimbabwe. Now the situation is reversed.