Chiwoniso Maraire family speaks out
By Jonathan Mbiriyamveka
Tendai Maraire, the eldest brother to the late mbira icon Chiwoniso, has for the first time opened up on the controversy that shrouded the burial of his sister saying they were under strict instructions from the physician not to allow body viewing or any contact.
In an interview with The Saturday Lifestyle, the 39-year-old Tendai, who is also a musician, denied there was a family feud, but it had become a purely health issue, which had to be adhered to.
"We came all the way from the United States to bid our sister farewell and we would have wanted to view the body for the last time, but it was not possible. We feel aggrieved that Chiwoniso was buried without us seeing her face.
"It is unfortunate that there were a lot of misconceptions about the funeral even though we had no control over what happened," he said.
For the Maraire family, Chiwoniso's death and the subsequent instructions not to view her body, dealt a double blow, after they discovered that Chiwoniso's pictures – dying – were circulating on social media before the family had been informed about her death.
"Before Chiwoniso died I spoke to her on the phone only to be surprised to hear the news about her death on Facebook. Somebody took it upon themselves to announce her death when we as the family knew nothing about it.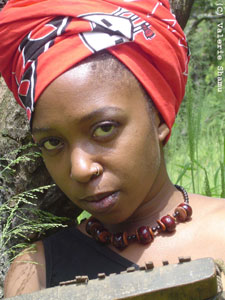 "You can imagine how I felt after seeing pictures of a dying Chiwoniso on Facebook and Whatsapp. Somebody had the nerve to take pictures and then upload them on Facebook and Whatsapp, instead of being compassionate. Is this what Mbuya Nehanda or Tongogara said about our culture as a people? As a family we were affected by the actions because we believe she did a lot for this country as an artiste.
"When we arrived in Zimbabwe, you can imagine our shock when the physician told us that body viewing was not advisable for health's sake and we just could not go against that decision. It really pained us not to view the body of our sister. And when we hear fans and other people blasting us on this unfortunate incident, which we had no control over, it was sad," he said.
Regarding the US$50 which they were made to pay by Chief Chakohwa, Tendai said it wasn't a fine as such but was supposed to be a gift for the traditional leaders.
"We read that we were fined but that is not true. It wasn't a fine at all and the chief explained to us that it was a token of appreciation and we paid that money. After paying the money another person approached us and said we were supposed to pay another US$50 to the gravediggers.
"We said NO! We refused because when my father died some 14 years ago there wasn't anything like that. It's unfortunate that we didn't have any elders to lead us so it felt a like extortion," he said.
The Maraire family comes from a rich musical background which pioneered by the late Dumi Maraire, who went on to acquire stardom as a mbira players and music teacher.
Chiwoniso's siblings -Tendai and Zivanai – are also mbira players which they fuse with hip-hop. Chiwoniso's daughters — Chiedza and Chengeto – are pursuing music as a career.
Chiwoniso died on July 24 from a lung infection and was buried in Chakohwa Village under Chief Mutambara. The Herald