By Problem Masau
HARARE – Well-known Harare promoter Charles Mukuze paid US$5 000 for Peter Moyo's debut album "Mushonga Mukuru" at the young crooner's album launch on Wednesday night.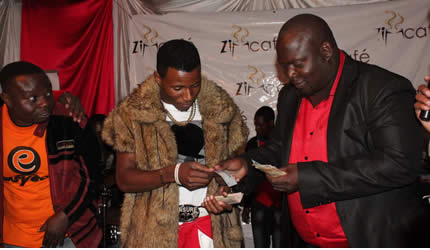 Peter Moyo's album launch also saw Minister of Tourism and Hospitality Industry Walter Mzembi taking to the dance floor to showcase his fancy footwork in Harare. Other CDs were sold for US$4 000 and US$1 000 respectively.
The launch, held at Zimcafe Hotel and Conference Centre, was attended by several musicians and promoters that included Somandla Ndebele, Freddy "Kapfupi" Manjalima, First Farai, Romeo Gasa, Jah Prayzah, Bob Nyabinde, Gift Amuli, Tryson and Suluman Chimbetu and Barbara Chikosi, better known as "Mama Red Rose".
Peter silenced his critics who had rubbished him off by coming up with a promising good musical project that is going to shake sungura genre to the core.
The tracks "Mira Newako" and "Mwari Wenyasha" showed that Young Igwe, as Peter is affectionately known, was already making strides towards filling the void created by Tongai Moyo's death.
Tongai was known for composing songs appealing for divine intervention in his life. The late Dhewa also penned several love songs that endeared him with love-struck individuals. Peter has followed suit with similar songs on the album "Tutsotso", "Konzi", "Pasirino" and "Barika", a social commentary.
Speaking at the launch, Minister Mzembi – who was standing in for Minister of Media, Information and Publicity Webster Shamu – urged the young musician to desist from engaging in reckless relationships.
"If you want to live long, you have to stay away from women. Musicians and politicians love women but that is their greatest demise. I urge you to make your priorities right," he said. He also thanked Peter for keeping his father's legacy alive.
"Wherever Tongai is, he must be smiling because you have fulfilled his dream," he said.
Musicians present also gave their solidarity messages.
"Waita zvakanaka mwanangu Peter," said Somandla Ndebele, who was a close friend of the late "Murozvi Mukuru".
Music promoter Patson Chimbodza promised to support the Young Igwe in any way possible, saying the album launch had shown how dedicated and focused Peter was.
"Peter, you once called me and said that I had forgotten you but let me assure that I have not forgotten you and I pledge to assist you in every way possible as you have shown desire and focus in carrying on with the Utataka Express, making sure that the legacy that your father left will not die," he said.
Peter also sampled some of the songs on the new album much to the delight of fans who braved the chilly weather to attend the function.
However, Peter almost spoiled an otherwise good event, when he took a dig at his father's widow, Minienhle, saying she was no longer part of the family and was free to date anyone she wished.
"Minienhle haasisiri munhu wekwa Dhewa, saka ndinoshamisika kana imi media muchienda muchinomuvhunza nezvekwa Moyo (She is is no longer part of us, and I don't understand why the media hunt her down to comment on Moyo's family matters)," he said.