Report by Tawanda Mangoma
HARARE – MDC-T Harare Province Spokesman Senator Obert Gutu has challenged partisan traditional leaders to remove their chiefly robes and contest in the forthcoming elections and stop acting as secret Zanu PF party activists.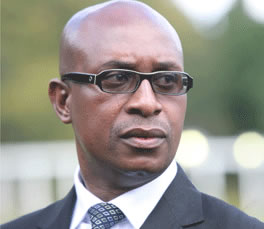 Gutu's statement comes at a time when there is a rise in reports of chiefs terrorising villagers for not sympathising with Zanu PF.
" Traditional leaders who have decided to double up as Zanu PF political commissars will soon regret why they are supping with the devil. They should know that when you decide to supp with the devil you must use a very long spoon," Gutu said.
Senator Gutu who is the Deputy Minister of Justice and Legal Affairs added that his party respected traditional leaders but is against some of their biased politically driven dictatorial tendencies which lead them to terrorise villagers under their environs if they are perceived to be against Zanu PF.
"An MDC government will respect the institution of chieftainship but then chiefs have to play ball as well. If they want to be political activists, then they should remove their chiefly robes and we will square up with them in the political ring. We respect chiefs but certainly we don't fear them." added Gutu.
Traditional chiefs have for years been criticised for aiding Zanu PF candidates to victory during elections as they would threaten to kill and banish any suspected opposition supporter.
Their hand was witnessed in 2008 when Chief Kasekete of Muzarabani was involved in controvesy in which he was reported to have been fueling a crackdown against villagers supporting the MDC-T.
Head of the Chiefs Council Fortune Charumbira was reported by the state owned television praising the formation of the healing program but suprisingly the man is also said to be behind political prosecution of villagers under his jurisdiction who differ with his political beliefs.
"When the politicians came up with the idea of the National Healing Program, they thought they could do it on their own. But now they have realised that for this whole initiative to ensure that people forgive each other and unite, traditional leaders have their own institutions of ensuring that people live in harmony." said Charumbira.
The continued manipulation of the country's security forces, assets and chiefs by Zanu PF to prolong its grip on power has been a subject of concern ever since the Unity Government was formed.
A road map to a free and fair election is now the matter at hand as the three political parties which form the GPA agreed on the constitution which now awaits Parliaments approval and then a referendum.