By Staff Reporter
Charismatic and controversial preacher Emmanuel Makandiwa has demoted his own brother Tawanda from being a pastor after he divorced his wife citing what he described as her "suicidal tendencies causing great embarrassment".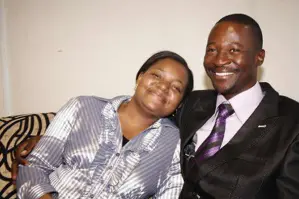 Last year Nehanda Radio reported how Pastor Tawanda Makandiwa was divorcing his wife of five years, Lovejoy Choto. He offered her maintenance of $200 per month and rent of US$500 while trying to push the divorce.
But United Family International Church (UFIC) founder Prophet Makandiwa said "I cannot condone such behavior and then come on the pulpit and encourage couples to stay married or give an altar call for singles who intend to get married."
"My brother is now an ordinary member and might even find himself sitting in the overflow tent," Makandiwa added.
According to reports "Makandiwa offered his young brother extensive counselling and even flew the couple to London where they received further counselling from Prophet Victor Boateng, who is their spiritual father, without success."
Lovejoy has not yet responded to Pastor Makandiwa's summons and his lawyers have since asked a magistrate to grant the marriage dissolution unopposed.
Last year Makandiwa's UFIC church was plunged into scandal when a Mutare woman Cynthia Shungu Tapera sued one of its pastors Jacob Tembo for maintenance after he sired a child with her out of wedlock.
Pastor Tembo's shenanigans came to light at the Harare civil court where Cynthia also accused him of abandoning her along with their child. She claimed $2,306 a month from him saying he was earning about $20,000 from his job.
The pastor's former 'small house' argued that he had been giving her $1,000 since February 2010 and therefore was in a position to afford the $2,300 claim. Cynthia claimed $875 for rentals, $375 for pre-school and about $170 for holidays.
The pastor also told the court that the church caters for the bulk of his expenses. Cynthia's lawyer contested Pastor Tembo's financial gains and requested that they be granted permission.
"We request a letter to have authority to his bank account," said Cynthia's lawyer.
However, pastor Tembo tried to quash the request saying his bank statement will also reflect some of the church's funds that were transferred through his personal account.
Magistrate Vongai Muchuchuti, who presided over the matter, deferred the matter to allow Cynthia to access the bank statements.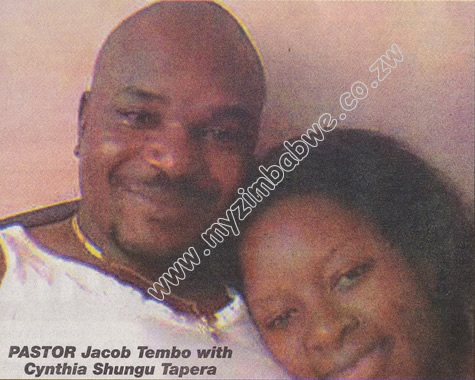 Pastor Tembo refused to comment on the matter saying that the dispute between him and Cynthia was still sub-judice. "Go ahead and do your job, I can't comment on that because the matter is before the courts," he said at the time.
Commenting on leaked pictures of the pair Cynthia said:
"I have no idea as to how the pictures leaked but it is true that I am the one in those pictures. I came across the pictures after some of my friends informed me about their circulation.
"The other guy on the picture is my former boyfriend, Jacob Tembo. He is a pastor with UFI Church. I think one of the pictures was taken some two weeks ago before we broke up," she said at the time.
Cynthia added: "I used to hear people calling him a great man of god. I would laugh at them. To tell you the truth, to me he was just a great man in bed. He is a close friend of Prophet Makandiwa.
"Each time Makandiwa called him when we were enjoying our quality time; he would order me to keep quiet. He was afraid that Makandiwa would hear my voice and sometimes he would lie that he was in Mutare while we were in fact enjoying in Harare.
"Jacob needs more deliverance than most UFI members because he is just misleading people. Most people in UFI don't even know that he drinks (alcohol) but I know he does. He drinks expensive stuff and in one of the pictures he is holding a Smirnoff beer," she said.
The woman said Pastor Tembo was still stalking her asking for sex.
"We first met in 2006 in Kadoma and he lied to me that he was not married. I believed him because he never put on his ring and generally he looks younger than his actual age because of his blings. I only discovered that he has a wife when his wife called me.
"His wife told me that she heard that I was going out with him by one of his ex- girlfriends. But there was nothing I could do about it because I was already having his child," said Cynthia.
"If he really didn't want to have a child with me he should have just used a condom but he decided to have unprotected sex. So he has to look after his child," said Cynthia who also claimed that she was still in possession of Pastor Tembo's underwear. [twitter-follow username="nehandaradio" scheme="dark"]