By Augustine Hwata
DENVER MUKAMBA finally completed his deal to join Super Diski side, Bidvest Wits, with the midfielder saying he was ready to explode in foreign territory after dominating the domestic Premiership last year.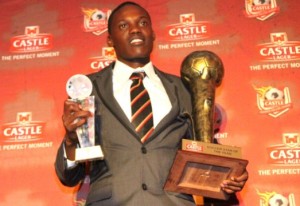 The former Dynamos star yesterday joined Wits on a two-year deal. Mukamba, who is the 2012 Soccer Star of the Year, has an option for a further two-year extension on his contract.
Last season, Mukamba was the heart and soul of the Dynamos championship winning side, as he played a blinder in the midfield department. He also finished as DeMbare's top goal-scorer in the league with 11 goals while also capping a fine year by being voted the club's best player last season.
The former Kiglon and DC Academy star helped the Harare giants retain the Mbada Diamonds Cup, a tournament where he also emerged as the outstanding player.
And, after conquering everything on the domestic scene last year, Mukamba decided to go for a new challenge across the Limpopo where he linked up with Wits, who have been tracking the player for a long time.
Mukamba underwent medical tests last week and was yesterday given a two-year deal, with an option for an equal number of years for extension. Speaking from his new base in South Africa yesterday, Mukamba said he was now looking forward to making an impression in the South African Premiership.
"We have completed everything and now I am ready to begin life here at Wits. So far everything is good and I think I will adjust more as time goes on," said Mukamba.
Mukamba has been at Wits twice before and impressed previous coaches, Roger De Sa and Antonio Habas, but it was current coach Clive Barker who finally signed him for the Clever Boys. Barker won the African Nations Cup as South African coach in 1996 when Bafana Bafana hosted the edition.
The Nations Cup finals are back in South Africa this year and the Absa Premiership has been put on ice, giving Mukamba more time to settle with his new teammates before the restart of the season. "I think I should start playing games after the Afcon finals," said Mukamba.
"Matches have taken a break here and I will use the prolonged break to adjust."
Mukamba, a member of the Warriors, feels he will create his mark in the Absa Premiership. "As a young player, I feel very happy to make such a breakthrough into a more professional league," said Mukamba.
"It's a big achievement for me and I hope this will inspire me to aim for greater heights. It has not been easy to get this chance but now I would really want to remain focused."
For Mukamba, the entry into the South African Premiership could also open more avenues to better leagues in Europe. Former Warriors striker Benjamin Mwaruwari used Jomo Cosmos as a launch pad for Europe while former Kaizer Chief star, Knowledge Musona, is now playing in the German's Bundesliga.
Another former Dynamos player, Edward Sadomba, was once on the payroll for Bidvest Wits in 2008/9 but the side later loaned him to Mozambican outfit Liga Muçulmana de Maputo before he moved to African giants Al Hilal in Sudan.
Sadomba has since left the Khartoum side after striking a mega-deal with United Arab Emirates side Al Ittihad Kalba. At Wits, Mukamba joins fellow Zimbabweans, Tinashe Nengomasha and Thomas Sweswe. "The senior guys here have been very helpful to me," said Mukamba.
While Mukamba is happy to be making a big move in his career, Dynamos will be trying hard to find a new player to fill his role as a playmaker as the team embarks on another journey in the African Champions League.
Aware that Mukamba was leaving, Dynamos had omitted the player from their list submitted to the Confederation of African Football for the Champions League.
Yesterday, Mukamba's manager, Gibson Mahachi, said the player was likely to return home for a few days to pick up his belongings while waiting for his work permit to be sorted out.
"Mukamba has signed for two years plus another two years which are optional. We finished the deal today. He will come back home as they make an application for his permit," said Mahachi.
Meanwhile, Simba Sithole has delayed his trials with SuperSport United after he picked up an injury before his departure yesterday. Sithole pulled a hamstring shortly before he was due to board his flight to Johannesburg. His handlers decided not to take the risk and send him for trials when he wasn't fully fit. The Herald