By Eddie Chikamhi
CHAMPIONS Dynamos have launched an ambitious plan to boost the capacity of their coach Callisto Pasuwa by sending him for an attachment with South African giants Kaizer Chiefs.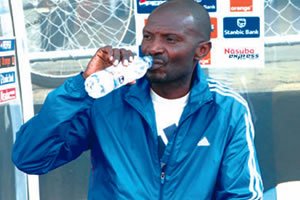 Pasuwa, who was recently crowned the 2012 Coach of the Year after guiding the Glamour Boys to a League and Cup double, has made no secret of his desire to continue developing his coaching career.
The club's executive is understood to have granted the coach his wishes but limited funding has meant that the Harare giants cannot target European clubs at the moment. Pasuwa will have to settle for a club in neighbouring South Africa where the set-up of the top teams is more professional.
Club vice-chairman, Webster Chikengezha, yesterday confirmed that they were exploring the possibility of sending Pasuwa to "a club that is under a top foreign coach" in South Africa.
This leaves such clubs like Moroka Swallows, Ajax Cape Town and Chiefs as the main targets. But Ajax and Swallows are at the bottom of the Premiership table leaving their coaches Jan Pruijn and Zeca Marques in the firing line and uncertain of their future.
Close sources said Pasuwa, who had wanted a European destination, had indicated that a club of Kaizer Chiefs' magnitude could be more ideal as Amakhosi have some similarities with Dynamos.
However, Chikengezha yesterday said the plan is still being worked out and with funds permitting they would want to send the coach when the Absa domestic league fixtures resume next year.
"It's still in the pipeline. It's something that we have discussed as the leadership and we want the coach to go for an attachment to a club that is under a top foreign coach so that he learns one or two techniques and how others do things in their leagues.
"We wanted this to happen as soon as possible, once we identify the club, but everything is subject to the availability of funds. But it's not possible at this moment because we are heading for the holidays and the South African league will also take a break," said Chikengezha.
Should the deal succeed it would herald a revival of the Dynamos and Kaizer Chiefs relations, a decade after a proposed twinning of the Southern African giants collapsed.
Chikengezha also said DeMbare are hoping to capitalise on the Africa Cup of Nations break to engage South African sides in friendly matches as part of their preparations for the Champions League.
"We are thinking of making use of the period during the Afcon tournament because the South African league will be suspended then. Obviously the teams would want to keep fit before resuming their games in February and I am sure they will like the idea.
"So we are looking forward to woo one team over to this side," said Chikengezha.
Dynamos are also looking to build a strong squad after registering 26 players, including about eight new faces, ahead of last week's Caf deadline. But DeMbare are set to lose their most valued asset in Denver Mukamba, who is set to join South African side Bidvest Wits.
Defender Jaure is also doubtful although he was included in the Champions League list. Jaure is set to get another chance to go for trials in Turkey when the European mid-season window opens in January.
He was supposed to try his luck with unnamed clubs this month but the plans fell through as he failed to secure a visa to the European country. Jaure, however, trained with South African giants Supersport before returning home last week.
The talented 22-year old is interested in playing for European teams and his manager Ken Mapeza has been hoping to use the networks established by his brother, former Warriors kingpin and coach Norman, in Turkey to help the youthful Soccer Star of the Year finalist penetrate the European leagues.
"The door is still open for him to go once all the visa processes are successful.
"However, we are now in the festive season and we cannot hope to get the papers now as embassies will not be fully operational during this period. "So we have to wait until January and that is also when the European transfer window opens," said Mapeza. The Herald