From Tobias Mandoreba in Hwange
Hwange……………….0
Dynamos………….(0)2
A dazzling second half performance by DeMbare before what can rank as one of the biggest crowd ever seen at the Colliery in recent years ensured champions Dynamos continued with their march towards a successful defence of their Castle Lager Premiership title yesterday.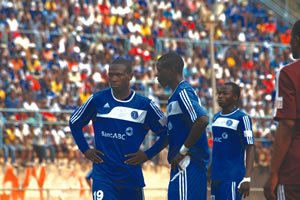 But before accomplishing the important mission, the blue and white masses must have feared for the worst in the first half as the troubled home side threatened to spoil the party for the Harare giants with an inspired display, which, however, could not be spiced up with a goal.
Dynamos, however do not easily get intimidated.
Like true champions, the visitors went a gear up in the last half to silence Hwange with two goals inside five minutes, which left the expectant home fans hanging dry.
With the coal-miners digging around for a break-through, it was lanky Warriors midfielder Denver Mukamba who sent the predominantly visiting fans into a delirium with a clever goal in the 52nd minute.
A delicate right flank move involving Simba Sithole and Farai Mupasiri ended with Tawanda Muparati selling a clever dummy to the on-rushing Mukamba who obliged by whipping a volley past a diving Timothy Sibanda.
Hwange were not given a chance to quickly search for a reply as Muparati effectively deflated their spirits five minutes later when the home defence failed to clear their lines to leave the midfielder with acres of space to blast home from close range.
It was over for Hwange as the reality started to sink in that this was going to be another forgettable 90 minutes of football.
In fact it has been long since the coal-miners last went to the bank to withdraw a winning bonus as their last victory came on August 5 when they beat CAPS United 3-2 at the same venue.
Since then Hwange have been on a decline as they have managed just two points to show from their last eight games.
That poor run appeared to have spurred Nation Dube's men as they pushed Dynamos to the canvas especially during the opening half.
A huge scare was in store for DeMbare as early as the second minute when lanky defender David Boriwondo rattled the crossbar with a flashing header after he had rose high to connect a curling Winston Mhango corner kick.
The hosts were not done as they continued pouring forward, forcing two corner kicks in the opening five minutes but the early goal proved elusive.
Feeling the heat from the burning coal, the visitors had their first chance at goal in the 12th minute when Dynamos' hero of the afternoon Mukamba unleashed a stinging free-kick which found Sibanda alert on duty.
On the quarter hour mark Hwange came asking again when Tawanda Mareya and Ocean Mpofu combined well in the middle only for Evans Rusike to disappoint with an effort which seemed directed more at the flying birds.
Dynamos continued to struggle with their game. They kept winning balls in midfield which they failed to put into good use as they were simply out of stride, save for some flashes of brilliance here and there from Mukamba.
The Glamour Boys only showed signs of life in the last minutes of the opening half when two beautiful moves ended with overlapping defender David Kutyauripo and Devon Chafa missing good chances.
Hwange had started the half more purposeful but being let down by pathetic shooting before the champions stole the show in a memorable short spell which left Hwange starring at doomsday at the end of the season.
DeMbare did not sit on their laurels when they scored the two quick goals as they continued bombarding the Hwange goal but could not increase their tally.
Nation Dube's double substitution of bringing in Nkosana Siwela and Daniel Kamunenga for Ocean Mpofu and Tawanda Mareya respectively added firepower in the home attack but the Glamour Boys rearguard closed shop.
Hwange ended the game with more misery as their reliable shot stopper Timothy Sibanda was shown the red card by referee Bekezela Makeka in injury time for a nasty lunge at Kutyauripo as they went for a loose ball.
There was a bit of a comedy at the end as defender Munyaradzi Mungadze, sacrificed to guard the posts made two stunning saves from corner kicks as DeMbare threatened to add to their tally.
A dejected Nation Dube felt his players played well but were guilty of lapses in concentration.
"We played well but the boys had some lapses in concentration which led to the two soft goals.
"The boys now need a lot of motivation as we move forward because their confidence is low at the moment," Dube said.
Dynamos assistant coach Tonderai Ndiraya evaded giving his comment.
But there is no mistaking the gloomy picture at the Colliery where the fans and the executive have been left searching for some answers on what has gone wrong.
Many are fearing that that one of the oldest teams in the country having been formed in 1940 could face a repeat of their 2007 season when they were relegated despite having started the season on a high. The Herald
Teams:
Hwange: T. Sibanda; G. Ndlovu; D. Boriwondo; A Katebe; O. Mpofu (N. Siwela 62nd min); M. Mungadze; T. Mareya (D. Kamunenga 62nd min); M. Longwe; E. Rusike (A. Tavarwisa 75th min) F. Zekumbawire; W. Mhango
Dynamos: G. Chigova; O. Mushure; P. Jaure; G. Zhokinyu; D. Kutyauripo; D. Chafa; D. Mukamba (T. Mabvura 88th min); M. Murape (A. Kaseloki 77th min); T. Muparati; S. Sithole; F. Mupasiri.