'Best Zim Action Movie' Premieres in the UK
UK based Zimbabwean movie producer and actress Lorraine Fox will be launching the premiere of her new film 'To the End of the Road' this Saturday (29-09-12). Journalist Lance Guma spoke to her.
Guma: So what is this movie about?
Fox:   It's a story about the struggles and challenges immigrants face when renewing or trying to regularise their stay in the UK. It also reflects on the attitudes of the Immigration Officers towards Immigrants. To the End Of The Road has it all, abuse of power, betrayal and heartbreaking events will keep the audience glued to this story.
Guma: What was the inspiration behind the movie?
Fox:  Having migrated to the UK at the age of 14 , we got to experience first-hand the process of applying for a Visa to stay in the UK. The process is gruesome, takes a long time and very frustrating for anyone to go through. We have grown up around these issues and we really wanted to make a film which reflects the reality surrounding Immigration.
Guma: You have cricketer Henry Olonga, singers Kazz (from BKay n Kazz), Roby Gee and Decibel in the movie. How did you pull that off?
Fox:  These guys were so awesome. It only took one word for them to agree. They understood the storyline and they believed in the movie so much that when it came to sign on the dotted line, they were only happy to.
Myself and the Director, Tawanda Chimuzinga loved working with all of them. They understood the art of making movies and cooperated to the best of their ability. Some of them turned out to be brilliant at acting, am sure they are second guessing their singing careers…lol
Guma: You are not only the producer but are also the lead actress in this movie. That's a lot of pressure, how did you cope with that?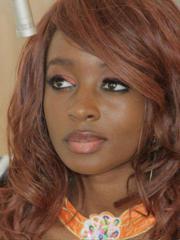 Fox:  It was tough and stressful. It's difficult being the producer as you are in charge of the budget, so you will be concentrating on meeting targets rather than on the acting role.  There were times when I wanted to re shoot a scene but then again I would also be worried about going over the budget.
I had multiple roles, I was also a Make-up Artist on Set. The hardest things I had to do was creating fake bruises and bullet wounds on myself but it had to be done as the cost of hiring  a Make –up artist was out of budget.
Guma: Your role in the movie, who are you and what do you do?
Fox:  I play a Character called Yolandra , she goes after Dave, (played by Jason Ash) an Immigration Officer , in pursuit of justice for her mum who was abused  and betrayed by Dave after false promises to help her regularise her stay in the UK.
Guma: Talk us through the premiere and what is going to be happening?
Fox:   To The End Of The Road will be premiered at Showcase Cinema in Coventry on the 29th of September 2012. It's a Red Carpet Event and all the stars will be arriving from 1800HRS.
It's going to be an evening to appreciate everyone who has worked hard to make this project a success. We have a lot of Celebrities and Movie Directors attending this Premier. We also invited Casting Directors from all over the UK to come and scout for Actors.
The Press will also be there on the night so I guess that's another excuse to dress up for anyone…We also have an after party starting from 2200hrs till late.
Guma: The distribution of the movie, how have you worked this out?
Fox:  This Movie is going to be showing in several African countries including Zimbabwe after the Premier in the UK. It will go on DVD after it has come out of Cinemas.
Guma: How commercially viable is movie making, particularly for you being a Zimbabwean, or is it a case of making sure your movie also appeals to non-Zimbabweans?
Fox:  The Zimbabwean film Industry has recently taken off and we still building the foundation as per say. For any film Maker to go into this field with a money making plan in their head would be over ambitious.
The audience makes the decision whether a product will be a success or failure. We wanted to make a product which many would relate to and enjoy hence we have a multi racial cast. It's really important to understand your audience before making a movie because if you get it wrong from Script writing then you might not as well shoot the film.
Guma: How is it for you as a woman in a male dominated industry?
Fox:  Am I a woman, I have not noticed…I guess there has been a few times people expected a man or at least someone with a bigger stature to come out and say I am Lorraine Fox the Producer of so and so movies but they get tiny little me and think.. Aha.. we gonna take everything we want from her ..she's only little and young but I am a beast when it comes to business.
Guma: What other interesting things can you tell us about you and this movie?
Fox:
I did most of the action stunts in the film
I took up Martial Arts lessons and Exercise to prepare me for the Role. I am usually a couch potato
Once had a Motorcycle which weighed over 900 Pound fall on top of me during a filming stunt which went horribly wrong. I could have broken my back but it was a Miracle.
Apparently am also the First ever Zimbabwean Film Action Actress
I also acted in an action packed movie called Zambezi due to come out in February. I also play the lead part as a young British Interpol Detective.
The premier will be at the Showcase Cinema in Coventry, on Saturday 29th of September @ 18:00 hrs. £15 Tickets available online now.
Visit our Ticketmaster page @ www.totheendoftheroad.com
Limited seats available so book early to avoid disappointment by calling GMC Pictures sales team for tickets and info:
07508 033404, 07501 186831
07824 393629, 07957 446864