By Staff Reporter
Bishop Levee Kadenge of the Methodist Church in Zimbabwe is now suing Locardia Karimatsenga Tembo, a Harare woman ditched by Prime Minister Morgan Tsvangirai last year, but now trying to stop the PM's wedding.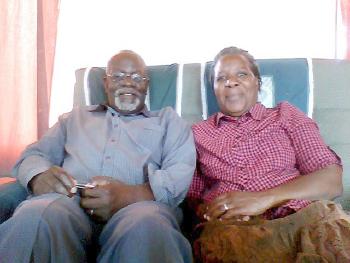 Tsvangirai plans to wed Elizabeth Macheka at the Rain Tree Lodge in Umwinsidale, Harare, on Saturday.
Kadenge who had been cited as the third respondent in an urgent application filed by Ms Karimatsenga to stop the wedding, said he had nothing to do with the wedding and had been wrongly cited in the application.
Bishop Kadenge filed his opposing papers to the application yesterday, arguing "the applicant has improperly cited me as a respondent. I also did not understand why I have been cited in my personal capacity," he said. The Bishop is now seeking an order for the cost of suit against Ms Karimatsenga.
The Bishop said he had to hire expensive lawyers to defend a case he is not aware of and that is why he was claiming costs of the suit. "I feel my integrity and the credibility as a minister has now been dragged into a circus that I am not a party to. I therefore have nothing to do with the wedding," he said.
"It has been incorrectly cited that I am set to be the marriage officer on the wedding between the first and second respondents (PM Tsvangirai and Ms Elizabeth Macheka)," Kadenge said.
High Court judge Justice Antonia Guvava is expected to hear the case today in her chambers.
Registrar-General Mr Tobaiwa Mudede, PM Tsvangirai and Ms Macheka are expected to respond today. Meanwhile, the maintenance hearing pitting Mr Tsvangirai and Ms Karimatsenga has been set for next Friday at the civil court in Harare. Ms Karimatsenga is claiming US$15 000 monthly from the PM.
In the maintenance claim, Ms Karimatsenga says she is customarily married to Mr Tsvangirai after the latter paid lobola to her parents in November last year. She claims she looked up to PM Tsvangirai for financial support and that she was now used to the high standards of life she enjoyed as his 'wife'.
The US$15 000 claim includes US$3 000 for rent, US$4 000 for groceries, US$1 700 for hair and beauty therapy, US$500 for the maid, US$1 500 for clothing allowance, US$300 for a gardener, US$1 000 for fuel and vehicle service and others.