By Moses Chamboko
One of the positive and most notable fruits of the transitional government has been Zimbabwe's return to the 9-year-old Africa Down Under, a spectacular annual mining conference held in Perth, Western Australia, during the last week of August.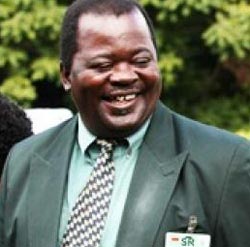 The conference provides Africa with a rare opportunity to showcase her mining potential and opportunities to investors. "The lights have come on in Africa and you cannot afford to miss Africa Down Under" was a catch phrase on this year's adverting material for the great event.
Gift Chimanikire and Tapiwa Mashakada led the Zimbabwean delegation in this beautiful and immaculate state capital which has just been rated the world's 9th most liveable city by an international research think-tank despite being the world's most isolated city.
First speaker at the 7th Session on Thursday 30th August was Gift Chimanikire who left delegates wondering if he was talking about the same Zimbabwe whose image in the international media is largely nothing but negative.
"Zimbabwe has been in the international media for the wrong reasons but today, I'm here for the right reasons" thundered the eloquent deputy minister of Mines and Mining Development whose imposing presence, articulacy humility and sense of humour endeared him to the chairperson who was so amused to the extent of forgetting to keep his eyes on the timer resulting in the deputy minister getting extra time on the podium.
Gift Chimanikire delivered a very convincing case and well researched presentation whose originality undoubtedly made lasting impressions on potential investors and the generality of delegates.
Pride and joy were visible on all Zimbabweans present most notably Ambassador Zwambila, Tapiwa Mashakada, as well as his Permanent Secretary, Dr. Mutize Sibanda as gifted Chimanikire confidently flipped from slide to slide.
Deliberately avoiding politics and sticking to the conference's core theme, the deputy minister unpacked the abundance of Zimbabwe's mineral endowment. He also talked about the availability of skills as well as the country's infrastructure which, by his admission, needs some resuscitation to bring it back to its former glory.
He reminded delegates that Zimbabwe is strategically located at the heart of the Southern African region making it a very attractive investment destination. In the process, he joked that Zimbabwe was nowhere near Nicaragua, as some people thought. The attractiveness of Zimbabwe's mining sector ahead of many African countries was explained in detail. The mineral taxation regime was explicitly propounded.
By the time he rounded up his presentation, it was evident that he had won many hearts. There was a swarm of reporters and potential investors who tracked him down when he left the podium for other appointments. Together with Tapiwa Mashakada, they attended to long queues of inquisitors and potential investors who were curious to have more on the unusually positive Zimbabwean story that some were hearing for the first time.
Should our political leadership start seriously addressing issues of policy inconsistency as well as curb mixed messages particularly around indigenisation and property rights, I see no reason why investors, especially in mining, should not start making serious enquiries as they consider flocking back into Zimbabwe.
Of course, this cannot happen without political stability, security of investment and grounded property rights.
Those who are insidiously tarnishing Zimbabwe's name by invading conservancies at this 11th hour, usurping remaining companies and stalling the constitutional process, are the greatest retrogressive forces of all time who are putting the future of a potentially great nation at risk.
Unless they do some serious introspection and turn the corner, posterity will never forgive them. Zimbabwe's delegation to Africa Down Under 2012 demonstrated that we have a lot of well-meaning leaders and technocrats in government who have great potential to take our country forward given a conducive political environment.
Those with the best interest of the nation at heart must be given a chance to perform regardless of political affiliation.
Moses Chamboko writes from Western Australia. He can be contacted at [email protected].