By Gifted Phiri
HARARE – Tickets to a four-day men-only convention staged by Zimbabwe's charismatic celebrity preachers Prophets Emmanuel Makandiwa and Uebert Angel starting tomorrow are fast-selling.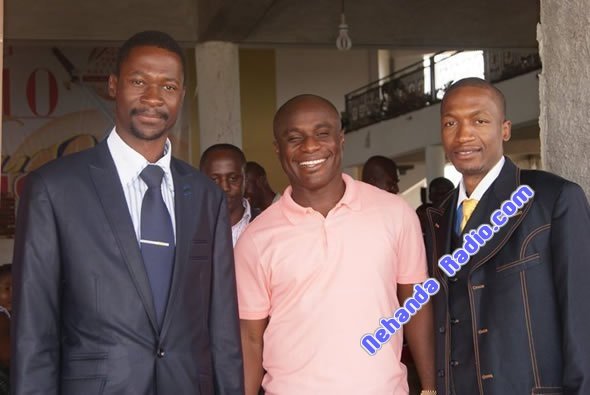 Yesterday, United Family International Church (UFIC)'s Harare branch, where the tickets are being sold, said they were running out of tickets for the four-day convention scheduled for the City Sports Centre from August 29 to September 1.
Victor Kusi Boateng, a Ghanaian preacher and Makandiwa and Angel's spiritual father will grace the "ManWorld" convention expected to have a bumper turnout of men only.
Boateng is the founder and overseer of Power Chapel Worldwide whose headquarters is in Kumasi, Ghana in West Africa. With over two decades in ministry, Boateng has become quite a sensation in his country. Angel's TV station, Miracle TV has been advertising the highly-anticipated event that is expected to draw a crowd of as many as 10 000 people.
With Boateng portrayed as a massive Star Wars robot giving directions to the two youthful preachers, the advert ends with a powerful kicker: "Strictly, no women allowed." Those wishing to attend are paying $10 for the "ManWorld" convention and thousands are expected to pack City Sports Centre for the event.
Zimbabwe's two superstar pastors have drawn large crowds mainly impressed by forceful preaching which mimics American evangelists, their personality and flair.
The young, pastors, both known to their flock as "Papa", have become some of Zimbabwe's most influential spiritual leaders. On any given day, they can draw thousands upon thousands to their services.
Their fervent sermons, coupled with their magnetic personality, have turned their Pentecostal churches Spirit Embassy led by Angel and the Makandiwa-led UFIC into some of the fastest-growing evangelical congregations in Zimbabwe.
Their numerous followers include national leaders, the society's well-heeled, as well as industry executives — many of whom often turn to them for advice. They would have little problem paying for the show. Josephine Toro, spokesperson for Angel, referred questions to Pastor Mubatsa, who she said she was sure "will be able to answer your questions on ManWorld."
But Pastor Mubatsa declined to comment on the event. "We have nothing against the Daily News, but we have no official comment at this point," he said. Daily News