By Tina Sinclair
Far be it from me as a non-lawyer to make an authoritative analysis of such an important legal document as the proposed new Constitution, which will be the fundamental law of our country if it gets a "YES" in the forthcoming Referendum.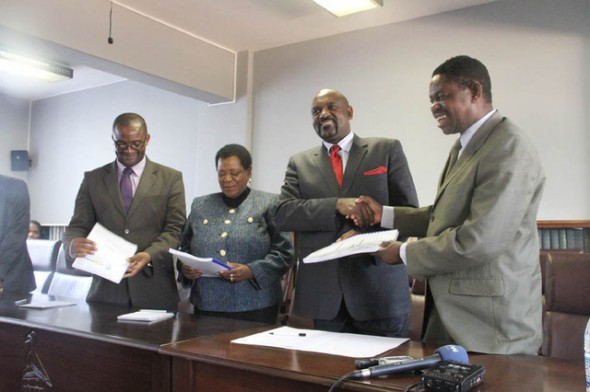 However, as most of us citizens who will vote in that referendum are not lawyers either, clearly we are all expected to have some idea of its contents. It was with this in mind that I waded through the 164 pages kindly provided by Veritas and came up with the following few notes.
It is a pity that we have had to use an immense amount of time, effort and resources to come up with what looks like a compromise document, but it is the only way we are going to move forward to the elections we are all waiting for, whether or not it is adopted.
The issues of land and race/ethnicity loom large, unsurprisingly: those are the big Zimbabwe issues, about which we all become tense and emotional, all the more so when they are joined together.
It seems that we are still disagreed about what is right and good, and we still spend a lot of energy denying "non-indigenous" Zimbabweans the same rights as "indigenous" citizens without defining "indigenous". It is clear which political party won the contest on that issue – for the time being.
There are contradictions, however – and those may end up overturning the restrictions on the rights of white citizens. The Preamble speaks of being united in our common desire for equality and our resistance to racism, and commitment to building a just nation founded on values of equality and fairness, among others.
This is repeated in Chapter 1 Founding Principles, where Zimbabwe is founded on respect for fundamental human rights and recognition of the equality of all human beings, as well as others.
Likewise, in Chapter 4 Human Rights 4.13: "Every person is equal before the law and has the right to equal protection and benefit of the law." And "every person has the right not to be treated in an unfairly discriminatory manner on such grounds as their nationality, race, colour…"
It would be a great service to the general public if one of the many well-funded NGO's could quickly publish a non-partisan summary. My notes make no pretence to summarise the document methodically, but merely to highlight items which caught my eye.
Going through the document in order, my comments are in red. I note that God is mentioned in the Preamble, and in Chapter 2 on Rights, the diversity of cultures and ethnic groups is recognised – although there is a caveat in clause 2.3(k) for "due respect for vested rights", which I do not understand and therefore distrust.
Sixteen national languages are to be treated equitably, that could become problematic.
Interestingly, there is a whole section on Foreign Policy, which states among other requirements that "the State must participate in… international organisations which stand for peace, well-being and progress…" So we would presumably move to re-join the Commonwealth.
The social rights (housing, employment, education, health) are there "within resources available", although there is no such caveat for war veterans.
The family is protected in 2.17, which is good, as the family is the basic building block of society, but there is no mention of families split up over the past decade because of the economic and political crisis. I would like to see another clause, along the lines that "the state will take all necessary measures to reunite families split because of economic difficulties."
2.19 provides that the state will take "all practical measures to provide free and compulsory basic education for children" while 2.26 stipulates that the state must ensure that international conventions acceded to are incorporated into domestic law.
Chapter 3 on Citizenship is more or less the present situation, except that in 3.5 the state cannot revoke citizenship if the person would be rendered stateless by so doing. 3.6c states that an Act of Parliament may make provision for the prohibition or permitting of dual citizenship in respect of citizens by descent or registration.
Section 4.3 recognises both common law and customary law. In 4.5 under Right to Life, capital punishment is there, but anyone under 21, over 70 and all women are excluded. Unborn children are also protected, with termination of pregnancy "only in accordance with the law".
In 4.7 Rights of Arrested and Detained Persons, an arrested person has a right to consult at his/her own expense with a legal practitioner and a medical practitioner of his/her choice.
A person can only be detained a maximum of 48 hours without being brought to court even if the time lapse falls on a weekend or public holiday. Detained persons have the right to be detained in conditions befitting their human dignity. 4.14 gives all persons the right not to have their person or home searched arbitrarily.
4.15 provides for Freedom of Assembly, and 4.16 freedom to demonstrate and petition, but those freedoms must be exercised peacefully.
4.18 provides for Freedom of Expression and the Media, while in 4.19 Freedom of Access to Information, "every citizen or resident, including the media, has the right to any information held by the State, international and non-governmental agencies at every level, in so far as required for the execution or protection of a right in the interests of public accountability", which right may be restricted "only to the extent reasonably justifiable in an open, just and democratic society."
4.2 deals with Property Rights. No person shall be compulsorily deprived of their property except on reasonable notice and with fair compensation within a reasonable time. The acquiring authority has to apply for a court order confirming the acquisition, if it is contested.
Clause 4.29 on the Right to Agricultural Land repeats the contentious status quo referred to in my introduction, i.e. that the right to agricultural land is only granted to "indigenous" Zimbabweans and to land held under BIPA agreements. No other person may apply to the court for compensation except for improvements, nor can s/he challenge the acquisition "on the grounds that it is discriminatory in terms of clause 4.13."
Section 4.30 on Environmental Rights is far too short, stipulating only that the state "shall prevent pollution and ecological degradation." There is no mention of the urban environment in which nearly half the population lives, nor do I see any mention of the right of communities to benefit sustainably from the resources in their environment.
4.32 on the Right to Education would benefit from the addition of the right to a gender-sensitive syllabus, and preferably also a syllabus promoting an enquiring mind. I am slightly confused by some of these rights appearing in two different places, in the document, not understanding the reason for this.
Section 5 on the Presidency provides for two Vice Presidents, who will be elected alongside the President. Citizens by registration are excluded from standing as president or vice-president. No one can stand as President or VP if s/he has already served for two terms under this constitution.
5.14 on Succession provides for the First Vice President to succeed and remain until the end of the normal term if the President dies/resigns/is removed. 5.15 gives former presidents and vice presidents the same salaries and conditions as those in office.
5.22 provides for a Vote of No Confidence in Government to be passed by Parliament, stipulating that if the President does not dissolve Parliament and call an election within 14 days, Parliament stands dissolved.
Section 6.5 provides for 88 members of the Senate, six from each province elected by proportional representation (party list system based on votes for the National Assembly)plus 16 chiefs (two from each rural province), plus the President and Vice President of the Council of Chiefs, plus eight appointed Provincial Governors (based on votes in that province), plus two representatives of persons with disabilities.
The party lists will be the zebra system, i.e. male and female candidates listed alternatively, every list headed by a female candidate. The ZEC chairperson or a nominee will conduct election of the Senate President and Deputy by members.
Part 3 on the National Assembly provides for 210 MPs elected by secret ballot, plus, for the first two Parliaments after the constitution's effective date, an additional 60 women members, six from each province, elected by proportional representation.
7.1 deals with electoral disputes, requiring "timely resolution" (c.f. 33 disputes over 2000 election still unresolved in 2005).
6.33 prevents Parliament from "imposing any punishment other than a fine for breach of privilege or contempt." (c.f. Roy Bennett's prison term). 6.34 enables every citizen and permanent resident to petition Parliament on anything in its jurisdiction, including enactment and repeal of legislation. The Clerk of Parliament may only serve two six-year terms.
7.4 on Elections stipulates that elections may not be held more than 30 days before the expiry of the five-year Parliamentary term. By-elections must be held within 90 days of a vacancy being declared, except that if it occurs within nine months of a general election being due, the seat may remain vacant. This clause might be used to determine the on-going debate about the 26/38 vacant seats.
7.7 provides for Delimitation of Electoral Boundaries to be drawn up by ZEC every 10 years, as soon as possible after the Census. If this is less than six months before a poll, the new boundaries shall not apply to that poll. (NB our next Census is due mid-August). The Preliminary report must be laid before Parliament within seven days of the President, and the Final report published within 14 days after release by ZEC in the Gazette.
On the Judiciary in Section 8, there will be both a Constitutional Court and a Supreme Court, as well as the other courts including customary courts. Anyone can appeal directly to the Constitutional Court on any constitutional issue. If at any level a party requests a constitutional matter to be referred to the Constitutional Court, this must be effected.
On the Appointment of Judges 8.19, the Judicial Services Commission must invite the public to make nominations, conduct public interviews and submit a list of three to the President who must select one from the list.
Ministry Permanent Secretaries are appointed by the President in consultation with the Civil Service Commission, for five years renewable once only. The Civil Service Commission is appointed by the President (not in consultation with anybody?).
Chapter 11 – Security Services must have utmost respect for the rights and freedoms provided in the Constitution and rule of law. They are subject to this Constitution, Parliament, the President and Cabinet.
They may not act in a partisan manner, further the interests of any political party, members cannot be active members of any political party, and they may not be engaged in civilian institutions except during public emergency.
11.5 provides for an independent complaint mechanism through Act of Parliament for individuals/the public to complain and be provided with a remedy. Deployment outside Zimbabwe by the President must be approved by Parliament within seven days. Commander of the various services can serve for a maximum of two five-year terms.
11.12 The Defence Service Commission is to be chaired by the Chair of the Civil Service Commission, and at least half its members never been in the security forces. Salaries to be agreed between Ministers of Finance and Defence.
11.15 The Police Service Commission same as for Defence. Intelligence and Correctional Services ditto.
Chapter 12 sets up five Independent Commissions: Zimbabwe Electoral Commission, Zimbabwe Human Rights Commission, Zimbabwe Gender Commission, Zimbabwe Media Commission and the National Peace and Reconciliation Commission. These are not subject to any control, but are accountable to Parliament.
12.7 ZEC – the Chair is appointed by the President after consultation with the JSC and Parliament's SRO. In general, Commission chairpersons can be other than that recommended, provided that "SRO must be informed as soon as possible." Same for HRC and NPRC, while Gender and Media Commissions only consultation with SRO.
HRC : Police must comply with any directive given by the HRC. National Peace and Reconciliation Commission: prevention/transformation of conflict only mentioned as a sub-paragraph. "Tell the truth about the past." NB – no cut-off date as e.g. "before 2000".
14 – Provincial and Local Government: clause 2.3 "An Act of Parliament must provide an appropriate mechanism to facilitate coordination between central government, provincial and metropolitan councils and local authorities."
This does not clearly spell out power relations between the different levels – c.f. polemic over local authorities being under Minister of Local Government.
We will be back to eight Provinces + Harare and Bulawayo, i.e. no Midlands North and South. The Provincial Governor is appointed by the President from a list of two provided by the party which won most votes in that Province. Harare and Bulawayo have no provincial governor, while any mayor of an urban area must be elected directly (c.f. polemic around Muchadeya Masunda).
15 Traditional Leaders must not be partisan.
16 Agricultural Land This section sets out the restrictions on compensation already referred to in 4.29. It restricts recipients of land allocation to one plot per person. The establishment of a Land Commission is provided for, tellingly not in the Chapter on Independent Commissions supporting Democracy, although it is required to act independently.
17 Finances provides for "at least 5% of National Revenues to go to Local Authorities." NB This will not empower them, and rural councils have suffered from loss of the revenue they used to get from commercial farms.
The Auditor-General is independent in that s/he is a public officer but not a civil servant. On Procurement, an Act of Parliament must provide for the establishment of joint ventures, contracts for infrastructure and facilities and concessions of mineral and other rights, to ensure transparency.
18 For Commissions, Chairs and Deputies must be of different genders. 18.8 Government must ensure adequate funds for all commissions and constitutional institutions.
Constitutional Amendment Bills: The Speaker must give 90 days' notice in the Gazette, and 2/3 of the membership of each House is required for it to be adopted. If concerning Chapter 4 (human rights) or 16 (land), within three months of Parliament adopting the Bill the matter must go to a National Referendum. If the amendment concerns a term-limit, it is not applicable to anyone holding that office at the time or before the amendment is adopted.
Schedules Oaths of Office – not certain why "so help me God" is to be omitted in affirmation, in view of Preamble.
4th Schedule – Qualification of Voters: over 18 and Zimbabwe citizen. It is silent on Zimbabwe citizens overseas, although it stipulates that "Any residential requirement prescribed by Electoral Law must be consistent with the Constitution, especially Section 4.24."
6th Schedule; Date of Effectiveness: mostly on publication day, ie 3, 4, 5, 6, 7, 9, 11.3, 12, 14; the rest on the day President in 1st elections assumes office.
Savings for First Elections
For the first elections, existing boundaries are saved, i.e. "those in place immediately before publication day" for first election. Voters lawfully registered immediately before publication day are entitled to remain so registered for the purpose of the first election, while there must be voter registration and inspection for at least 60 days after publication day.
The date of the first election is not specified, and any challenge to the validity of the first presidential election is to be dealt with in terms of the Supreme Court as constituted under the former constitution.