Perspective of the Human Rights Commission Bill within the context of the GPA in Zimbabwe
By Sanderson N Makombe
The passing of the Human Rights Commission Bill by parliament has brought seismic condemnation from Zimbabweans all over.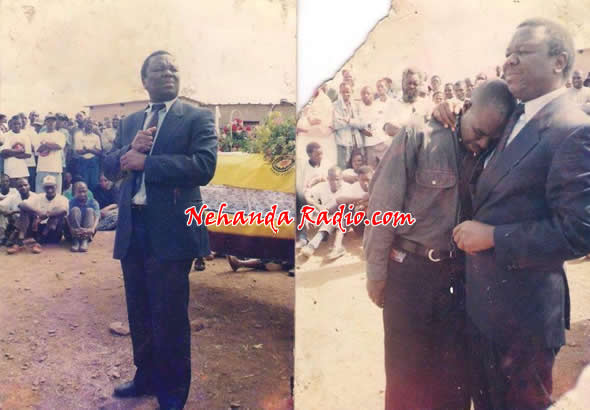 Not only is the quintessence of the Commission being questioned but also whether the two MDC formations capitulated to ZANU PF and sold out those courageous souls who have been maimed and killed by the despotic regime.
It is imperative that any discussion on the Human Rights Commission must be understood in the context of the reform agenda and perceived through the Global Political Agreement agenda. It is apparent, both in world trend and practice to have Human Rights Commissions whose mandate is not bending backwards to redress past human rights abuses, but to create a platform for the investigation and redress of present and future violations.
As such, the overarching principle is to effectively deal with arising violations and being proactive in limiting future prevalence. In contrast, most countries that have travelled through a difficult past have sought to institute mechanism of justice,unity, closure and reconciliation by utilising Truth and or Reconciliation Commissions which are Ad Hoc and backward reaching for the purpose of dealing with those specific periods of abuses.
South Africa, Sierra Leone, Cambodia and Rwanda are examples. Such commissions have enabling legislation and are not limited on what crimes or violations fall under their jurisdictions, as long as the crimes were committed during the periods under investigation; a feature not common with present day Human Rights Commissions.
Zimbabwe has travelled through a rough terrain both pre and post independence, littered with broken bones, souls, lost lives and untold wanton destruction of property, with impunity. Unfortunately ZANU PF has lacked the political will to effectively implement transitional justice mechanisms, largely because they are the chief perpetrator of gross human rights violations in post independence Zimbabwe.
Zimbabwe does not have a GNU because it desired so, but is a by product of  a brazen barbaric onslaught of  ordinary citizens through state sanctioned violence that forced the presidential election runoff to be a sham as Mugabe won a race he ran against himself. The MDC formations have always campaigned for criminal liability and accountability, and restoration of the rule of law.
As such, the two MDC formations  insisted that the GNU must establish a mechanism of dealing with past atrocities. Hence Article V11 of the GPA on 7.1(C) provides that the new government "Shall give consideration to the setting up of a mechanism to properly advise on what measures might be necessary and practicable to achieve national healing, cohesion and unity in respect of victims of pre and post independence political conflicts"
The controversy caused by the jurisdictional cut off date of the HRC bill thus must be explained in terms of the total packages of reform as intended in the GPA. As such, it is apparent that the parties agreed that past atrocities, including Gukurahundi, Murambatsvina (not exhaustive) must be addressed under Article 7.
The intended mechanism was the National Organ for Peace and Reconciliation, which unfortunately has been operating without enabling legislation for the past 4 years and is highly unlikely to make effect as already we are in the last wee of the tenure of the GPA. The delay is deliberate on the part of ZANU PF as they will not sanction a process that will expose their intransigence openly in a quasi judicial way.
Thus the fact that the HRC bill has a jurisdictional date does not mean at all that (in theory) those that unleashed the June 2008 election blood bath are scot free, neither those that orchestrated Murambatsvina, Gukurahundi and the likes of Joseph Mwale who burnt to death Tichaona Chiminya and Talent Mabika.
If there is any need for damning evidence that ZANU PF  orchestrated the blood bath that led to the abandonment of the presidential run off in 2008, and other significant periods of gross violations of persons since Free Zimbabwe was born in 1980, it is the strenuous effort they exerted to make sure the HRC will not have jurisdiction on violations that took place before 13 February 2009.
This is hardly surprising as the act backs up a trend long established of having commissions of enquiries whose contains are never published but only designed to hoodwink the public into believing that due process in being undertaken. The trend has also been evidenced in numerous presidential pardons and amnesties for those who perpetrated egregious violations with the objective of securing election theft for ZANU PF.
It is through this culture of impunity that ZANU PF needs to deliver another stolen election in the next few months; therefore they needed to send a message to their shock troopers and agents of death, that as long as ZANU PF yields power, they are protected.
There has been deliberate misrepresentation as well of the effect of the enactment of the new act. The fact that the HRC will not have jurisdiction to investigate incidents before 13 February 2009 does not mean those who perpetrated criminal acts before that date  will not face justice.
The new act (when enacted) does not repeal, supersede or suspend the constitutional mandate of the police to investigate and arrest for the purpose of prosecution anyone who committed an offence before, unless otherwise the criminal act has passed its prescription period.
In a normal democracy the Police would have carried its mandate impartially and continue to investigate and arrest those responsible of such criminal acts on ordinary citizens. Current evidence though suggest this is hardly going to happen as long as ZANU PF is in power and there is no major reform and overhaul of the Police force and other security institutions in Zimbabwe.
For those of us who seek justice and criminal accountability, we must accept that the agenda of justice will not be met during the tenure of this inclusive government. This realisation must serve as impetus for the MDC formations to raise their game as far as publicising how they wish to deal with past violations if they win power in the next election.
Indeed it was welcome that PM Tsvangirai immediately stated that those who committed the massacre during Gukurahundi and alike with face justice if MDC-T ascends to the throne. Furthermore, the pressure to reform the security forces must be increased as they are crucial to holding a peaceful and credible election.
The HRC will rely on the support of the police and the judicial system to be effective as in itself it does not have arresting powers. Therefore, these institutions must buy into the new reform agenda and embrace the new culture as intended if the reforms are to make a difference.
Sanderson N Makombe can be contacted at [email protected]