By Fungi Kwaramba
Distressed companies in Zimbabwe can leverage on popular church leaders like Prophet Emmanuel Makandiwa as well as get free prison labour from government.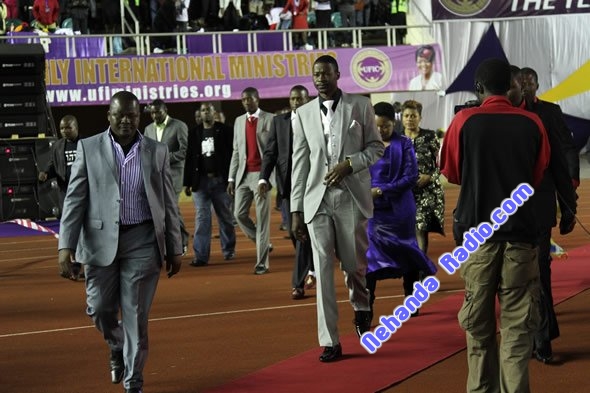 Speaking at the Zimbabwe National Chamber Commerce (ZNCC) annual general meeting in Victoria Falls last week, TN Holdings chairperson Tawanda Nyambirai said business should engage churches which have become popular among the masses in order to recover.
The call comes at a time when banks are limping due to a liquidity crunch.
"Just imagine talking to prophet (Emmanuel) Makandiwa, the guy can pull crowds in their thousands. Imagine if you can leverage from his network. He can fill the National Sports Stadium. If 60 000 people from his church can contribute $5 each to your company, how much can you make? You can make a profit while at the same time they will be making something for their church?" said Nyambirai.
The United Families International (UFI) founder is emerging as a popular brand among church-going Zimbabweans, having filled the giant National Sports Stadium to capacity on two occasions.
Nyambirai said in a situation where government is failing to provide leadership, it is up to business to make innovative measures that will spur growth such as creating synergies with crowd pullers like Makandiwa.
"As businesses we just have to look at innovation. This is what we need to do in order to get the much-needed funds in our hands and boost our businesses. We are forced to go back in our churches. Amai (mother) has gone AWOL and cannot look after her children. Now children have to fend for themselves," said Nyambirai.
In a recent sermon entitled "Dealing with the Demon of Africa", Makandiwa highlighted Africa needs to call upon God for restoration.
He said: "Africa is already blessed but it needs to get rid of practices that are contrary to the will of God. The ark was built with gold from Egypt, when the Israelites were hungry they got food from Egypt and in the Ark of the covenant the highest concentration of gold was in the holy of holies where God's presence was. This is an indication that Africa is at God's heart. If Africa calls upon the Lord, He is ready to turn it around for the better."
Government is currently under fire from business having failed to inject capital needed to recapitalise financially distressed companies. Many companies are currently folding or operating below capacity. A wobbly banking sector has made it all the more difficult for the companies to borrow and recapitalise.
"The realistic way is to find an alternative source of capital because the banking sector is not working. Business has to be innovative to look at church-based sources for funding. If you belong to an association, you must leverage on that. We have so many church organisations and they can be turned into sources of income," said Nyambirai.
Among other solutions that Nyambirai proffered is the use of prison labour by financially distressed firms.
"We need to talk to our government on the use of prison labour. There is need to develop a system whereby companies that are in distress can receive labour quotas for free. That can account for a significant income saving as companies can cook sadza for prisoners."
"There is something for prisoners and for government. It is something that government can do because it is non-controversial and adds value to business," said Nyambirai. Daily News