The vehicle licensing deadline will not be extended further, Transport, Communica­tion and Infrastructural Development Minis­ter Nicholas Goche has said after touring the Zimbabwe National Road Administration head office at Glenroy Shopping Centre in Highlands.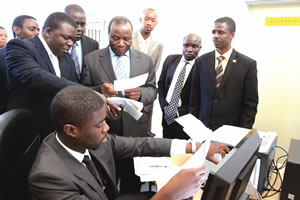 Zinara officials told Minister Goche that 250 000 motor vehicles have been licensed out of an estimated 800 000.
"I want to say if there are no queues now and queues start to come on the 29th and 30th June that's not a good thing. I don't think Government can work like that. We cannot continue extending (the deadline) as motorists, including myself, we have a duty to licence our vehicles," he said.
Minister Goche urged the media to play a role in encouraging motorists to licence their vehicles. "The media has a pivotal role to play in advising motorists that now that an extension was granted let's not wait to cause long queues and seek a further extension come month-end," he said.
"I want to see people licencing their vehi­cles now. We want to see queues at the licenc­ing offices now. If we see queues coming up to the end of June and we are satisfied that there are still more motorists who want to licence their vehicles that position will be considered at that particular time."
He urged motorists to insure their vehicles. "You cannot have motorists driving with uninsured vehicles. No uninsured vehicle should be on the road. There are thousands of motorists on roads without insurance," Minister Goche said.
Zinara extended the vehicle licencing deadline from May 31 to June 30 following a public outcry that most motorists would not meet the deadline. However, since the deadline was extended queues that characterised most Zinara and Zimpost offices disappeared raising fears that most motorists will again miss the June 30 deadline.
Minister Goche said Zinara should not be criticised when police start enforcing the law when the extension expires.
Motorists will not be charged any adminis­trative penalty for late licensing before June 30, but those who fail to license their vehicles by then will pay an all inclusive penalty of US$45 in addition to US$20 charged for acquiring the new disk.The penalty com­prises US$20 fine, US$20 arrears fee and US$5 administration fee.
Zinara chief executive officer Mr Frank Chitukutuku said the new vehicle licensing system will address counterfeiting. He said there were people making fake licence disc and warned motorist to properly licence their vehicles.
Zimpost managing director Mr Douglas Zimbango added that there are over 200 braches dealing with motor vehicle licencing throughout Zimbabwe.