HARARE- Zimbabwe's music icon, Oliver Mtukudzi, is set to wow patrons in an early Valentine offering, at a dinner dance to be held at the Rainbow Towers this Friday.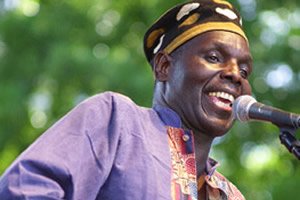 Tuku and the Black Spirits will be jamming his katekwe music, which fits the bill in the Valentine's mood with its soul-catching nature, at the show organised by the Corporate Communications Strategies.
The co-ordinator of Ezents, an affiliate group of the Corporate Communication Strategies, Tamuka Makovere, confirmed the developments.
"All is set for the music superstar to perform at the Rainbow Towers on Friday. Corporates should expect an enthralling occasion as Tuku will be performing some songs like 'Panerudo' which go along with the occasion," said Makovere.
Tuku will belt out some of his other love ballads that include "Ndiwe Svovi Yangu" and the collaboration song he did with South African artiste Ringo Madlingozi, "Sthandwa Sami".
These are typical Valentine songs as they would enhance the intimate companionship, which has since become the month's norm. As Geoffrey Chaucer put it: "For it was St Valentine's Day when every bird comes there to choose his mate," in his poem 'Parlement of Faules'.
Hampers will be won at the occasion with the best-dressed couple and individual to be awarded. "We will be giving away prizes for the best-dressed couple and individual at the occasion," he said.
To complement the event, guests will be clad in smart casual, with tables set for the individuals, couples and corporates.