By Grace Chingoma
Harare giants Dynamos yesterday received a huge boost for their African Safari adventure after BancABC unveiled a US$165 000 package for the campaign. BancABC are also the club's chief sponsors, catering for players' salaries and providing transport and camping costs for the Glamour Boys.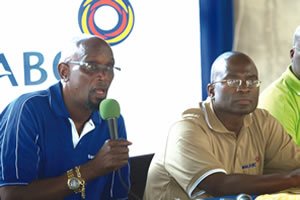 Yesterday BancABC took their sponsorship drive a level higher by committing themselves to cater for all the club's huge costs which comes up with playing in the Caf Orange Champions league. In addition BancABC will provide the kits for DeMbare to use in the Champions League and will review the package if DeMbare exhausts the initial amount unveiled yesterday.
The deal would see the bank paying airfares for the Dynamos delegation when they are traveling for their away fixtures as well as their allowances. This scenario will only leave the club meeting the players' bonuses in the African safari.
BancABC will also cater for home costs when DeMbare entertain their opponents in the reverse matches. The Herald yesterday exclusively revealed this deal.
BancABC managing director, Hashmon Matemera, flanked by his deputy Terry Mudangwe, Dynamos chairman Kenny Mubaiwa and treasurer Webster Chikengezha, revealed that they were strengthening their relationship with the Harare giants.
He said they had decided to reward DeMbare after a fruitful season where they won the major trophies on offer. "We are unveiling a sponsorship of US$165 000 and in addition to that we will also provide playing kits.
"The money will cover all travel costs for away matches in the Champions' League as well as the home games and we will meet with the executive to finalise on the details of the costs they incur when they play at home.
"We will administer the sponsorship the same way we have been administering the salaries of the players, whereby we pay directly. If the club continues to win and exceeds the US$165 000 allocation we will sit down and review the package.
"But if they lose in the early rounds, and say they would have used US$40 000, we will get back the rest of the money into our pool.  We are committed to sponsoring Dynamos for the next season and even 2013, apart from this package, and we hope through our sponsorship other corporate companies would join in," said Matemera.
BancABC said they have enjoyed partnering local football and this has seen their sponsorship growing in leaps and bounds. "We started sponsoring football in 2008 and we began with the Sup8r tournament which has been growing and again next year we will sponsor it again.
"Through our sponsorship of Sup8r, we are quiet encouraged that other sponsors have come on board to partner football.  In 2011 we decided to sponsor two of the big teams – Dynamos and Highlanders – with salaries.
"It was quiet satisfying on our part that DeMbare went on to win the league and we would like to commend DeMbare for that," said Matemera. Matemera said, once the Champions League draw has been conducted later this month, they will book in advance the air tickets, which has seen the club ending up incurring huge airfares bills due to last-minute booking.
He added that the allowances would be given directly to the team manager shortly before away trips. "We haven't discussed what other expenses and incidentals they would incur when traveling.
"But we would want to come up with an allowance structure so that we pay directly as with salaries whereby we deposit directly into players' accounts.  As for the home game costs we will discuss as well what costs do they incur, we are doing this for the first time so we have to discuss with them.
"The club has the control of their gate takings and they also have to cater for players' winning bonuses. We have done the rest for them," said Matemera. The Glamour Boys' chairman Kenny Mubaiwa said the partnership came just at the right time after the club's announcement on Tuesday that they would be participating in the Champions League.
"We were having problems with paying salaries and transport costs but BancABC came on board. "On Tuesday we had a meeting and we decided to participate in the Champions League before even consulting BancABC and we were surprised to get calls from BancABC with the offer that they would support us.
"This is indeed a morale booster, and we sincerely hope our partnership will go a long way and we hope BancABC and DeMbare will conquer Africa," said Mubaiwa. Dynamos' captain Desmond Maringwa said the package from BancABC was a huge morale-booster to the players who in the past have had to put up with chaotic traveling plans after securing tickets at the eleventh hour.
This year DeMbare, who were eliminated in the first round of the tournament after surrendering a 4-1 first leg lead, arrived in Algiers 24 hours before their clash with MC Algiers. The team did not even manage to train at the match venue and, in a trip where everything went horribly wrong, a nine-man Dembare lost 0-3 to bow out of the tournament.
Maringwa said they now have to concentrate with playing and getting results. "Now that everything is secure it now left to us to get the results. I remember when we traveled to Tunisia we arrived on the match day and the trip was nearly cancelled.
"And at times we would go out there with tensions high over allowances. But now we just have to concentrate with playing football and on behalf of the players, I thank the sponsors for what they have done, it is really commendable," said Maringwa.