By Savious Kwinika
Johannesburg — Zimbabwe's sex workers are deserting their country for greener pastures in South Africa as the World Cup 2010 draws nearer, causing human rights and church groups worldwide to call for measures to curb human trafficking and prostitution. But the economic promise offered by the arrival of some 500,000 World Cup foreign fans is already attracting impoverished workers.
"If ever there was time to make money, this is the right time," says Shuvai, a Zimbabwean commercial sex worker working at Maxime Hotel in Johannesburg.
The 22-year-old says she arrived in Johannesburg on March 27 with eight fellow prostitutes from Zimbabwe, north of the Limpopo River. She says that she came because of all the international visitors for the World Cup, June 11 – July 11.
The event is no stranger to the sex trade. The 2006 World Cup in Germany, where brothels and prostitution is legalized, brought on an additional influx of an estimated 40,000 sex workers – plus a lot of criticism from rights groups. South Africa's Central Drug Central Authority has also estimated that 40,000 sex workers will come to Johannesburg for the 2010 World Cup, though the agency gives no reasoning for this figure.
A check of eight popular Johannesburg hotels – Maxime Hotel, Royal Hotel, Hillbrow Inn, Ambassador Hotel, Diplomat Hotel, Little Rose Hotel, Summit Hotel, and Orion Devonshire Hotel – and others in Sandton, Fourways, Crego, Rosebank, Midrand, and Boksburg showed them to be filled with newly arrived prostitutes, most of them from Zimbabwe.
'Competition is tight'
Hotel employees also say they have seen a recent influx of prostitutes.
"From the look of the fully booked hotels around Johannesburg and Pretoria, we think these female sex workers could exceed 40,000," says one hotel general manager, declining to be identified. "There are some from outside Africa from as far as China, Pakistan, India, Hong Kong, and Venezuela, who are here for prostitution."
Young prostitutes appear to be organized into groups led by a elder women who smuggles the girls here from Zimbabwe, says Ushe Nyahunzvi, a man from Zimbabwe who works at the Hillbrow Inn.
"These [elder] women are the ones who smuggle them from their native countries for the purposes of using the girls to make a living. Old women are losing business hence using the girls," Mr. Nyahunzvi says. "The competition is very tight because of the World Cup."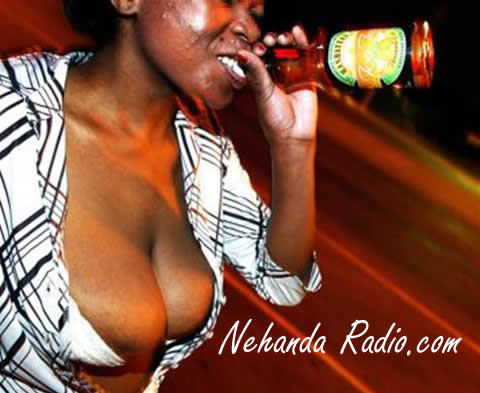 'I will be able to buy my own car'
Cyril Mwamba, 32, says she traveled more than 1,700 miles from Zambia's Ndola Copperbelt to reach the World Cup. Along the way, she met up with Zimbabwean prostitutes at a bus station, and she says they decided to travel together to Johannesburg for the opportunities here.
"When we came here [Summit Hotel], we were not so sure whether we would be able to attract rich and well-paying men since back home in Zambia men were looking down upon us," she says. She says she now earns R2,000 (about $270) per night.
"I am convinced that after the World Cup, I will be able to buy my own car," Ms. Mwamba says. "Cars are cheap here in South Africa."
While South African officials have long had difficulty keeping out illegal immigrants, South Africa's Department of Home Affairs says it has tightened its borders to prevent human trafficking during the World Cup.
"We do not have evidence [of prostitutes entering the country], but will always make sure that no illegals, particularly human traffickers, enter the country through our ports," says a senior Home Affairs official who spoke on condition of anonymity because he was not authorized to speak with the media.
Nevertheless, cross-border bus drivers say that the bulk of their passengers in the month of April have been women, an unusual phenomenon because it has traditionally been men who travel to South Africa for work.
"We strongly suspect that these women are here to do prostitution, and nothing else," says Munashe Gomo, a bus driver outside Braamfontein Station.
Economy sends women into prostitution
As the richest country in southern Africa, with long and porous borders with some of southern Africa's poorest countries, South Africa has long attracted millions of economic migrants from Zimbabwe, Mozambique, and even the Democratic Republic of Congo. The month-long World Cup, which will draw an estimated half a million people and generate $3 billion in revenues, only adds to this attraction.
Most of the women arriving here for the sex trade appear to be from Zimbabwe because of the economic desperation there. The situation there is so bad that some women are divorcing their husbands and hoping the World Cup will bring them fortune, says Kudakwashe Zimuto, an elder in Mahoto Village in Zimbabwe's Masvingo province.
"Marriages are fast breaking up with women choosing to stay alone in South Africa's hotels and lodges," Mr. Zimuto said by telephone. "But the most unfortunate part, is what are they going to do after the World Cup?"
That appears to be of small concern to the women themselves, who are already elbowing for business space ahead of the games. "Old prostitutes are threatening us, and they call us foreigners," says Janet Mashavira of Marondera, Zimbabwe, who works at the Little Rose Hotel in the Hillbrow section of Johannesburg.
Prostitution is illegal in South Africa, though some groups have called for its legalization ahead of the World Cup. One parliamentarian, George Lekgetho, has said legalization "is one of the things that would make it a success" while it could also reduce incidents of rape and instituting brothel standards.
Police spokeswoman Colonel N. Kweza says the law enforcement agency is arresting many prostitutes in Johannesburg's central business district, but she adds that the Department of Justice determines fines and penalties. The Department of Justice refused to comment unless questions were received in writing. The Monitor is waiting for answers to a submitted list of written questions, including details on the penalties for sex trafficking, pimping, prostituting, and soliciting.
Home Affairs Ministry spokesman Ronnie Mamoepa also declined to answer questions unless received in writing.
Rights groups call for intervention
With the World Cup's June 11 kick-off only weeks away, human rights activists and church groups are urging hotels in South Africa to ensure that their places of business are not used for the sex trade.
One group, the New York-based Christian Brothers Investment Services (CBIS), wrote an open letter April 21 to South African hotels and tourist operations urging them to help combat human trafficking and child prostitution.
"While the lodging industry is certainly not responsible for these tragic crimes, they are in a unique position to help prevent them by taking steps to stop the use of their hotels for this purpose," Julie Tanner, assistant director of socially responsible investing at CBIS in New York, said in a press release.
The letter calls for hotels to coordinate with police and anti-trafficking organizations, to educate staff in identifying potential victims and reporting incidents, and to inform guests of the penalties for human trafficking and sex abuse of children. Some hotels have already signed the Christian Brothers' agreement, while others argue that what their customers do is their personal affair.
The Catholic Church, according to one media report, is telling its parishoners to be on the watch for immigrant women in South Africa who may have been forced into the sex trade. "With these people, the Catholic volunteers try to establish dialogue and help them to emerge from the nightmare that they have been thrown into by criminals. Our first task is opening our doors to these people," said Fr. Chris Townsend, a spokesman of theBishop's Conference of South Africa, Botswana, and Swaziland (SACBC).
Raising HIV/AIDS awareness
Fear that the World Cup could bring an increase in prostitution and sex trafficking is also raising concerns of spread of disease. In South Africa, an estimated 5.7 million people are diagnosed with HIV. An estimated 1,000 people die from AIDS-related diseases each day, according to the African Medical and Research Foundation (AMREF).
Groups are calling for prostitutes to insist on using condoms.
"The AIDS Consortium is encouraging all entities that have the capacity to supply condoms to as many places as possible to do so and with other organizations who do similar work," says Rhulani Lehloka, communications manager for The Aids Consortium, South Africa's leading non-governmental organization that deals with HIV/AIDS.
The South African government appears to support the condom drive. While President Jacob Zuma – a polygamist and father of 20 children – has in the past expressed disdain for condoms, in April his government announced a campaign to distribute some 1.5 billion this year.
Joyce Dube, executive director of the Southern African Women's Institute on Migration Affairs in Johannesburg, says that condom use is already high among Zimbabwean prostitutes, who charge higher fees for men who do not want to use a condom. Christian Science Monitor
[newsletter]