Candidates by Presidential fiat: The CCC's chaotic candidate selection process
Evidence of the CCC's chaotic candidate selection process continues to tumble out of the closet, with the public statement to Domboshava residents by veteran party cadre and journalist Luke Tamborinyoka confirming that candidates who won the party's selection process were sidelined while those who had lost were imposed.
In a public statement published exclusively by Nehanda Radio on Wednesday and widely distributed in Whatsapp chat groups in Domboshava, Tamborinyoka claimed he was overwhelmingly endorsed by the citizens in Goromonzi West but humbly accepted that he was not officially declared the candidate.
Instead, Tamborinyoka strongly rallied his supporters to now support the official party candidate, one Tinei Munetsi, a prophet with the Johane Masowe eChishanu apostolic church at Zimbiru, Domboshava.
Social media and journalists' chat groups boiled over with anger yesterday after it emerged that Tamborinyoka, a veteran journalist and respected opposition activist, won the popular mandate of the supposedly citizen centred process but somehow lost the right to represent his constituency.
The imposed candidate, Munetsi, was formerly of Tendai Biti's People's Democratic Party (PDP) and later joined former vice President Joice Mujuru's People First party.
He has now allegedly been imposed as the CCC's official candidate despite losing the total constituency tally in the party's Bereka Mwana process.
In his public statement Tamborinyoka urged his supporters to support the official party candidate Munetsi, saying it was now time to look at the bigger picture of consigning Zanu PF to the dustbin on 23 August 2023.
He referred to Munesti as "a brother and a stoic change champion", even though he (Tamborinyoka) had won both the nomination process and the citizens' validation caucus.
A CCC cadre in Domboshava yesterday claimed that during the 'Bereka Mwana' process in Ward 19, the biggest ward in the constituency, a total of 137 people publicly voted for Tamborinyoka while his two rivals garnered zero votes each.
But in his public statement, Tamborinyoka unconditionally urged those who had rallied behind him in the party's internal processes to close rank and support the official party candidate, Munetsi. He said he bore no grudges, arguing the party's victory was more important than positions.
It also emerged yesterday that it was not only Tamborinyoka who was thrown under the bus reportedly by party leader Nelson Chamisa despite winning the popular mandate from the President.
There are also reports that huge sums of money changed hands during the candidate selection processes, with named staff in the CCC's Organizing Department and some leaders of the CCC's Mugwazo programme having allegedly received huge cash handouts and residential stands to influence Chamisa's choice of candidates.
As a result, several bigwigs who won the citizen processes were reportedly thrown aside while "blue-eyed boys and girls" were chosen as candidates under murky circumstances.
For example in Glen View North, one Moses Manyengavana, who won the citizen caucuses was thrown under the bus in favour of blue-eyed boy Happymore Chidziva, who had lost during the Bereka Mwana exercise..
In Glen Norah, former Harare mayor Hebert Gomba won the citizens: endorsement but was sidelined in favour of Wellington Chikombo.
It emerged that some favoured candidates did not even take part in the candidate selection process but were imposed regardless.
One such lucky candidate is Pashor Sibanda, who is set to contest against Finance Minister Mthuli Ncube in Cowdray Park, Bulawayo.
Sibanda reportedly flew into the country from his base in Norway on 20 June 2023 and headed straight to the nomination court to file his nomination papers the following day.
Other candidates that are reportedly close to or are related to Chamisa became candidates without much hassle and these include one Michael Mataruka, his former subordinate in the Organising Department, who is now a council candidate in Ruwa, in Chimanikire.
Takudzwa Ngadziore and Bridget Nyandoro (Southerton MP) reportedly got easy passage in the nomination race.
The biggest casualty seems to be former Finance Minister Tendai Biti who was allegedly "rigged out" in Harare East in favour of former Hatcliffe MP Rusty Markham.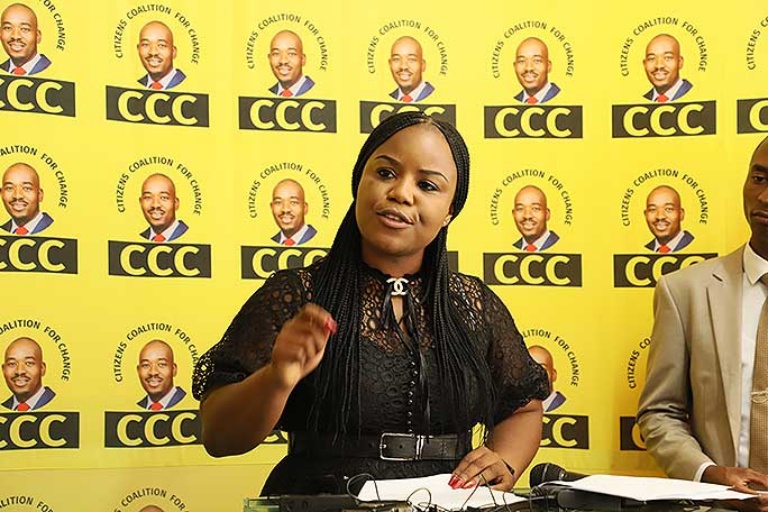 In June this year party spokesperson Fadzayi Mahere explained what she said was the party's four-step candidate selection process.
"The process lets citizens nominate their own candidates, uses an independent panel to vet nominated candidates, allows citizens to question candidates through caucuses, then final selection and validation is made by CISP (Candidate Independent Selection Panel).
"This is a 4-step process and is entirely different from a primary election because it relies on the consultation of multiple stakeholders to choose the most suitable, community focused candidates," Mahere said.
Prominent journalist Hopewell Chin'ono slammed the "Bereka Mwana" voting system employed by the opposition CCC as "backward" and "archaic".
"Bereka Mwana (asking voters to stand behind a candidate they are voting for) is backward, archaic and no self respecting democratic organization should ever use such a discredited voting method.
"Even the corrupt and incompetent ZANU PF did away with Bereka Mwana ages ago! It intimidates voters, and it is only used where pre-determined outcomes are expected.
"It is not different from asking police officers and soldiers to vote before their superiors. You lose the moral high ground to criticize the ZANU PF Government in August when it uses Bereka Mwana for soldiers and the police!
"It clearly shows that we just don't have a ZANU PF problem, but a Zimbabwean political problem dishonest is used to get onto power! Any sensible citizens would never defend let alone support a backward voting process like Bereka Mwana.
"The tragedy is that if ZANU PF uses it on the security officers, what moral compass will you use to criticize them?" Chin'ono argued.
Meanwhile the ruling Zanu PF party last month claimed it had won 53 local authority seats unchallenged at the close of the nomination court sittings due to the CCC's shambolic selection exercise.
The CCC also had to bizarrely rely on being rescued by the Zimbabwe Electoral Commission (ZEC) to register its 15 aspiring candidates for MP in Bulawayo after allegedly failing to meet the 4pm deadline.
Zanu PF has taken the matter to court and wants the nominations quashed arguing "the Zimbabwe Electoral Commission had no legal right to accept the nominations referred to from candidates who were not within the court by 4pm on 21 June 2023."
A judge hearing the matter has since reserved his ruling.
Zanu PF believes that the CCC failed to file nomination papers in time due to the party's lack of structures and constitution.
Former cabinet Minister and senior CCC member David Coltart however said the mentioned aspiring MPs' nomination papers were submitted before 4pm.
"Patrick Chinamasa (Acting Zanu PF Secretary for Legal Affairs) is grandstanding on a massive scale by suggesting that CCC MP and Senatorial candidates were not validly nominated in Bulawayo.
"They were all present and their nomination papers were submitted before 4pm. His statement is ridiculous," he said.