Body of Tanzanian killed in Russia's War on Ukraine returns home
The body of a Tanzanian national who was killed in Ukraine fighting with Russian forces returned to his home country on Friday.
Nemes Tarimo, 37, died three months ago after agreeing to sign up with the Russian mercenary group Wagner.
His body was received by his family at the main airport in Dar es Salaam with burial scheduled for Saturday in his home village in the southern highlands of country.
Mr Tarimo had been in Moscow as a business informatics master's student at the Russian Technological University. But he was then imprisoned some time after January 2021 for what were described as drugs-related offences.
Last year, he was enticed with a deal: sign up with the Russian mercenary group Wagner and be pardoned or stay in prison.
During a press briefing, Tanzanian Foreign Minister Stergomena Tax said no Tanzanian is allowed to join the army of any country except the Tanzanian Army.
She said all Tanzanians should ensure they comply with the laws of their country and the rules and procedures provided.
Tax said Tarimo went to Russia in 2020 to pursue a master's degree at the Russian Technological University in Moscow.
Tanzanian media report he was arrested on drug-related charges, sentenced, and then offered his freedom if he went to war.
Tarimo's family say his friends in Russia, where he was studying before his arrest, confirmed his death in late December.
Tarimo's death in Ukraine mirrored that of Zambian national Lemekhani Nyirenda, who was also a student in Russia arrested on drugs charges, then promised freedom if he fought for the Wagner Group.
News of Tarimo's death circulated on social media last week with a video showing Russian men in military outfits holding candles around what was purportedly his casket.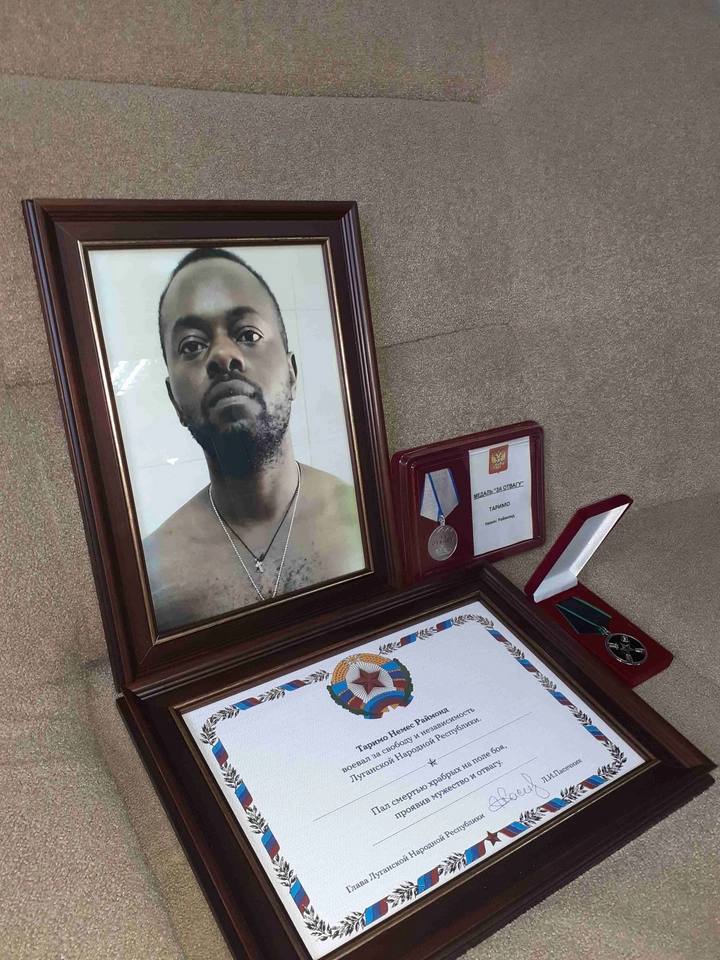 In the video, a picture of Tarimo, two medals, and a certificate are placed on the casket, which is draped with a flag of the Wagner Group.
The group has been accused of rights abuses from Syria to Ukraine to the Central African Republic. BBC News/VOA