Chiyangwa, residents fight re-ignites
By Tendai Kamhungira
The fight between Southlea Park Home Owners Association and businessman Philip Chiyangwa has resurfaced after the parties went back to the High Court on Thursday, seeking the court to make a determination of the Southlea Park land ownership.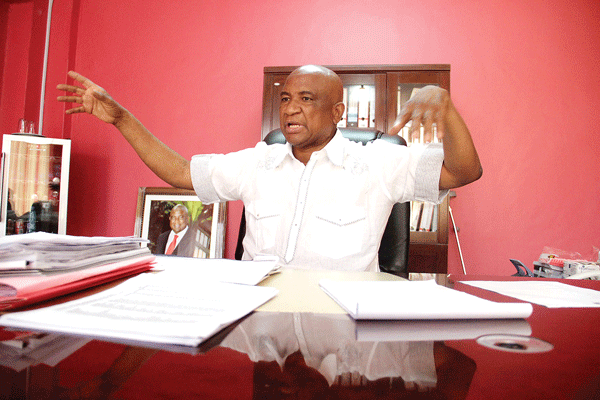 This comes after the association filed an application in 2016, seeking an order setting aside the transfer of the remainder of Odar Farm from government to Chiyangwa's company Sensene Investments (Private) Limited (Sensene).
In the application, the association is the applicant, while Sensene, Local Government minister July Moyo, (then)-Attorney General Prince Machaya and Odar Housing Development Consortium, are cited as respondents.
According to court papers, Odar Farm was originally owned by Zimbabwe Tobacco Association, a grouping of white farmers.
The Zimbabwe Tobacco Association reportedly attempted to transfer the farm to one of its subsidiaries Sensene Investments after the enactment of the Land Acquisition Act (Chapter 20:10), but could not do so, because government had placed a caveat on the title deed, as the farm was listed for acquisition.
According to Nathan Nyambuya, who was cited in court papers, as the association's president, the farm was acquired by government in 2006. Government is said to have entered into a joint venture agreement with Odar Housing Development Consortium for allocation of residential stands to the association's members, whose membership created Southlea Park Home Owners Association.
Government gave a directive for the farm not to be reallocated to another party unless Odar Housing Development Consortium breached the agreement.
Nyambuya said the land was acquired by government and remains on the list of gazetted lands.
He also said they were shocked in 2015 to learn of an agreement that was entered between the Local Government ministry and Sensene. In terms of the agreement, the land was returned to the Zimbabwe Tobacco Association, under claims that it belonged to Sensene.
"I submit with respect that a ministerial decision should be fair and reasonable as to have considered the interests of the fourth respondent (Odar Housing Development Consortium)," Nyambuya said.
After the consortium approached the courts challenging the development, Sensene is said to have raised criminal charges against its management committee, which was reportedly harassed to the extent of disowning the agreements that were signed with government.
Chiyangwa challenged the application, claiming the residents do not have locus standi to institute the court proceedings. He said it appears government had allocated the land to the consortium before the acquisition process, adding that the agreement between the two parties was null and void.
The politician, also said that when the land was acquired, the State could not pay him compensation for the land, which was the basis for a settlement. Daily News