Challenges for Chamisa lawyers from SA
By Fidelis Munyoro
Advocates Dali Mpofu and Tembeka Ngcukaitobi from South Africa — who are reportedly set to lead a legal team contesting President Mnangagwa's victory in the July 30 harmonised elections — cannot appear in court to argue for MDC-Alliance without the requisite authority from the Government.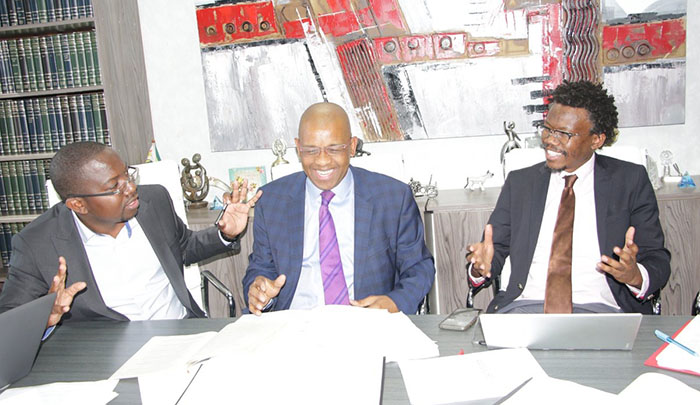 President Mnangagwa won the elections with 50,8 percent of the total vote cast against MDC-Alliance leader Mr Nelson Chamisa's 44,3 percent.
The South African pair arrived yesterday and met with the MDC-Alliance local legal ensemble fronted by Adv Thabani Mpofu.
In an interview last night, Justice, Legal and Parliamentary Affairs Minister Ziyambi Ziyambi said it was impossible for the South African pair to practice in "our courts without permission."
He said by close of business yesterday, he had not received any request from Adv Mpofu (Dali) and Ngcubkaitobi for permission to practice in the country.
"I left my office around 1pm and had not seen an application from them for permission to appear in our courts," said Minister Ziyambi.
"I am not sure if they have done so after I left the office. They need to apply to me to consider the request and advice the Law Society of Zimbabwe (LSZ) accordingly. Suppose they want to argue this matter, they know the procedure to follow. As it is, I do not know what their game plan is."
Mr Chamisa's spokesman Dr Nkululekho Sibanda said the question of whether Adv Mpofu (Dali) and Ngcukaitobi will argue the case or appear in court was immaterial.
"Adv (Thabani) Mpofu is leading the team," he said.
"Our president (Mr Chamisa) insisted that he needed extra legal brains from the region to join the local ensemble."
Dr Sibanda said the presence of the two lawyers from South Africa still remained useful as Mr Chamisa sought to put together the best legal brains to prosecute his petition.
Last week, Mr Chamisa approached the Constitutional Court seeking to set aside President Mnangagwa victory, claiming that the official presidential results announced by the Zimbabwe Electoral Commission (ZEC) were not credible.
He cited alleged electoral fraud and malpractices during the elections in which Zanu-PF romped to victory, claiming two-thirds parliamentary majority, with President Mnangagwa taking a 6,5 percent lead.
Mr Chamisa wants the court to declare him the winner.
President Mnangagwa, along with 21 losing presidential candidates and ZEC, were all cited as respondents in the high-profile petition.
In his response filed on Wednesday, President Mnangagwa argued that there was no valid election petition before the courts challenging his victory.
He wants the apex court to dismiss the petition and confirm him the winner of the presidential poll held on July 30, arguing the petition was plagued with flagrant procedural irregularities.
President Mnangagwa contends that Mr Chamisa's petition is premised on alleged mathematical anomalies which have no factual basis. The Herald