ZIMBABWE international footballer Talent Chawapihwa has revealed a rags-to-riches personal tale which saw him failing even to get some football boots, as a child, and getting to be valued between R3 to R5 million by his South African side.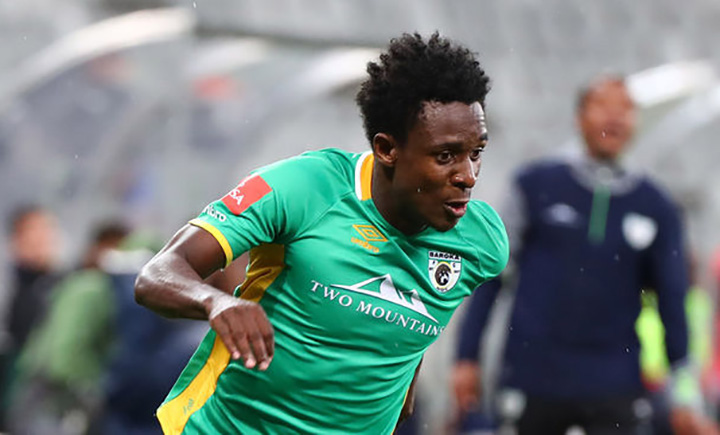 The winger is featured in the latest issue of Kick-Off magazine, South Africa's biggest selling football publication.
Chawapihwa says his parents have had to repeatedly apologise to him because they never believed his wish that he would one day be a professional football star.
Nicknamed Mohamed Salah, after the Egyptian superstar, because of his height and Afro hairstyle, Chawapihwa is being courted by some of the biggest clubs in South Africa.
He reveals that he had a difficult upbringing.
"We did not have much money, so it was difficult to play football when you come from a family that can't buy you boots or give you transport money to go play,'' he told Kick-Off.
"At times a friend would lend me boots or give me some money. But I often felt like I was heading nowhere, always bothering other people because of things I asked for.
"At home, they didn't take me seriously and would say, "you won't go anywhere with your football thing,' so it was difficult but now my family is happy with my progress and they are supporting me.
"Yet (back) then, it was difficult as they did not see what I was seeing. You know, when you have a vision, you can only make it happen by yourself, other people can't see what you are seeing, they think you are wasting your time and wasting their money.
"When I'd say "daddy, can I please have money to buy boots?", he'd insult me and call me names. I had no support, I had to get support from my friends.
"But now, they are happy for me, they call me all the time and apologise saying, "if only we had supported you, you would have been a better player now."
"But they are happy for me, they pray for me all the time and always look forward to me coming back home.''
He says football has changed his family life.
"Football has helped me a lot in terms of financing my family,'' he says. "I am the breadwinner, I send my sister to school, I care for my young brother's kid and I give them a monthly allowance.
"I have managed to build a house for my mom, so I am happy with the progress I have made so far because of football.''
Chawapihwa also talked about getting a scholarship and meeting Calvin Nyazema, the man who helped shape his career.
"I got a scholarship to go to a better school,'' he said. "I then met a guy who ran an academy in Zimbabwe (Nyazema) and he took me to Harare City, which was in the Premiership at that time.
"That was in 2011 and I spent four seasons there.
"I then left to play for ZPC Kariba for a season and then went to FC Platinum for about five months before joining Baroka.''
He says his childhood hero was Peter Ndlovu, the greatest Warrior of all-time, and he wants more caps with the Warriors.
"Playing for the national team is a great feeling because you are representing your nation,'' he said.
"It makes you grow as a player and people notice you.
"Those caps also help because people look at those caps when you want to go to play in Europe. They want to see how many times you have represented your nation.
"I have been to AFCON before but I was on the bench and I did not get to play. My dream is to qualify and play there. I wish to have that experience as a player. I just hope we will qualify.'' The Herald.