By Petros Kausiyo
ZIFA president Philip Chiyangwa headlines a five-man crew of sports leaders who wrote their own piece of history yesterday when joining the elite cast of administrators to become members of the Parliament of Zimbabwe after winning in their respective constituencies in the just-ended harmonised elections.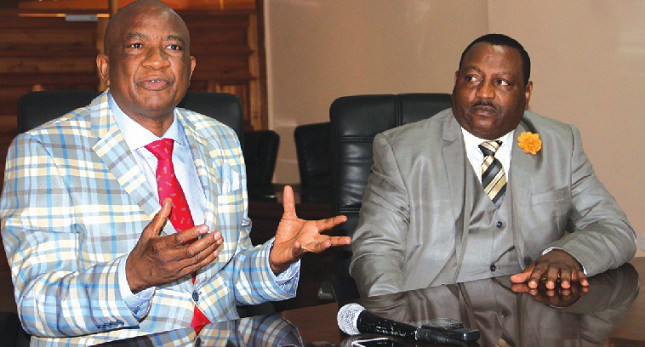 Chiyangwa, his ZIFA deputy Omega Sibanda, Zimbabwe Cricket board chairman Tawanda Mukuhlani, former ZC managing director Ozias Bvute and ex-FC Platinum chairman Winston Chitando will now be Members of Parliament for the next five years.
The quintet powered their way into the House of Assembly on zanu-pf tickets in their respective constituencies and resoundingly won in the July 30 harmonised elections.
Chiyangwa garnered 11 819 votes to claim the Zvimba South constituency, his deputy Sibanda had 11 350 for the Vungu seat and Mukuhlani will represent Mhondoro-Ngezi area after garnering 12 708.
Bvute powered to a 17 277 win in Goromonzi North, and Chitando had 11 496 votes when winning the Gutu Central.
More important is the fact that it is sport that is now likely to benefit from having a bigger voice in the National Assembly where legislation is formulated.
There have always been calls for this country to turn on a new leaf and treat sport as the billion-dollar industry that it is around the globe.
The arrivals of the likes of Chiyangwa, Sibanda, Mukuhlani, Chitando and Bvute has added more representatives for sport to the August House, which could translate into more prominence being given to debate on issues related to various sporting disciplines in the country.
In parliament they will also join Youth, Sport, Arts and Recreation Minister Kazembe Kazembe (18 349), an ex-Dynamos secretary-general and fitness guru Temba Mliswa (15 857) who have retained their seats after winning through from Mazowe West and Norton respectively.
Crucially for Chiyangwa, Mukuhlani and Sibanda, they are the first sitting leaders of sporting associations to be elected into parliament, whose hands on approach in their games has brought a bright ray of hope for sport.
Mines and Mining Development Minister Chitando and Bvute had prior to pursuing parliamentary offices also served football and cricket with the former being the boss at Premiership champions FC Platinum and the latter the managing director of ZC.
Mukuhlani and Bvute's several years of interaction with such bodies like the International Cricket Council and the manner in which they fought for Zimbabwe's cause in the political atmosphere that often clouds global cricket, should also stand the pair in good stead when legislative matters pertaining to sport are discussed in parliament.
On the international stage, Chiyangwa and Sibanda have scaled the same heights as Confederation of African Football president Ahmad and South African Football Association president Danny Jordan who held political office while running their associations.
Ahmad was a senator in Madagascar while being a CAF executive member while Jordan was already the SAFA president when he became mayor of the Nelson Mandela Bay Metropolitan on the African National Congress ticket.
Chiyangwa whose resume of sporting links also include many years in boxing promotion, leads a COSAFA bloc which is the biggest zone under CAF.
The Harare businessman is also the vice-president of the CAF organising committee for the African Cup of Nations while his interaction with FIFA is also set to come in handy when he adds his voice on behalf of sport in the National Assembly.
ZIFA, naturally excited about the achievements of their leadership immediately congratulated Chiyangwa and Sibanda with the association's communications and competitions manager Xolisani Gwesela issuing a statement on behalf of the football mother body.
"The Zimbabwe Football Association (ZIFA) Executive Committee, the Council, and the Secretariat would like to congratulate its president, Hon. Dr Phillip Chiyangwa and his deputy Hon. Omega Sibanda, for their resounding victories in the harmonised elections to become Members of Parliament representing Zvimba South and Vungu Constituency respectively.
"We were always confident of their victories because we believe in their leadership qualities.
"There is no doubt that both are men of vision, endowed with a spirit of national development and servant leadership.
"They know and understand the concerns of the people they will serve and they have the capacity to deliver on those in the next five years.
"We wish them the best in their new endeavours, and hopefully it will translate to more meaningful and robust debate and support for the development of sport and football in Zimbabwe,'' Gwesela said.
Expectations will also be high that the incoming legislators will also use their vast knowledge of sports to argue for the amendment of the Sports Act to suit the prevailing sporting and macro-economic environment and review the manner in which the Sport and Recreation Commission is structured.
There have been genuine concerns about the way the Sports Commission is serving the needs and interests of sport in the country and whether it is line with the best practices. The Herald