By Fungai Muderere
SLAVE era American political activist Harriet Tubman once said, "Every great dream begins with a dreamer. Always remember, you have within you the strength, the patience, and the passion to reach for the stars to change the world".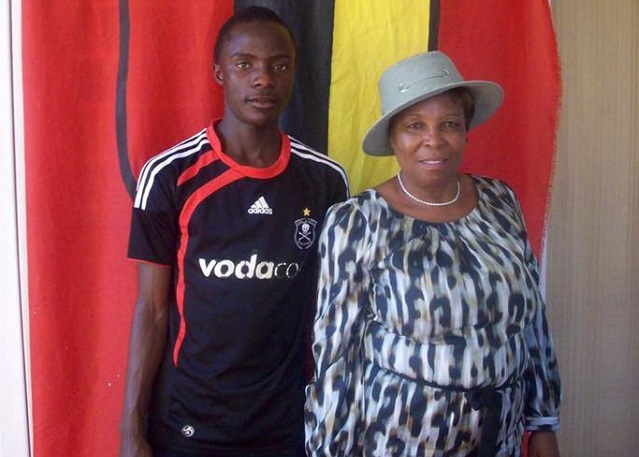 These above words are certainly ringing true in the ears of Warriors midfield talisman Kudakwashe Mahachi who for several years harboured a dream of turning out for The Ghost, as Soweto giants Orlando Pirates are popularly known.
A quick scroll through his Facebook picture archive reveals that 10 years ago, Mahachi was just another budding soccer player gleefully posing for pictures in Orlando Pirates' traditional black and white stripes.
One can never erase their digital footprint and the internet never forgets, and this is certainly true for Mahachi whose decade-old yearning is about to be satisfied as he has moved to a club that he used to post about enthusiastically on social media.
In the picture, that was taken at Bantu Rovers offices, a skinny Mahachi stands side by side with well-known Zimbabwe Women's Football administrator, Elizabeth Malunga, donning an Orlando Pirates replica jersey.
Fast forward to 2018, he captions the picture "Dreams do come true indeed" and the former Golden Arrows midfielder believes joining Orlando Pirates was a huge transition in his career.
The 24-year-old winger spent three years at Golden Arrows, on loan from Mamelodi Sundowns. He completed his move to the Soweto Giants last month.
Mahachi admits he will need some time to adapt."It is a huge transition coming from a small team to a big team, and it takes a bit of time to understand because there is a huge difference in approach," he said.
"We train differently, we prepare differently and the overall level of professionalism is amazing. Not only do we analyse the opponent which is the norm but we also have to analyse ourselves from a group perspective and at an individual level," added the ginger haired footballer.
The former Chicken Inn player will play alongside fellow Zimbabwean, Marshall Munetsi.
"It will take time for me to gel because I'm naturally a shy person. It helps to have my Zimbabwean homeboy Marshall Munetsi and people like Thembinkosi Lorch whom I enjoy speaking to. The process has also been made simple by the fact that I know most of the players here," he said. B-Metro.