By Fungai Muderere
Highlanders' second choice goalkeeper Prosper Matutu has reportedly made an "extreme" demand of $16 000 to renew his contract with the Bulawayo football giants. Matutu, who has featured thrice for Bosso this season, plays second fiddle to ex-Warriors goalminder Ariel Sibanda.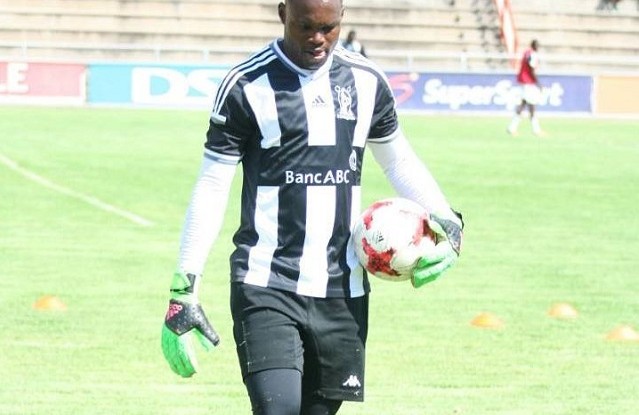 The other goalkeeper at Highlanders besides Ariel is young Nedrick Mandeya.
"The club has been making frantic efforts to renew his contract. He is in the last six months of the contract and he recently made a $16 000 demand to renew it. However, the club turned down the demand," said a well-placed Bosso insider.
Contacted for comment Bosso's communications manager Ronald Moyo could neither confirm nor deny Matutu's insist.
"The fact that he was fielded in our last match against Black Rhinos means he is still our player. It actually means he is still committed to the club," said Moyo.
Matutu has made two full 90 minutes appearances for the black and white army. His first came when was before the mid-season break as Highlanders lost 1-0 to FC Platinum. Matutu had done well in the match until a hurried throw in by Charlton Siamalonga saw FC Platinum win the match in stoppage time.
Highlanders are rumoured to be prepared to bring back Munyaradzi Diya who is reportedly unsettled at CAPS United.
However, the veteran shot stopper is linked with a possible move to Bulawayo City. City are understood ready to off load two of their goalkeepers Takudzwa Ndoro who refused to travel to one of their away matches as well as Aaron Ngwenya. Bulawayo Chiefs goalkeeper Kelvin Moyo has found his way to Bulawayo City, a club that has lost Last Sithole to former champions Chicken Inn.
Bosso are reportedly interested in former How Mine forward Tinashe Makanda who has been training with them since his return from South Africa and might be the young forward might be the answer upfront.
Bosso could lose speed merchant Gabriel Nyoni who recently had a four-day trial stint with Botswana's Township Rollers.
"Gabriel is back and we are yet to get an official response from Township Rollers. We stand guided by Rollers on how Nyoni performed during his trial stint," said Moyo.
It is still not clear if Prince Dube will retrace to Bosso from South Africa's Supersport United.
Word has it that Dube, a former Somvubu Secondary School pupil, might be loaned to free spending FC Platinum by the Absa Premiership side.
FC Platinum recently captured Thomas Chideu into South Africa's Golden Arrows. B-Metro