'Free, fair election a mirage' – Analysts
By Tendai Kamhungira
Chances of Zimbabwe holding a free, fair, credible and undisputed election on July 30 are slim considering Zanu PF officials' recent assertions that the army will not allow MDC Alliance leader Nelson Chamisa to take over if he wins, analysts have warned.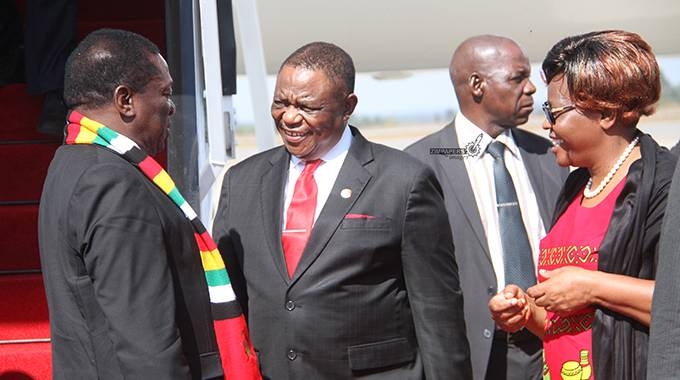 Recently, deputy Finance minister Terrence Mukupe was caught in the eye of a storm after he openly claimed that the army will not allow the 40-year-old opposition leader to rule Zimbabwe after presiding over the Operation Restore Legacy, which saw the deposition of Robert Mugabe after 37 years in power.
Mukupe's remarks followed other statements by Zanu PF political commissar Engelbert Rugeje, who warned the electorate in Masvingo that if they do not vote for the ruling party, there was going to be a repeat of the 2008 scenario.
In 2008, there were serious cases of violence that were reported leading to the late MDC founding leader Morgan Tsvangirai pulling out of the presidential race.
The claims by Rugeje were also cemented by Masvingo Provincial Affairs minister Josiah Hungwe, who told an audience in Chiredzi that if Mnangagwa could shoot his way to power last November, then there was nothing to stop him from doing the same to keep office.
The same sentiments were buttressed by Vice President Constantino Chiwenga in Epworth when he said Operation Restore Legacy will end after Mnangagwa is voted into office next month.
This also comes at a time when there are allegations that hundreds of army personnel had been sent into rural communities, to intimidate the electorate ahead of the elections and claims by the presidential special advisor Chris Mutsvangwa that campaigns will be held together with the army.
Even though President Emmerson Mnangagwa has pledged that his government will oversee the conducting of a free and fair election, analysts canvassed by the Daily News believe the pledge is not sincere as it is only meant to pacify the electorate and the international community, whose eyes are on Zimbabwe.
Political analyst Maxwell Saungweme said it is very clear that the forthcoming election will not be free and fair owing to the sentiments by those controlling the reins of power.
"The message is clear, bold and lucid on a big wall. You don't expect a regime that took over power by coup less than 12 months ago, and constituted a Cabinet of 75 percent ex-military/ex-war vets to hand over power in that period to a civilian just like that.
"What these four Zanu PF chumps said confirms the actual party position discussed in their meetings, and these four political jesters have no election messaging discipline. But what they said reflects Zanu PF inner thinking. The election will not be free and fair," Saungweme said.
Elections in Zimbabwe have been a subject of controversy and marred with violence and irregularities.
At the moment, the opposition is up in arms with the Zimbabwe Electoral Commission (Zec) over several electoral reforms that will enable a free and fair election. The electoral body's chair Priscilla Chigumba has accused the opposition of politicking, stating that only an earthquake can stop the forthcoming election.
The opposition is among other issues demanding Zec to relieve army officials from its secretariat and amend some clauses of the Electoral Act.
"We have already eschewed and abjured the opportunity for the pre-election period to be free and fair through opaqueness of ballot paper printing, issues with voters' roll etc. So you can't have a free and fair election when the pre-poll period was not free and fair. Elections will be wholly free and fair when the pre-poll, poll and post-poll periods are all free and fair. Prospects for free and fair elections on July 30 are already windswept and gnarled.
"The statements by these Zanu PF leaders further mar the freeness of the pre-poll period and are designed to instil fear into the voter. You can't have a free and fair election when people bomb each other at rallies, or remind people of the gory political acts and murders of 2008," Saungweme said.
Another political analyst Rashweat Mukundu, said in the absence of a formal retraction of the statements, the election's credibility will be questionable.
"These statements undermine the credibility of the elections more so the fact that they have not been retracted nor condemned by Zanu PF. They indicate double speak by the ruling party," Mukundu said.
Civil society organisation, Crisis in Zimbabwe Coalition said there were a number of factors that would not allow the forthcoming elections to be free and fair.
Among some of the issues that the organisation noted were the statements by Zanu PF officials, military involvement in the electoral process, piecemeal implementation of the Electoral Act and the involvement of traditional leaders.
"Since Nov 15 (November), #Zim (Zimbabwe) has remained in a coup mode. Zanu PF has used the threat of military violence as an axe hanging over the nation. Zimbabweans know of deaths, injuries, torture, internal and external displacement of people, property destruction and looting but no accountability!
"Since November 'coup' govt (government), army and Zanu PF officials have openly threatened military violence, if Zanu PF loses the July poll, with no legal penalties. And 5 000 plain clothed soldiers are embedded in polling station communities, with voters' rolls to intimidate villagers to vote Zanu PF!" former Higher and Tertiary Education minister Jonathan Moyo wrote on Twitter, in reference to statements made by Zanu PF officials.
He said the current government cannot be trusted to conduct a free and fair election. Daily News