By Mark Allix
Chinese national Yat Hoi Ning, who is accused of ripping off a mining company listed in London of US$2,76 million, has scored a lucrative deal from the South African government.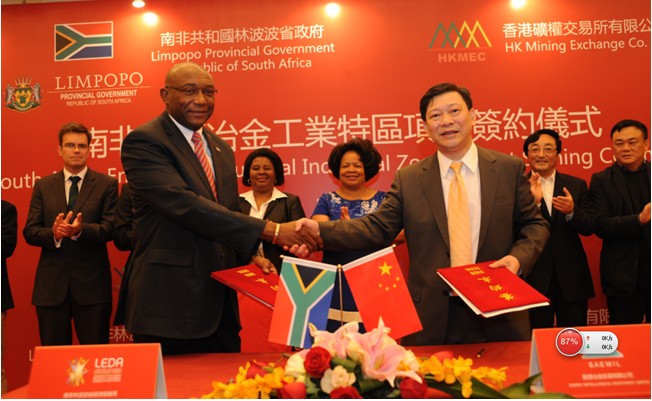 In September last year, Ning was awarded an operator's licence for the Musina-Makhado special economic zone (SEZ) in Limpopo — which is central to government's ambitious plan to develop an energy cluster in the province with a project pipeline worth R40bn.
But it could prove deeply embarrassing for the South African government, as Zimbabwe's police have issued a warrant of arrest for Ning over his role in the alleged misappropriation of money from Bindura Nickel Corp (BNC) and the Freda Rebecca gold mine in Zimbabwe, both part of the London-listed Asa Resources Group.
Earlier, Asa had laid fraud charges against Ning, its former CEO, and former Asa finance director Yim Chiu Kwan.
About 85 percent of Asa's value sits in Zimbabwe, where it owns gold and nickel assets, though it also has copper licences in the Democratic Republic of Congo.
A year ago, Asa commissioned a forensic probe into Ning and Kwan that led to both being fired. They popped up in other places — Ning in Hong Kong, and Kwan in Canada.
The forensic report, of which the FM has a copy, was damning — dubbing the transfer of $2,76m from BNC as "fraudulent".
It said the two claimed the money was going to be used to buy equipment, only for it to be used as a "loan repayment" — a misrepresentation that took place under the "direct instruction" of Ning and Kwan.
The forensic report concluded that "reckless trading and negligence has taken place", which would be a breach of the Zimbabwean Companies Act.
The report said BNC should initiate a case against Ning for "misrepresentation to the board (involving) $2,76m", theft of
$615 000 and "corruption for conflicting interests and not declaring association".
"Ning and Kwan have disregarded good corporate governance (and) have demonstrated disregard and contempt for the Zimbabwe banking regulations and have contravened a variety of laws in Zimbabwe."
In September, Zimbabwean police issued arrest warrants for both. In adverts in local newspapers, the police listed Ning and Kwan as wanted and asked "anyone with information" to come forward. They are also on Interpol's wanted list.
Contacted by the FM, Asa's company secretary in Zimbabwe, Conrad Mukanganga, said the "Interpol and local police arrest warrants are in place and still valid".
But despite this very public search, the SA government awarded Ning the contract for the Musina-Makhado project at around the same time.
SA's department of trade & industry (DTI), which ultimately has responsibility for the Musina project, is now investigating the allegations of the Zimbabwean fraud.
"If any evidence of wrongdoing emerges, the department will deal with such matters expeditiously," says Sidwell Medupi, a spokesperson for the department.
"The DTI prides itself on having achieved excellent audit outcomes, including for expeditious responses and action against wrongdoing."
However, this would seem to contradict the facts. If the DTI didn't know of the Zimbabwean case, it suggests its due diligence might not have been up to scratch.
In a statement sent to the FM, Ning "strenuously" denies Asa's allegation as "completely untrue", painting a picture of bitter boardroom rivalry that led to the spat.
"The allegation has caused huge injury and loss of reputation to me," he says.
"Regrettably … the relevant personnel in BNC in Zimbabwe appear to have lodged a false and inaccurate report with the police in Zimbabwe, and disseminated the same false and inaccurate information to the media," Ning says.
He says that until April last year, he was CEO of Asa. Then he, Kwan and another director were removed from the board unjustly, he claims.
"Our removal as directors of Asa was unlawful and I am currently bringing a claim in the high court of justice (in London) concerning my unlawful removal as a director and other matters," he says.
There are questions about the DTI's due diligence processes
At this point, with Ning in China and Kwan in Canada, it seems unlikely that the case will be heard in any court any time soon — even though BNC has served a summons on its two former directors, issued by the high court of Harare.
Kwan tells the FM that he has no connection to the Musina-Makhado project. He says Ning invested in Asa through a company called China International Mining Group Corp.
"Separately, Ning invested in the project of SA Energy Metallurgical Base via Shenzhen Hoi Mor.
"I was an employee under Asa and therefore have no involvement or knowledge on this project," he says.
Shenzhen Hoi Mor is registered in Shenzhen, just across what used to be the border with former British colony Hong Kong.
Ning says it was his idea to establish the SEZ in Limpopo in 2013, which led to the agreement being signed with Shenzhen Hoi Mor.
He says he has even reported on the progress of the Makhado project to China's national development and reform commission, a key state planner.
"[My company] has not applied for any funds from both [the] SA and Chinese governments since 2013, and [it has] shouldered all the preparation costs," Ning says.
Potential investors in the Limpopo SEZ are mainly Chinese enterprises in the energy and metallurgy sectors.
Contracts are still being negotiated.
However, Ning confirms that the DTI has asked him to clarify details around the arrest warrants.
Perhaps bizarrely, given the arrest warrants, Ning's lawyers told the FM that he has been "working closely with the relevant government departments of Zimbabwe" while living in Hong Kong.
For example, during president Emmerson Mnangagwa's visit to China last month, Ning was apparently invited to present an investment promotion seminar, during which he shook Mnangagwa's hand.
Even more curiously, Ning was invited to sponsor the Zimbabwe Independence Day celebrations in Hong Kong by the country's consulate in the territory.
A week later, Ning visited Paul Chikawa, Zimbabwe's ambassador to China, to discuss setting up an SEZ in Zimbabwe.
While Asa's directors are spitting fire about the money they say they lost, the most relevant fact in SA right now is what kind of due diligence the DTI does before climbing into bed with prospective partners.
For Asa Resources, this is an unwanted hassle as it is up for sale. Earlier this year, JSE-listed Pan African Resources tried to buy the company.
But that deal fell apart in February after Pan African's share price weakened by 50% over the previous six months, as the rand gained ground.
But two other companies are apparently considering buying Asa Resources. They'll want the Ning fraud allegations to be dealt with as soon as possible.— Business Live