Bonyongwe defends Chinese crook
By Blessings Mashaya
Former Central Intelligence Organisation (CIO) director-general Happyton Bonyongwe has defended Chinese businessman Sam Pa, arguing he had no criminal record when they engaged him for a business partnership.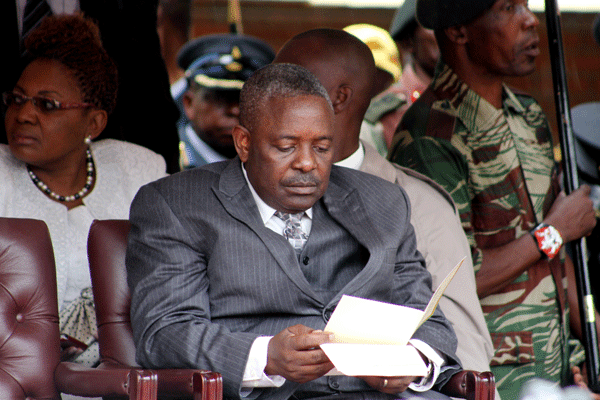 Sam Pa provided funding and material to the CIO in return for access to Zimbabwe's diamond, cotton and property sectors.
One CIO document put this support at $100 million and 200 pick-up trucks.
CIO members exercised joint control over Sino Zimbabwe Development (Pvt) Ltd — a diamonds, cotton and property company in Zimbabwe.
Their partner, Sam Pa was a prominent member of the Queensway Syndicate, a network of companies with a track record of negotiating opaque resource for infrastructure deals across the African continent.
Bonyongwe told Parliament's Mines and Energy portfolio committee yesterday that he met Pa in 2008.
"Sam Pa was fronting for China International Fund, at the time, there was no question on Pa having a criminal record," he said.
"We came across that company in 2008. I attended the conference which was attended by other directors-general from other countries.
"I spoke at that conference about the Zimbabwe situation not focusing on the political situation but economic situation and what I did was to canvas for investments into Zimbabwe," Bonyongwe said.
He said the next morning he was introduced to Pa by one director-general from another country.
The committee's chairperson, Temba Mliswa, demanded the name of the person who introduced Bonyongwe to Pa, but he refused to divulge the name.
"We need to be professional on our approach, we need to know the name, and this will leave us with more speculations. Unfortunately we are not CIOs we are Parliament we want facts as they are," Mliswa said.
Bonyongwe went on to say that they vetted Pa and there was no criminal record.
"We vetted him at that time, we were very clear that there was no issue with China International Fund."
Bonyongwe was blasted by Mliswa after he brought pictures of Pa with the Chinese President in a bid to try to build his defence.
"You are prepared to show us pictures but you are not prepared to show us the person who introduced you to this great person.
"What is the relevance of bringing these pictures to this committee? These are just pictures, they do not show any business agreement.
"Even Wicknell Chivayo is taken pictures with our President.
"We are not moved by these pictures, the issue is about the credibility," Mliswa said.
In his response, Bonyongwe said; "The relevance is that we had business with that person and why did we do business with that person.
"In that picture we have him with other dignitaries and therefore they were able to sit with him and have business with him so what we did was not wrong he also has business with other people. This is the point I am making."
Bonyongwe added that up to now, Pa is not a convicted criminal.
"At the time we dealt with him, he was not a known criminal, he was doing business with other people, to be corrected even today I am not aware of a conviction against him.
"That allegation that he is a known criminal is not correct. What I know is he is in detention."
Bonyongwe also said no one from the CIO looted diamonds.
Pa, a prominent member of the Queensway Syndicate — a network of companies with a track record of negotiating opaque resources for infrastructure deals across the African continent — has previously denied he was the major channel of funds to the CIO. Daily News