By Petros Kausiyo
Ailing giants Dynamos are undergoing a massive soul-searching exercise and are set for a major restructuring exercise aimed at breathing life into their faltering 2018 Castle Lager Premier Soccer League campaign.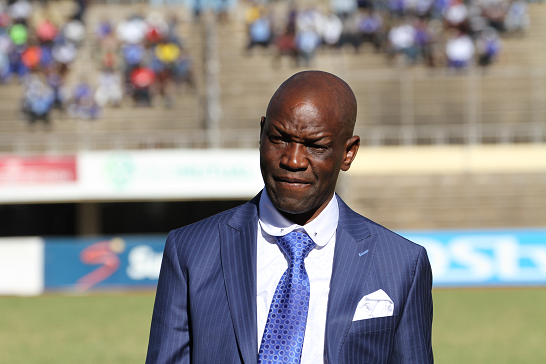 Dynamos have appeared clueless when cantering to a seven-match winless run — their worst start to a Premiership season — in which they have only managed to score in two of those games.
Club chairman Bernard Marriot Lusengo revealed yesterday they would soon make some major changes, but the DeMbare godfather could not be drawn into divulging which sections would be affected by the pending reshuffle.
Marriot, who has also not been spared for blame by some sections of the club's supporters, said his board had met on April 19, where they came up with a resolution to restructure the club.
The board then met with their executive committee on Monday — a day after their 1-0 defeat by bitter city rivals CAPS United — to review the situation at the club.
The derby defeat to CAPS United was DeMbare's fourth loss of the season.
"We held a board meeting on the 19th and discussed the need to restructure after taking into consideration the state of our club,'' he said.
"So the meeting resolved that there will be a restructure and upgrading of the club structures within a few days, in fact, I should say next week we will make the necessary announcements.
"We'll also soon hold our AGM, but I must say the executive has been briefed on all these developments.''
Dynamos have been operating with a three-man executive of club president Kenny Mubaiwa, treasurer Moses Chikwariro and secretary-general Webster Marechera while the board of directors is still to find a replacement for the late Owen Chandamale, who died last year.
The executive committee was left depleted following the resignation of vice-president Solomon Sanyamandwe and the sacking of committee member Graham Mafoko.
"All those speculations and rumours about this or that individual being responsible for the team's loss of form or the results are just mere talk and not true at all,'' said Marriot.
"No-one is sabotaging the team or bewitching it.
"You cannot blame any individual for the poor results and likewise you cannot praise or single out any individual when there is a good winning run.
"It's all about the team and teamwork and that is why we have taken a hard look at ourselves and we are now working on restructuring so that we revitalise our club while there is still time so what it is important is to remain focussed.''
So terrible have been Dynamos this season that even Rufaro has ceased to be a fortress.
There are even genuine fears fellow strugglers Bulawayo City, for whom coach Darlington Dodo must win to save his job, could come and upstage Dynamos and effectively end Lloyd Mutasa's tenure as the Glamour Boys gaffer which has spanned 31 months over two different spells.
Mutasa was handed a three-match ultimatum in which nothing short of a win against Bulawayo City, Chapungu at Ascot and Harare City will be enough to see Dynamos reposing continued confidence in him.
Speculation has also been rife that Callisto Pasuwa has been placed on standby to return to a club he guided to four straight championships between 2011-2014.
Pasuwa has been on a long self-imposed exile since leaving the Warriors job in February last year.
His manager, Gibson Mahachi, however, dismissed talk of Pasuwa's immediate return and said neither he nor the coach had been formally approached by the Dynamos management.
Mahachi said it had become a common chorus for the Dynamos faithful to link Pasuwa with the club's job given the success the team enjoyed under his spell.
"I think those are just rumours, but as far as we know no-one has approached the coach formally so there is nothing.
"Even if there were to be a formal approach, it must be remembered that there are a number of issues that need to be resolved first.
"The two parties did not divorce amicably the last time out and the coach is still owed over $20 000 from his previous contract and all that has to be settled first before we get into any talks,'' Mahachi said. The Herald